King Charles First Met Camilla Through One Of His College Girlfriends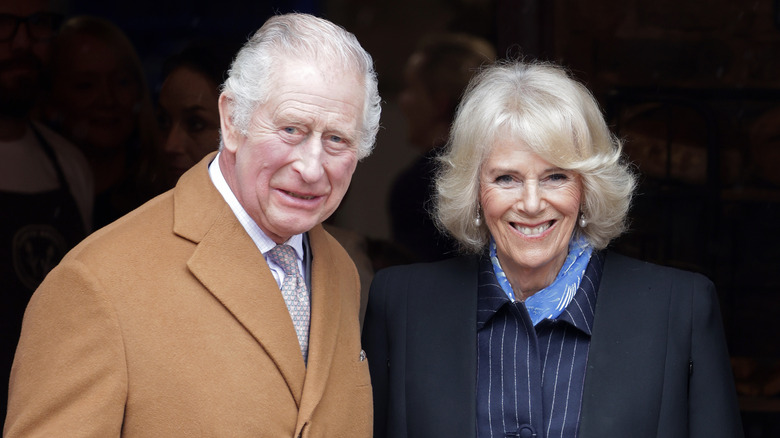 Chris Jackson/Getty Images
While it seems we know just about everything about King Charles and Queen Camilla's relationship, you might be surprised to learn how their regal romance began.
Theirs is a relationship filled with royal scandal as Charles could not resist the temptation of his true love with Camilla. In 1986, the future king began his affair with her while still being wed to the late Princess Diana. From secret gatherings to scandalous phone calls, the couple got involved in a full-blown affair that eventually led to Charles and Diana's divorce. As Diana famously shared in her BBC interview in 1995, "There were three of us in this marriage, so it was a bit crowded." Despite the media frenzy that ensued, Charles and Camilla did not let it stop them from their love.
Although it took several years, the couple eventually announced their engagement in early 2005. Charles shared his enthusiasm in a statement released to the public. He said, "Mrs. Parker Bowles and I are absolutely delighted. It will be a very special day for us and our families." While royal weddings are traditionally high-profile, the couple kept their ceremony more intimate when they officially tied the knot less than two months after their engagement. Throughout the years, the couple has gone on to restore their public image, but their infamous love affair will always be ingrained in people's minds. And while you may think you know everything about the couple's love story, few are aware of how Charles first met Camilla.
King Charles ex-girlfriend helped start his romance with Camilla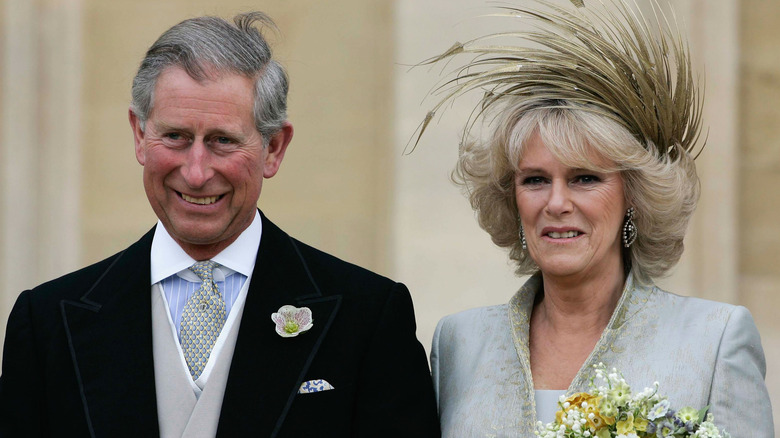 Anwar Hussein/Getty Images
Long before Princess Diana and Camilla, King Charles was just another highly suitable bachelor. The future king had dated several women, including his girlfriend from Trinity College, Lucia Santa Cruz, Hello! notes. Although Charles considered Santa Cruz the "first real love of his life," it was actually her who introduced Charles to the future love of his life, Camilla Shand, in 1970. While it's a little foggy on how the whole thing went down, it was clear that Charles was infatuated with the future queen consort from the start.
"The Duchess: The Untold Story," written by Penny Junor, detailed a then 22-year-old Charles' feelings toward Camilla after they first crossed paths at a polo match. Junor wrote (via People), "He loved the fact that she smiled with her eyes as well as her mouth, and laughed at the same silly things as he did." Being the future king, Charles cherished the ease and comfort of being himself around Camilla without the burden of expectations. "He also liked that she was so natural and easy and friendly, not in any way overawed by him, not fawning or sycophantic," Junor explained. Unfortunately for Santa Cruz, the spark between Charles and Camilla was overpowering, and he and his college girlfriend split in 1970. That same year, Charles and Camilla began their whirlwind romance.
King Charles and Camilla had a complicated relationship from the start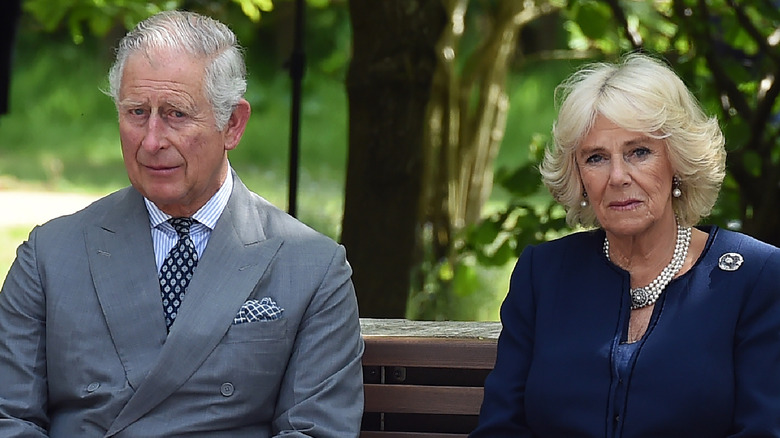 Wpa Pool/Getty Images
From the moment they first met, King Charles and Camilla's relationship was complicated. They began their relationship shortly after Charles broke up with Lucia Santa Cruz in 1970. However, the couple's relationship didn't last long. According to Today, when Charles joined the Royal Navy, it put a strain on his and Camilla's romance, and the two ended up calling it quits. While Charles was away, Camilla ended up marrying Andrew Parker Bowles. Still, her marriage didn't stop her and the future king from being friends. But the thing with Charles and Camilla is that there would always be something romantic deep down. Because of this, the pair began the first of their two affairs, and apparently, Andrew was fine with it.
In "The Duchess: The Untold Story," by Penny Junor, she wrote how Camilla's former husband was okay with her having an affair with the future king, notes People. Junor wrote, "Andrew was in no position to complain; and when he discovered what was going on, he wisely didn't make a fuss. Some would say that a part of him actually quite enjoyed the fact that his wife was sleeping with the future King; he might have felt differently had Charles been a traveling salesman." However, not long after Charles met Princess Diana. The future monarch and Camilla thus stopped their affair, but not for long, and as we know, the rest is history.