Royals Who Gave Up Their Titles For Love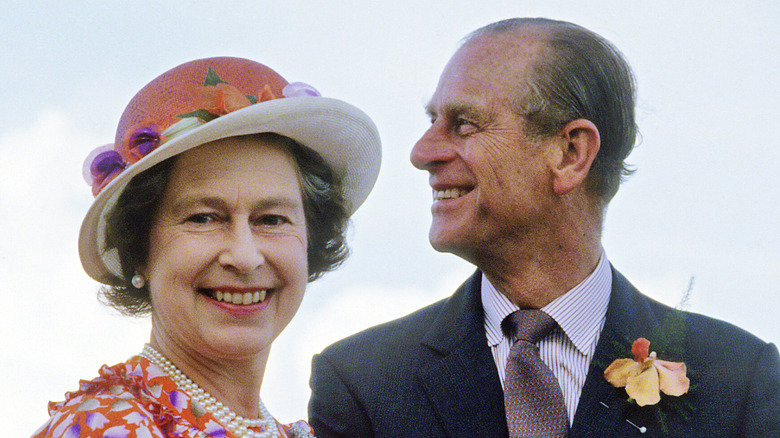 Anwar Hussein/Getty Images
When some folks sing along with Meat Loaf's famous "I would do anything for love" refrain, they only half mean it. Sure, they might be willing to relinquish a good chunk of their closet space or switch up their weekend morning routine to accommodate their partner's equally packed schedule, but they probably wouldn't actually do anything. Pass up a $50,000, string-free monthly allowance? Not gonna happen. Be exiled from their family? No way. Give up the literal keys to a kingdom? Absolutely not.
This set of royals, on the other hand, sang that refrain with their entire chest. They were literally willing to hand over whatever it took — including their titles and all the perks that come with them — for that one special person. From historical rulers like King Edward VIII to more modern love stories like that of Princess Martha Louise and Shaman Derek, these kings, queens, princes, and princesses traded their positions of power and authority for their shot at a happily ever after.
King Edward VIII married a divorcée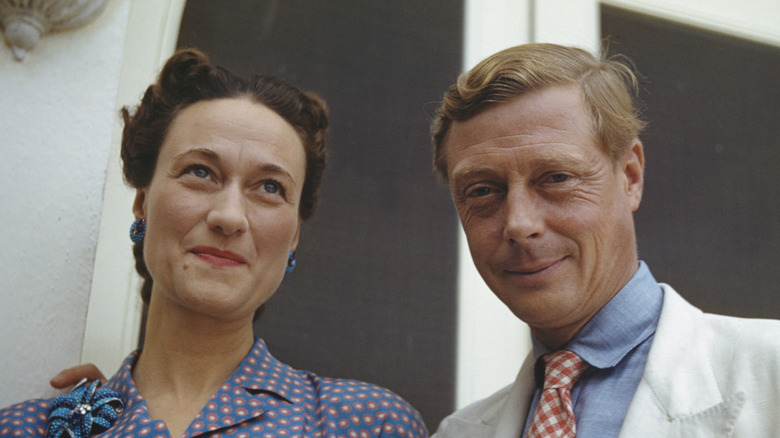 Michael Ochs Archives/Getty Images
We'll start with what's probably the most famous example of a royal giving up their title for love: King Edward VIII. In January 1936, a 41-year-old Edward VIII assumed the throne following the death of his father King George V. But his reign didn't last long, as he abdicated in favor of marrying divorcée Wallis Simpson in December 1936. Up until 2002, the Church of England was not okay with divorced people remarrying, so Edward's decision to wed Simpson wasn't exactly in line with royal rules. 
King Edward met Wallis Simpson at a party in 1931. At the time, the American was married to her second husband. Their relationship was, at first, purely platonic, given that both Simpson and the future king were happily involved with other people. But by 1934, rumors began spreading that they were more than friends. It's never been fully clear whether or not they actually had a physical affair (Edward denied any inappropriate behavior until his dying day), but there was clearly some emotional entanglement given the fact that the king stepped away from the throne less than two months after Simpson's divorce was finalized.
In "The American Duchess" author Anna Pasternak wrote that King Edward had a "ferocious, obsessive love for [Simpson]." Noting that, because of the intensity of his devotion to her, he never had remorse about giving up his title. "The duke always said that not once did he regret the abdication, because he was so happy," she told People.
Prince Philip swapped out his titles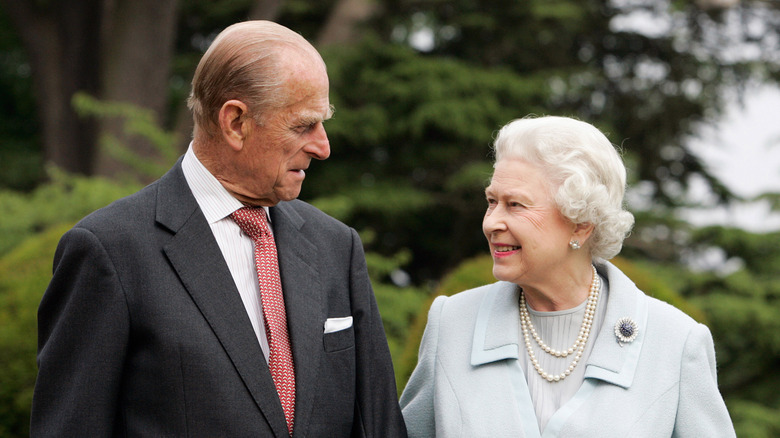 Tim Graham/Getty Images
After King Edward VIII abdicated, the crown went to his younger brother, George VI. George VI, in turn, passed the crown to his daughter, Queen Elizabeth II, upon his death in 1952. Queen Elizabeth II, who holds the honor of being the UK's longest-reigning monarch, married Prince Philip in 1947, five years before she became the sovereign.
While Queen Elizabeth and Prince Philip's strong marriage is often discussed, one aspect of their relationship is often overlooked: the latter gave up several titles of his own when they got hitched. Philip was born Prince Philip of Greece and Denmark, the nephew of King Constantine I of Greece and the great-grandson of King Christian IX of Denmark. This meant he had a place in the line of ascension in both countries. However, after declaring his intentions to marry Elizabeth, he became a naturalized British citizen, giving up his titles and claims to the thrones in favor of becoming Lord Mountbatten. 
Upon Queen Elizabeth's coronation in 1953, Philip once again was granted royal titles. He became the prince consort (and then, an official prince of the UK in 1957), the Duke of Edinburgh, and Earl of Merioneth. He'd hold those titles, and those titles alone, until his death in 2021.
Princess Mako wed her college sweetheart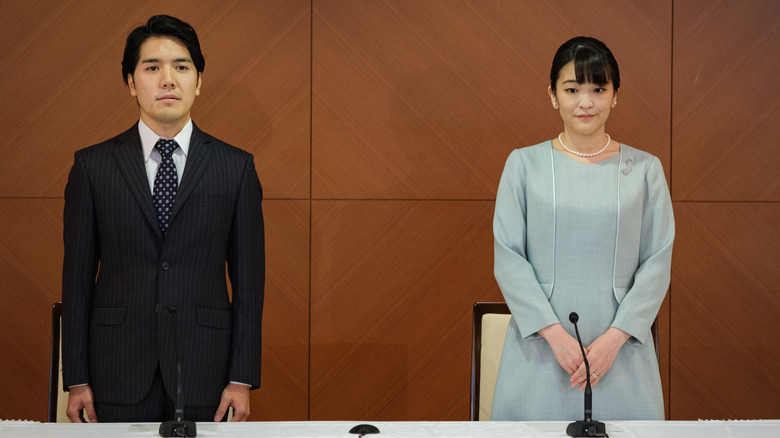 Pool/Getty Images
Princess Mako of Japan very recently let go of her claim to the throne in order to marry her commoner sweetheart. The niece of the country's current sovereign, Emperor Naruhito, Princess Mako was never actually in line to the throne (only male heirs are allowed in the line of ascension) but was a working member of the royal family nonetheless. In the early 2010s, she met Kei Komuro while they were both students at Tokyo's International Christian University. After dating for a brief period, they got engaged in 2013 but kept their relationship status on the down low for the next four years while they dated long-distance and worked on obtaining advanced degrees. In 2017, they finally shared the news of their impending wedding with the world. Along with their happy announcement came the announcement that, in accordance with imperial law, she'd be giving up her royal status.
In a statement distributed by the palace to outlets like People, Princess Mako explained her decision saying, "For us, marriage is a necessary choice to live and honor our hearts. We are irreplaceable to each other and we can lean on each other in happy and unhappy times." Following several postponements, the couple would officially tie the knot in a simple civil ceremony in October 2021. Upon making things official, the royal also gave up the $1.3 million payout which was hers by law, wishing to avoid any additional conflict with the rest of her extended family.
Princess Sayako fell for a government employee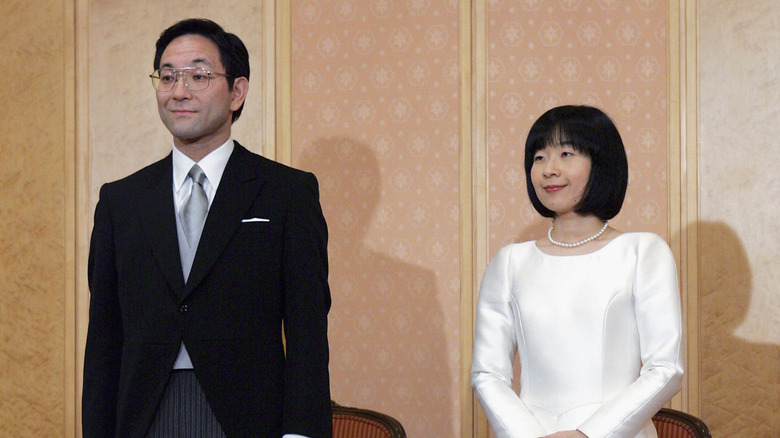 Pool/Getty Images
Princess Mako wasn't the first Japanese royal to part ways with her title for a shot at happily ever after. Her aunt, Princess Sayako, had done the same thing a decade and a half earlier.
The youngest daughter of Emperor Akihito, Sayako spent the first three decades of her life as an active working member of the imperial family. College-educated and a devout follower of the Shinto religious system, she was committed to a number of philanthropic causes and often represented her family on official visits. But then she fell in love with a commoner, and everything changed.
In 2004, Princess Sayako announced her engagement to a Tokyo Metropolitan Government employee named Yoshiki Kuroda. They were married a year later, and while it was a wedding fit for a princess, complete with lobster and caviar, it certainly wasn't a royal wedding by any standard. According to the BBC, only about 120 guests, including the princess' parents, went to the reception and the total cost was far less than the palace typically spent on those sorts of affairs. Several news outlets also reported that Sayako hadn't taken the decision to give up her title lightly, and had even gone so far as to obtain her driver's license and practice "plebeian" tasks like grocery shopping in order to make her transition into regular life easier. We're sure the $1.2 million cash wedding gift the couple received from the Japanese government also went a long way in helping her adapt.
Princess Ayako settled down with a businessman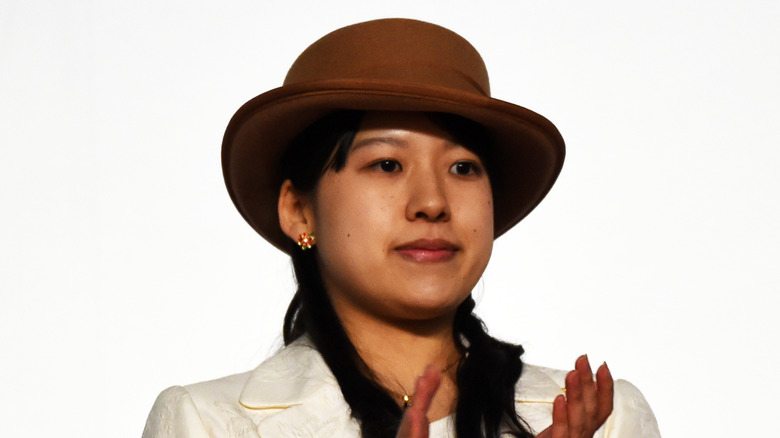 Etsuo Hara/Getty Images
When Princess Sayako gave up her title in 2005, she became the first Japanese royal to do so in almost 50 years. But she wouldn't be alone in that former royal club for long. Her bold decision clearly inspired several of her other female relatives to make similar choices, including Princess Mako and Princess Ayako.
A first cousin once removed to Emperor Akihito, Princess Ayako's involvement in the day-to-day duties of the royal family was less than either of the other Japanese princesses on our list. But she was still bound by the same imperial law as her relatives, which meant, of course, that she wasn't free to marry whomever she wanted. So, like her royal relatives, when she decided to tie the knot with a longtime family friend, businessman Kei Moriya, she had to give up her title, string-free allowance, and place in the palace.
Ayako announced her engagement in 2018 and wed her love in a Shinto ceremony just a few months later. According to CNN, 1,000 well-wishers gathered near the shrine where the pair held the ceremony. The former royal expressed her happiness to the press saying, "I am awed by how blessed I am. I will leave the imperial family today, but I will remain unchanged in my support for his majesty and her majesty." Her husband also expressed his excitement about the new union saying, "I would like to support her firmly and, hand in hand, build a happy family with lots of laughter."
Princess Martha Louise's controversial engagement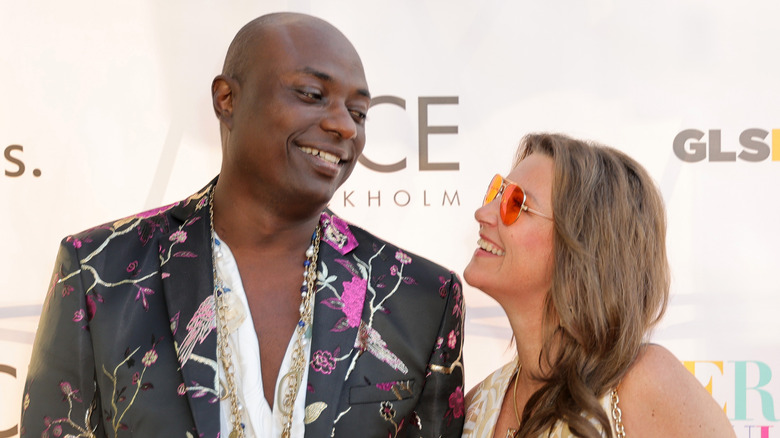 Momodu Mansaray/Getty Images
Born into the Royal House of Norway, Princess Märtha Louise is the eldest child of King Harald V and Queen Sonja. When the country changed its ascension laws in 1990, finally allowing female descendants a shot at the throne, she became third in line after her father and her younger brother. But that all came to an end in 2022 when she relinquished her official duties and position in line for the crown. In 2019, the royal met an LA-based guru and spiritual healer named Durek Verrett. She fell hard and fast, and by 2022 had announced her engagement.
According to The Guardian, many Norwegians took issue with the American because of the more... unique ideas he's espoused. (Some examples include saying having cancer is a choice and selling medallions that will supposedly protect their owners from COVID-19). So, something had to be done lest public approval of the family as a whole continue to slip.
Ultimately, it was decided that the princess could marry the shaman if she'd agree to give up her HRH title and stop all official duties and patronages. In an announcement issued by the palace, the plan was outlined, specifying that Martha Louise would keep an honorary title but that her future husband would not be granted one nor would either party officially represent the royal family. The changes also imply that should the situation arise, she would not be able to take the throne.
Prince Amedeo also found love at university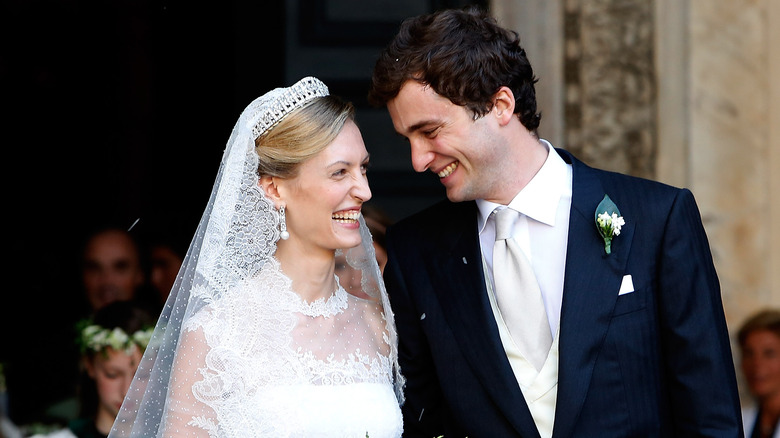 Elisabetta Villa/Getty Images
A minor royal in Belgium, Prince Amedeo is the grandson of former King Albert II, nephew of the current King Philippe, and the heir apparent to the House of Austria-Este. As of this writing, he's sixth in line to the throne, so unlikely to ever rule but not so far removed from the crown that his personal decisions have no bearing on the country.
In 2014, the prince married his college sweetheart, a journalist and Italian noble named Elisabetta Maria Rosboch von Wolkenstein. Their wedding, which was held at the Basilica of Santa Maria in Rome, was a massive affair attended by all the major players in the Royal House of Belgium. On a personal level, it seemed, the couple's entire families were behind the union. On a political level, however, things weren't quite that simple.
According to The Sunday Times, Prince Amedeo failed to obtain permission from his kingly uncle to tie the knot. This meant that he forfeited his official title and place in the line of succession, an oversight that caused a small constitutional crisis. In order to rectify the situation, King Philippe formally, and retroactively, granted his permission some 16 months later. This move reinstated Prince Amedeo into the royal house, but kept his new wife from earning HRH styling of her own (she is now referred to as the archduchess). The couple seems to have taken the drama in stride, moving to NYC in pursuit of a more normal life and welcoming their first child in 2022.
Prince Friso wasn't worried about approval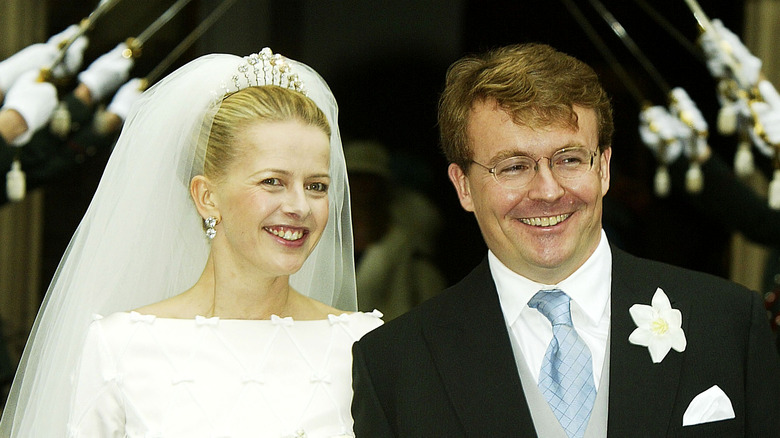 Pascal Le Segretain/Getty Images
The younger brother of King Willem-Alexander of the Netherlands, Prince Friso was, at one point in time, third in line for the throne. However, in the wake of a scandal involving his commoner fiancée, the royal who'd been nicknamed "prince brilliant" never got to test his leadership skills on a nationwide stage.
Prince Friso announced his engagement to Mabel Wisse Smit in 2003. According to the Irish Times, she was thought to be a perfect match for the young royal and was favored by his mother. However, during the process of vetting the future princess, the government discovered that she had not been fully transparent about issues from her past, particularly her close connection to a known drug baron. This gave the family pause and it seemed unlikely that the pair would be granted parliamentary permission to marry.
So they elected to tie the knot without the all-important approval. As a result, Prince Friso lost his official status as well as any claim to the throne. He and Mabel were permitted continued use of honorary titles (the Prince and Princess of Orange-Nassau) and were allowed to attend family functions, but were not members of the Royal House nor allowed to formally represent the royal family in any way. This had to have been a major blow for Friso, who, by all accounts, had loved his role, but the couple didn't seem to have any regrets, remaining happily married until the prince's death in 2013.
Princess Ubolratana's big move didn't work out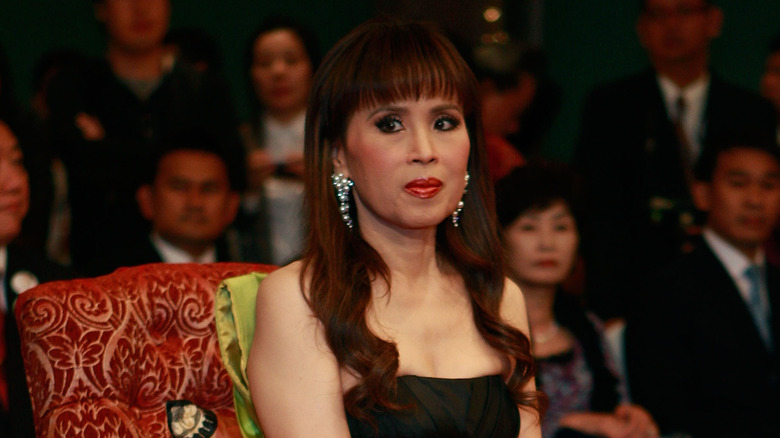 Chung Sung-jun/Getty Images
While many of the royals on our list said goodbye to their titles for love and never looked back, there have been one or two who likely regret their decision to give it all up. Thailand's Princess Ubolratana is one of these folks.
The eldest child of King Bhumibol Adulyadej, Princess Ubolratana could have become their heir apparent (Thailand's ascension law allows the current monarch to pick their successor, rather than relying fully on birth or gender order). But in 1972, she married an American named Peter Ladd Jensen who she had met while attending college. Her parents vehemently opposed the union and stripped the princess of her title and place in the royal house after she went through with the wedding. As a result, she lived in the US, largely estranged from her family, until 1998 when she divorced Jensen.
Following their split, Princess Ubolratana returned to Thailand and attempted to be reinstated as HRH. Unfortunately, her family wasn't all that eager to welcome her back into the fold and refused the request. These days, she's referred to as Tunkramom Ying or Daughter to the Queen Regent. She may be treated as a member of the royal family on a surface level, but she is not a member of the Royal House, has no royal duties, and is exempt from royal laws like lèse-majesté. According to the BBC, she now spends most of her time acting and running her various charities.
King Carol II abdicated not once, but twice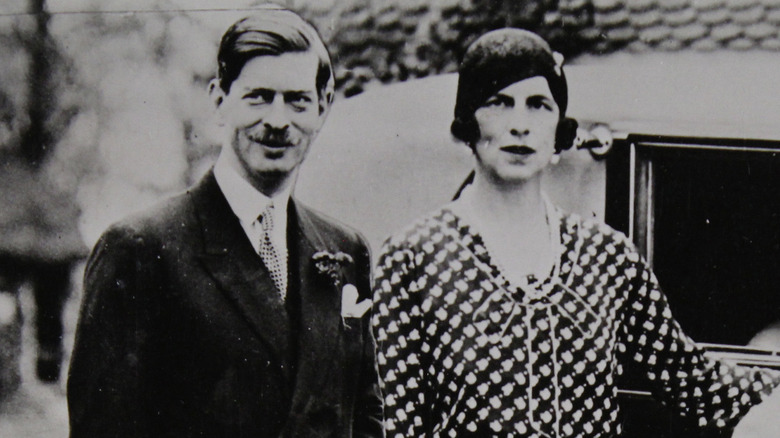 Brandstaetter Images/Getty Images
And finally, we'll leave you with Romania's King Carol II. The eldest son of Ferdinand I, King Carol II eloped with his first wife, Zizi Lambrino back in 1918. His father disapproved of the marriage, which led Carol to threaten abdication. When Ferdinand I finally mustered up the constitutional support to have the marriage deemed invalid, Carol formally renounced his rights to the throne. Fortunately for them both, Carol eventually lost interest in Zizi and gave the relationship up of his own volition, putting an end to the whole debacle.
Carol would then go on to marry Princess Helen of Greece and Denmark in 1921, welcoming a son, Prince Michael, not long after they tied the knot. Unfortunately, the marriage was an unhappy one, and Carol immediately began carrying on extramarital affairs.
His affair with a woman named Elena Lupescu, and the ensuing political attacks and questioning of his morals, led King Carol to renounce the throne in 1925. He then moved to Paris, where he lived alongside Elena for the next five years, while his son, now King Michael, led his country. Not satisfied with a plebeian life, Carol returned to Romania in 1930, reclaiming the throne and installing Elena as a sort of unofficial queen consort. The star-crossed lovers led the country for the next 10 years until political upheaval saw them forced to abdicate for a second time. They then moved to Portugal and they lived happily together until his death in 1953.