Are Rebecca Gayheart And Eric Dane Still Together Despite Filing For Divorce?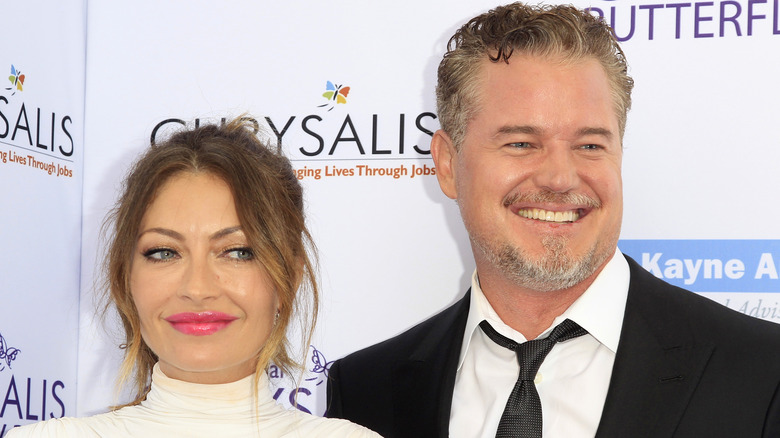 Kathy Hutchins/Shutterstock
The following article contains mentions of addiction.
Rebecca Gayheart and Eric Dane are the ex-couple — or the couple, take your pick — who like to keep everyone guessing. Gayheart and Dane officially split in February 2018. According to TMZ, she pulled the trigger, citing "irreconcilable differences" and requesting spousal support and joint custody of their daughters in her filing. "After 14 years together, we have decided that ending our marriage is the best decision for our family," Dane told People. "We will continue our friendship and work as a team to co-parent our two beautiful girls, as they are the most important thing in the world to us."
The estranged spouses excelled at continuing their friendship, keeping everything remarkably cordial and pleasant. Per People, in his divorce response filing, Dane agreed to provide financial support and share joint custody. The level of seemingly genuine affection had people questioning the real reason Gayheart and Dane split. Usually, at least a smidge of drama occurs in a celebrity divorce, but not with these two. The actors didn't even drop any shady slights during post-split interviews.
Everything ended as it apparently began. "It's probably one of the least interesting stories in the world," Dane told Flaunt magazine (via Us Weekly) when asked how his relationship with Gayheart started. "It went basically like this: 'You wanna go out?' 'Yeah, sure.' Ten months later, we were married." And funnily enough, they remain married five years after splitting up. Begging the question, are Rebecca Gayheart and Eric Dane actually still together despite filing for divorce?
The curious case of the ex-couple who aren't consciously uncoupling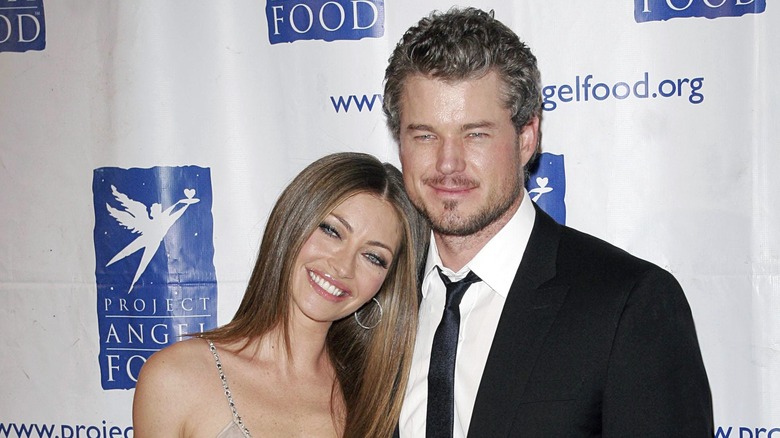 Everett Collection/Shutterstock
Rebecca Gayheart and Eric Dane wasted no time getting hitched, but they're dragging their heels over getting divorced. Per People, the couple wed in Las Vegas in October 2004, just ten months after they started dating. Their first daughter, Billie Beatrice Dane, arrived in March 2010, followed by their second, Georgia Geraldine Dane, in December 2011. "It's like the estrogen mafia at my house," Eric quipped during an interview with Harry Connick Jr.
Just over a year after Gayheart filed for divorce in February 2018, she talked about her family's "new normal" to People. "My ex, Eric, and I, we are friends, and we are doing our best to co-parent and maintain a family, even though we're not married. Legally we're still married but separated," she shared. "And I think we're doing a pretty good job of it." They were doing such a good job that in June 2019, a judge ordered them to get a wiggle on with their divorce, or he'd dismiss the case, per The Blast.
Instead, however, Eric had an unexpected reunion with Gayheart in August 2022. The "exes" embarked on a happy family vacay in France which, judging by Gayheart's Instagram, was very happy indeed. Then, in January 2023, they set tongues wagging again after being snapped together in Mexico. Page Six reports Eric was holding hands with Gayheart and wrapping his arm around her shoulders as they enjoyed the Cabo sun and sea.
The McSteamy naked trio and a dose of the really bad blues
Rebecca Gayheart and Eric Dane are in no hurry to explain their relationship — and why should they? They're close, devoted to their daughters, and genuinely happy. And after what they've gone through, they deserve it because Gayheart and Dane have faced their share of adversity. In 2009 they were subjected to a tabloid shaming tsunami after now-defunct Gawker posted the "McSteamy naked threesome" tape.
The video shows a nude Gayheart and Dane hanging out with an equally naked Kari Ann Peniche, the ex-Miss Teen USA who was decrowned after posing for Playboy. They dance around and chill in the jacuzzi. However, rumors quickly ignited that there was a XXX version too. "From what I've seen, it's a naked tape, not a sex tape," attorney Marty Singer told TMZ. "At most, it's three people maybe wanting to have sex."
People reported that Dane entered rehab in 2011 to treat a dependency on prescription pain meds. Then, in 2017 the star opened up about his battle with depression. He told "Today" that he'd felt "conflicted" because he didn't think there was any reason to be depressed. "But it's very real, and that's the scary thing," Dane admitted. He shared that he's suffered depressive bouts throughout his life, but this one "hit like a truck." Gayheart posted a flashback pic to show her support for Dane. "Way back when I met my Monday man crush," she captioned it.
If you or anyone you know needs help with addiction issues, help is available. Visit the Substance Abuse and Mental Health Services Administration website or contact SAMHSA's National Helpline at 1-800-662-HELP (4357).