What Happened To The Real Michael Oher Who Inspired The Blind Side?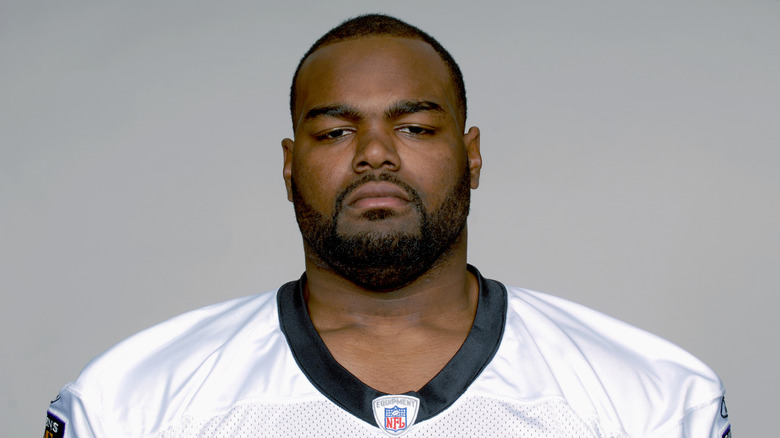 Handout/Getty Images
In the 2006 book, "The Blind Side: Evolution of a Game," author Michael Lewis talks about a pivotal strategy shift in football. He describes the unique set of speed, power, and size needed for an offensive lineman to protect a quarterback on their left or blind side. He also tells the incredible story of Michael Oher, a young Tennessean who went from poverty and obscurity as a football player to one of the best linemen in the nation. Similar to Lewis' other books "Moneyball" and "The Big Short," his football story became a Hollywood movie. "The Blind Side," released in 2009, cast Sandra Bullock as Leigh Anne Tuohy, part of the Tuohy family who adopted Oher. For her heartfelt performance, Bullock received her first Academy Award nomination and won for Best Actress. Oher praised the performance by Bullock and the other actors in the film but when it came to his portrayal, "It wasn't me, it wasn't me," he told Baptist Press.
At the end of the movie, Oher says goodbye to the Tuohy family as he sets off to play football at Ole Miss — the University of Mississippi. In the final scene, the audience sees the actual clip of the Baltimore Ravens drafting Oher as the 23rd pick in the first round of the 2009 NFL draft. He stayed busy in both his personal and professional life, adding even more incredible moments to his life story. Here's what happened afterward to the real-life inspiration for "The Blind Side."
Life outside of football for Michael Oher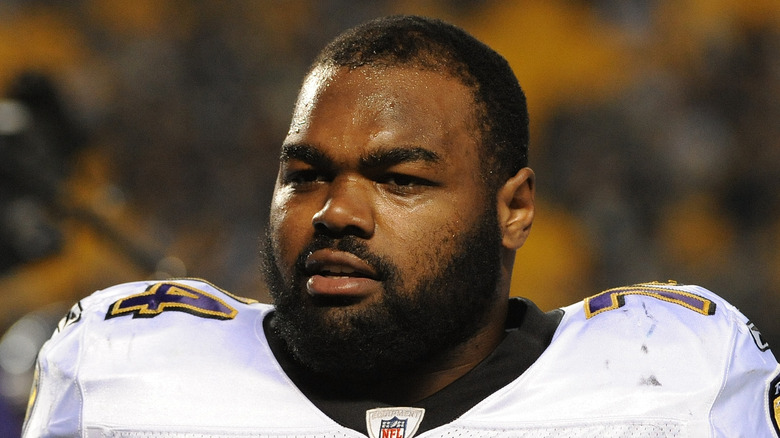 George Gojkovich/Getty Images
With an incredible true story that even Hollywood couldn't ignore, Michael Oher decided to use his influence to provide opportunities for others in need. He launched the Oher Foundation in 2016 to help disadvantaged children like himself by providing academic scholarships and mentorship opportunities. He also told his story himself, not through a scripted movie but rather through a memoir. Oher released his book, "​I Beat The Odds: From Homelessness, to The Blind Side, and Beyond" in 2011 and another in 2023 called "When Your Back's Against the Wall: Fame, Football, and Lessons Learned through a Lifetime of Adversity." In his second book, Oher addressed the darker moments in his complex personal history. In 2017, the football player faced a misdemeanor assault charge for allegedly attacking an Uber driver in Nashville, Tennessee. The charges were later dismissed. Later that year, Oher posted a disturbing and since-deleted photo on Instagram of ten prescription pill bottles with the caption, "All for the brain smh."
Through all the hardships, Oher persevered and wanted to inspire others to never give up. "The things that were against me, I can look back and say, 'I proved them all wrong,'" he told People. "I'm thankful for what I've created now," Oher added. This included creating a family. In 2022, Oher married Tiffany Roy, his girlfriend of 17 years and the mother of their two sons and two daughters. "He is a stand-up dad and no one can top him," Roy told People.
He continued to protect the quarterback
Thearon W. Henderson/Getty Images
Michael Oher had a tremendous rookie season in Baltimore, coming in second place in voting for the 2009 NFL Rookie of the Year award. Even with his great success, Oher confessed that Hollywood telling his story caused some internal grief. "It made it seem like the movie was responsible for my NFL career, not my play, not my hard work. I had to come to terms with that, deal with that," he told SB Nation. Ultimately, Oher came to terms with his on-screen story and said about the legacy of the film, "I do know it's a part of me."
In the NFL, Oher continued to excel as an offensive tackle and helped lead his Ravens to victory at Super Bowl XLVII in 2013. He then had a second chance at winning it all at Super Bowl 50 in 2016 but sadly lost. Years after reaching the pinnacle of professional football, Oher said watching the big game still gave him chills. "It's Super Bowl weekend! Will NEVER forget this feeling," he captioned on Instagram along with a photo of himself on the field after winning the Vince Lombardi Trophy.
Oher played five seasons in Baltimore, followed by two for the Tennessee Titans, and closed out his career playing for the Carolina Panthers before retiring after the 2016-2017 season. All in all, he played nine seasons in the NFL and earned over $34 million in contracts from his time as a professional football player.