Reba McEntire Stood By Her Friend Garth Brooks After His Lip-Syncing Scandal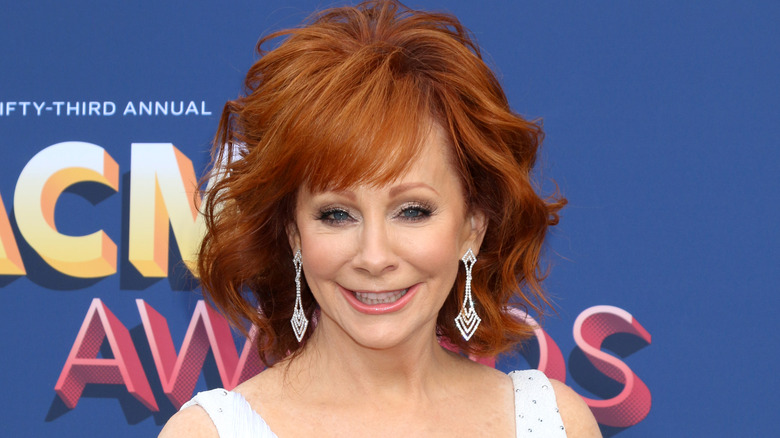 Kathy Hutchins/Shutterstock
Sometimes you have to fake it 'til you make it and Garth Brooks was living proof of that motto during the 2017 CMA Awards. The country singer, who was awarded Entertainer of the Year, was noticeably lip-syncing during his performance of "Ask Me How I Know," and instead of denying it, Brooks completely fessed up. "We made a game-time call on whether to sing to a track or lip-sync. And we decided to lip-sync it. We decided to lip-sync it because my voice was just not there, and we wanted to represent country music the best we can," he shared after the show according to USA Today. At the time, Brooks was under the weather and had been touring and playing more than a dozen concerts — sometimes two in one day.
Following his admission, Brooks received a lot of blowback, especially from fellow musicians. "I keep a lot of my opinions to myself and respect anyone making music but as a person who tries to put on the best and most honest show I can night after night... this truly offends me. I was told country music is three chords and the truth," singer-songwriter Anderson East tweeted. Eric Church shared similar outrage with Rolling Stone. "So the winner of the biggest category of the night lip-synced in the biggest moment on the show? That pissed me off," he fumed, calling lip-syncing a "red line." 
Despite the negative feedback, other country artists were quick to stand by Brooks, particularly Reba McEntire.
Reba McEntire applauded Garth Brooks for being a hard worker
Kevin Winter/acma/Getty Images
Reba McEntire and Garth Brooks go back a long way. The two country singers knew each other since the 1990s and have toured together. When asked about his lip-syncing scandal, McEntire was quick to point out how many concerts Brooks was performing at the time, per Access Hollywood. "He's the hardest-working man I've ever seen in my life. He will not let his fans down, so I kind of applaud him if he did need to lip-sync. He showed up!" she declared. McEntire added, "I can't out-work him. I can't keep up with him so kudos to him."
Other country crooners shared their support of Brooks, too. "A friend, a man, an artist who gives ALL, always! Our family in music should be the 1st to understand — after you walk in our shoes, get back with us!" Randy Travis tweeted. Blake Shelton wrote, "Hey @garthbrooks ... I still love you. #hero #respect." Since then, Brooks has moved on from the scandal and McEntire proved once again just how deep their friendship runs.
Reba McEntire asked Garth Brooks to write the foreword to her new book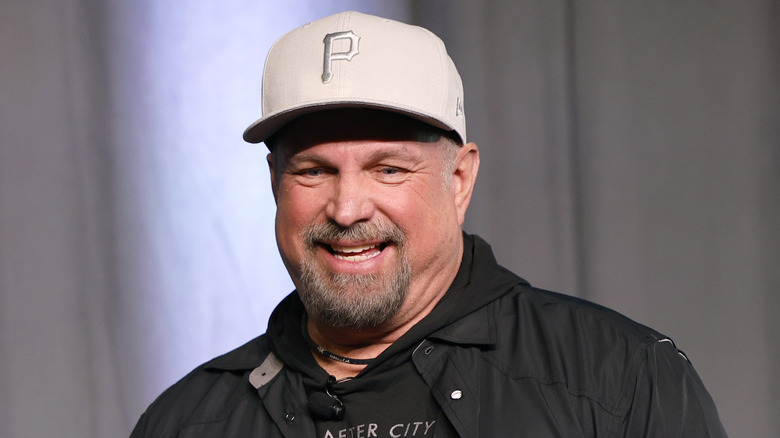 Jason Kempin/Getty Images
Reba McEntire can do it all. Not only is she a three-time Grammy award-winner, but she also recently wrote a new book, "Not That Fancy: Simple Lessons on Living, Loving, Eating, and Dusting Off Your Boots." The "Fancy" singer gave her longtime friend, Garth Brooks, the honor of writing the foreword, which the two discussed during a livestream session via TalkShopLive. "Anything with Reba McEntire, I'm just a fan. I've always been a fan. You've always been so sweet to treat me like an equal, and I just love you," Brooks told McEntire. The two also shared their common love for their late respective mothers. "You and I are both very blessed to have had mommas that loved us, cared for us, and we loved them so much and we miss them so much. To go out and start talking about momma, it was momma that encouraged us kids to sing, taught us how to sing, took us to our singing jobs," McEntire stated.
When discussing her newest project, McEntire told Carson Daly on "Today," "This is just a fun book. You can read it front to back, it's got recipes, stories, new pictures people haven't seen before ... talking about my family, my faith, my friends." Daly acknowledged Brooks' foreword, describing it as a "love letter" to her, and undoubtedly, their friendship will be featured in "Not That Fancy."