Kate Hudson Had A Telling Reaction To Matthew McConaughey's Political Aspirations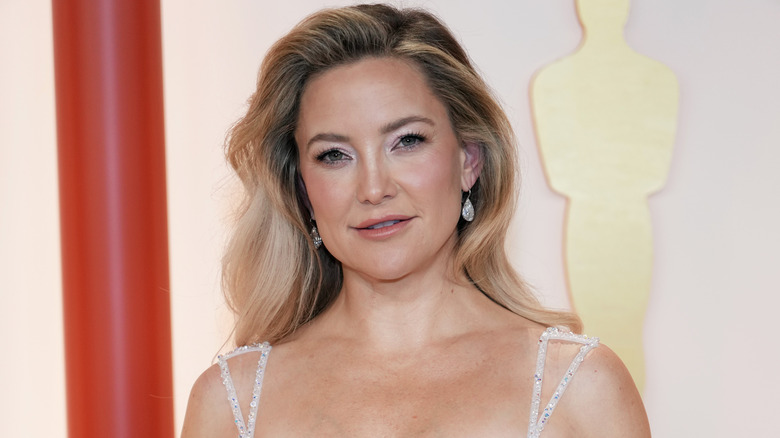 Kevin Mazur/Getty Images
Celebrities getting involved in politics has become all the rage. Donald Trump started as a famous businessman with a television show and became the president of the United States. Arnold Schwarzenegger was a bodybuilder turned actor that became the governor of California. The list of celebrities involved in politics is never-ending. And now, there's one more name to add to the list — Matthew McConaughey.
McConaughey, a born and raised Texas native, grew up with his family getting involved in politics. According to the Texas Tribune, the "Dallas Buyers Club" actor briefly discussed his family's political background in his memoir, "Greenlights." He described those closest to him as "outlaw libertarians who vote red down the line because they believe it'll keep fewer outlaws from trespassing on their territory." As McConaughey grew up, he wasn't heavily involved in the government, and Since 2012, he's only voted twice in Texas — the 2018 and 2020 general elections.
Despite his less-than-stellar voting record, McConaughey continues to talk about politics. Speaking with conservative talk show host Hugh Hewitt in 2020, the actor shared, "Look, politics seems to be a broken business to me right now. And when politics redefines its purpose, I could be a hell of a lot more interested." Not long after his interview with Hewitt, McConaughey started hinting at some political aspirations, and very few knew he was interested in taking office, including his costar, Kate Hudson.
Kate Hudson was shocked by Matthew McConaughey's potential political run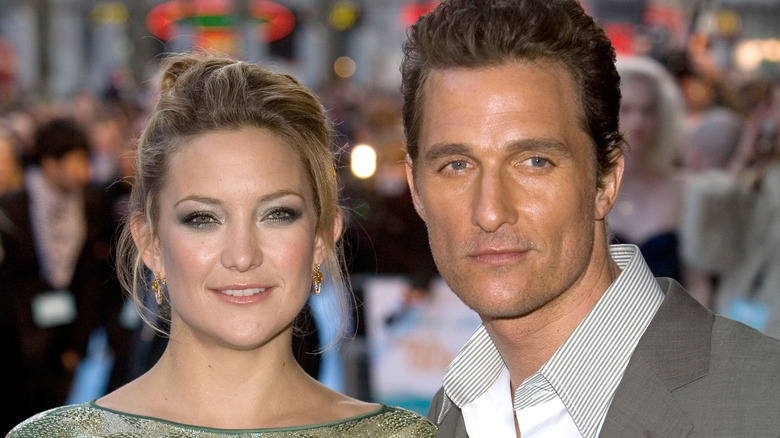 Antony Jones/Getty Images
Matthew McConaughey can do it all, politics included! In 2021, the "Mud" star toyed with the idea of potentially running for Texas governor on the "Set it Straight: Myths and Legends" podcast. The actor shared, "I'm more of a folk singin', philosopher, poet-statesman than I am a per-se definitive politician. So I go, 'Well, that's a reason not to,' but then I go, 'Oh, well, that's exactly why you should.' Because politics needs redefinition." Word of McConaughey's potential candidacy quickly spread, but one person was unaware of his political aspirations, his former costar, Kate Hudson.
The "Almost Famous" actor found out about McConaughey's potential run for governor after Rob Lowe told the actor on his podcast, "Literally! With Rob Lowe." To say Hudson was shocked was an understatement — she was astonished. She said, "This is the first I'm hearing of McConaughey getting into politics." After her shock subsided, Hudson shared nice words about McConaughey. She gushed, "...honestly if he does want to get into politics, I believe that Matthew, you probably wouldn't get a politician who would care as much as he does, you know?" While she thinks McConaughey would do a great job, she doesn't deny that it would be tough. She said, "I think he's very authentic in how much heart, um, but the governor of Texas is a big job. I mean, is that what we're talking about? The governor of Texas? ... Oh, wow."
Kate Hudson thinks Matthew McConaughey would have a good shot at run for Texas governor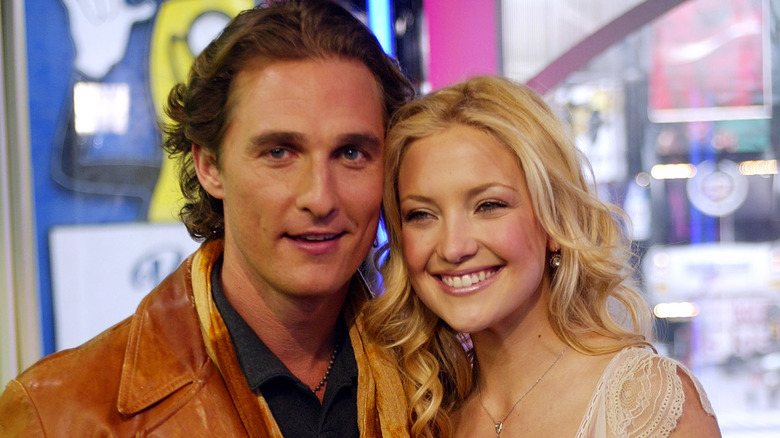 Scott Gries/Getty Images
Although Kate Hudson was shocked over Matthew McConaughey's potential run for office, she truly believes he would have a good shot at winning. She and Rob Lowe joked on the "Literally! With Rob Lowe" podcast about how the actor could use his iconic saying, "Alright, alright, alright," as a potential slogan. She shared, "I think he'd encourage that [the slogan]. But I actually feel like he'd have a real chance."
Despite the encouragement from his "How to Lose a Guy in Ten Days" costar, McConaughey didn't run for office. In 2021, the actor shared a video on Twitter confirming his decision. He said, "As a simple kid born in the little town of Uvalde, Texas, it never occurred to me that I would one day be considered for political leadership. It's a humbling and inspiring path to ponder. It is also a path that I'm choosing not to take at this moment." Although McConaughey chose to avoid the Texas political race, the actor has not shied away from politics. After the tragic mass school shooting in his hometown of Uvalde, Texas, the actor flew to Washington, D.C., to encourage gun reform. In addition, McConaughey also hired a lobbying firm to help represent him as they pushed for stricter gun control. So, while 2021 may not have been his year for Texas governor, the actor is never going to say never.