Celebrity Families You Forgot Had Reality Shows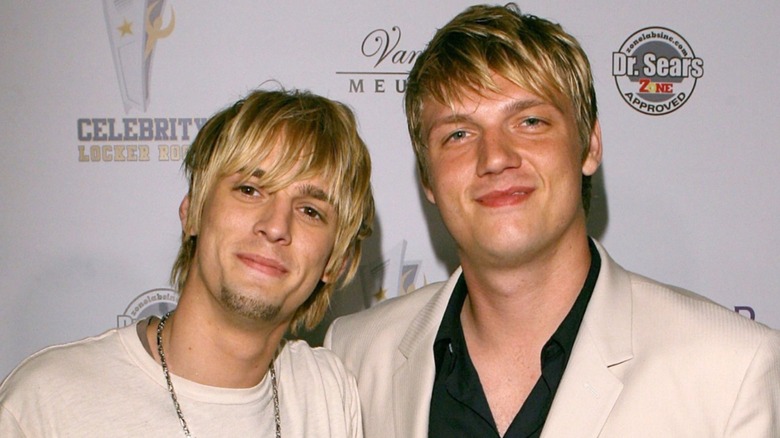 Michael Buckner/Getty Images
We may receive a commission on purchases made from links.
Many have tried, but few celebrity families have truly found reality television fame. Ozzy and Sharon Osbourne's clan reached new echelons of fame when "The Osbournes" debuted on MTV in 2002. When heavy metal music icon Ozzy couldn't figure out how to program his remote control, a reality TV icon was born. The charm of the series came from the subverting audience expectations about the nature of their celebrity subjects. The voyeuristic pleasures of Sharon's petty feuding with their annoying neighbors laid the groundwork for the burgeoning TV genre and catapulted the Osbournes into a new echelon of fame from which they benefited for years.
With "The Osbournes" astounding success, it's no surprise that other celebrity families have tried their hand at playing the reality TV game. However, for every "Osbournes" there are plenty of "Hasselhoffs" that have been lost to time. Remember when MC Hammer put his family in front of the cameras? Or do you recall Denise Richards' foray into reality TV before she became a Real Housewife? Let's hop into the TV wayback machine and remember some celebrity families you forgot had reality shows, because watching other people's family drama can be cathartic, soothing, or just a reminder that everyone's family can sometimes be messy.
Hogan Knows Best was kind of the worst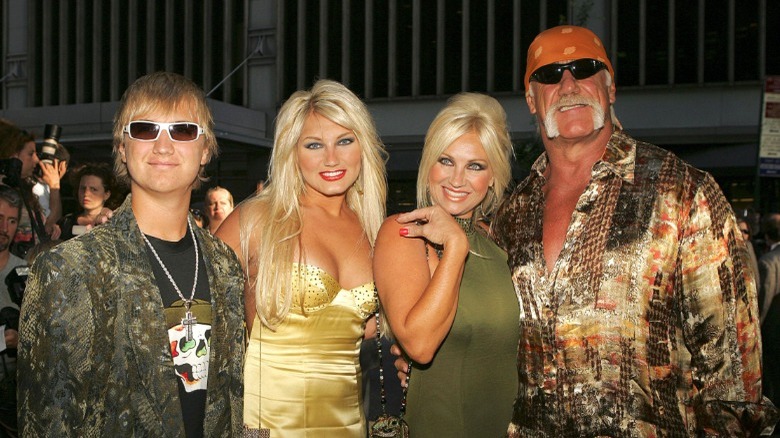 Everett Collection/Shutterstock
Professional wrestling legend Hulk Hogan ensured Hulkamania made its way to the 21st century with the VH1 reality TV show "Hogan Knows Best." Running from 2005 to 2007, the series followed Hulk, wife Linda Hogan, and their kids Brooke and Nick Hogan as they lived their lives in central Florida. Hulk signed onto the show as a way to break Brooke into the music business. The show accomplished what it set out to do by raising Brooke's show business profile. Her single "About Us" and album "Undiscovered" dropped in 2006. While "Hogan Knows Best," presented the Hogan's in a carefree light, their off-camera lives were anything but jovial.
Nick's innocent prankster persona on the show obscured his real life issues with wild driving and street racing. In 2007, his antics behind the wheel became seriously public when he was involved in a serious car accident that left his best friend, John Graziano with severe brain damage. Nick, who denied he was street-racing at the time of the crash, was sentenced to eight months in county jail for felony reckless driving. 
Hulk had his own issues, including his affair with Brooke's best friend, Christiane Plante. Hulk and Linda Hogan got divorced, with Linda filing in 2007 and their divorce finalized in 2009. Looking back on this time of his life, Hulk said on "Oprah: Where Are They Now," "I kind of hit rock bottom. Everything got dark, everything happened at once."
House of Carters got very real very quickly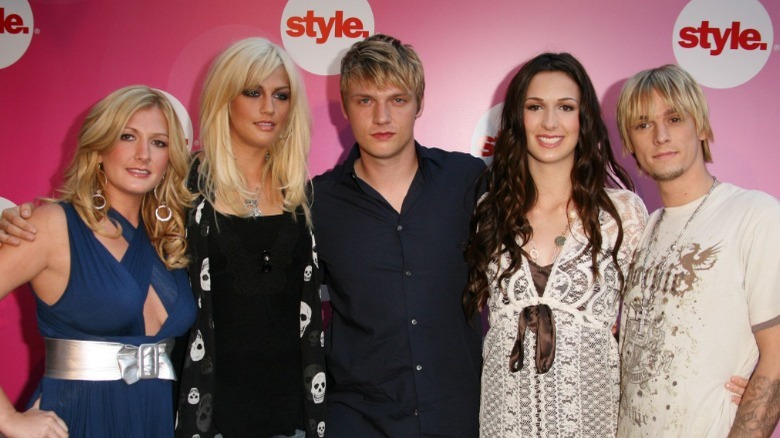 Chad Buchanan/Getty Images
Nick and Aaron Carter's failed reality show you probably forgot about, "House of Carters," was an intense family drama more akin to "Intervention" than to "The Osbournes." In 2006, Nick Carter wanted a "normal" living arrangement for himself and his siblings, including his sisters Leslie, Angel, and B.J. Carter. Mired by negative tabloid gossip and the pain of their parents' divorce, Nick hoped the show would set the record straight about his family. He told the Orlando Sentinel, "There's so much that I could say — we could say to you — so many things that we've gone through, and the only way we can explain it is through a television show."
Nick Carter also wanted to keep things real on "House of Carters," however, the sibling drama quickly escalated from camera-ready relatable squabbles to disconcertingly raw confrontations. Nick and Aaron got into a physical altercation on the show, a flight so epic that Aaron revisited the brawl on Twitter in 2019. Seemingly too much reality for E!, "House of Carter" only ran for one season. In the wake of the show's cancellation, Nick moved to Tennessee to try to practice self-care. Sadly, Leslie died in 2012; the brothers reportedly were on better terms with each other before Aaron's death in 2022.
Living Lohan couldn't escape the shadow of Lindsay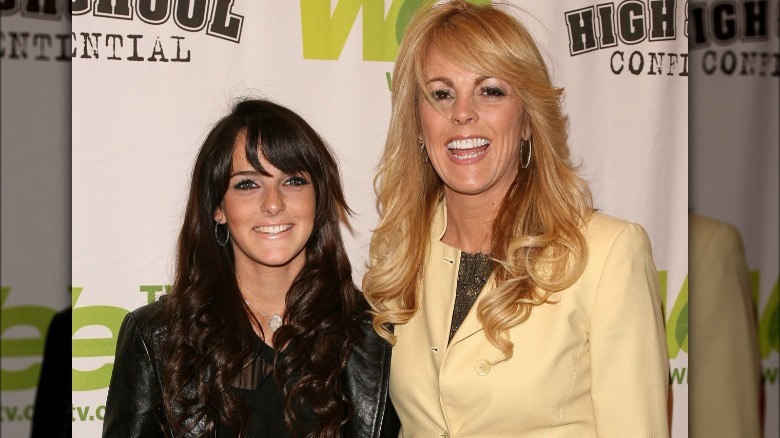 Bryan Bedder/Getty Images
Lindsay Lohan is arguably one of the '00s era-defining celebrities, becoming just as famous for her acting skills in movies like "Mean Girls" as for her numerous headline-grabbing moments. By 2008, Lindsay faced serious personal and professional setbacks, and mom Dina Lohan was sick and tired of all the tabloid rumors saying what they wanted about her clan. So she took control of the narrative with the one-season wonder reality TV show "Living Lohan." Dina told CBS News she starred in "Living Lohan," in order "to diffuse the rumors because the press for two years was really horrific on us." She also said, "There's such a weird perception of Hollywood families and we're so not like that."
Even though Lindsay garnered the most tabloid attention of the Lohan family, her actual involvement in the show was minimal (she'd get her shot at reality TV later in shows like "Lindsay" and "Lindsay Lohan's Beach Club"). Instead, "Living Lohan," focused on Dina and the other Lohan kids, but paid special attention to Ali Lohan's music career ambitions. As dramatic as the Lohan family's real life could be, "Living Lohan" proved to be fairly uncompelling television. At least Ali released her song "All The Way Around" during the show's run. It's no "Lohan Holiday," but the song made the iTunes Top 100 chart.
Meet the Barkers meant the end of a marriage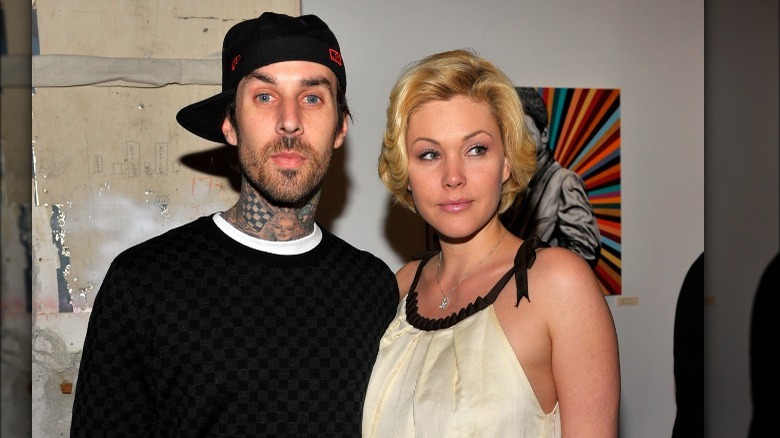 Charley Gallay/Getty Images
"Meet the Barkers," starring Blink-182 drummer Travis Barker and former-Miss USA and actor Shanna Moakler was MTV's attempt at continuing the massive success of "The Osbournes." The show filled a scheduling void on MTV after their juggernaut series "The Osbournes" and "Newlyweds: Nick and Jessica" left the airwaves in 2005, and Travis, Moakler, and their children Landon Barker and Atiana De La Hoya were up to the task and nothing was off-limits for the new family. Travis told the New York Post of their lack of boundaries, "the camera crews had access to probably too much. It shows everything from us basically [having sex] at the Playboy Mansion, to our son's first steps."
It seems that too much reality TV, and not enough actual life, was not a good thing for the family. Travis didn't want to participate in manufactured drama for the cameras. Travis and Moakler's love was as short-lived as their show, which aired its second and last season in early 2006. In August that same year, Barker filed for divorce after less than two years of marriage. Both Moakler and Travis both cite the show as the source of their relationship's demise. In an excerpt from Travis' memoir "Can I Say" published by Radar Online, Moakler claimed Travis didn't want to be perceived as a reality star, while Travis wrote that Moakler wasn't being genuine on camera.
Snoop Dogg's Father Hood was almost too wholesome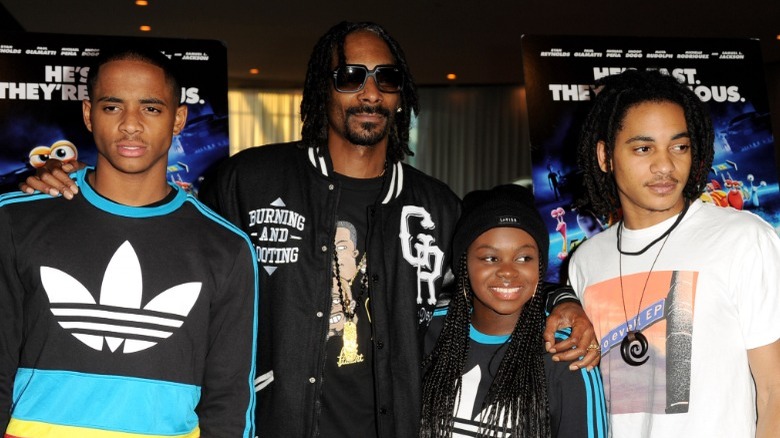 Kevin Winter/Getty Images
"Snoop Dogg's Father Hood" showed a softer side of the hip-hop star when it aired for two seasons on the E! network. Launching 2007, "Father Hood," plopped Snoop Dogg and his family in suburbia, painting him as a regular dad who just also happens to be a world-famous celebrity. Snoop, his wife Shante Taylor, and their kids Cori, Cordell, and Corde Broadus, mixed mild-mannered family activities, like cleaning the house and soccer practice, with jetting off to Germany so Snoop can host the MTV Europe Music Awards. However, most kids don't have David Beckham as a soccer mentor.
While critics blasted "Father Hood" for being contrived, audiences made it a ratings hit. In 2008, "Snoop Dogg's Father Hood" was reportedly E!'s highest rated show. Despite its popularity, the show only aired for two seasons. Snoop eventually got back into the reality TV game with the 2016 Netflix docuseries "Coach Snoop," where flexed his leadership skills as a coach in the Snoop Youth Football League.
Denise Richards: It's Complicated lived up to its name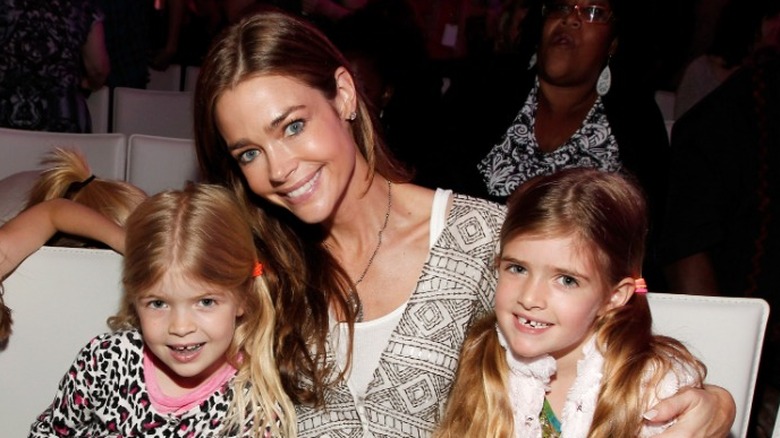 Christopher Polk/Getty & undefined
Before Denise Richards starred on "The Real Housewives of Beverly Hills," she got her reality TV start on the E! show "Denise Richards: It's Complicated." On the series, cameras followed Richards' life as a single mom trying to do it all with the help of her father, Irv. "It's Complicated" was an image rehab of sorts for Richards. She made the show in hopes of countering tabloid narratives about herself, many of which were shaped by her very public and rather messy divorce from actor Charlie Sheen.
But even getting the green light to move forward with the show became media fodder. A judge had to approve of their kids appearing on "It's Complicated." Sources told "Extra" that Charlie thought his children appearing on the show was "exploitative of the children for the mother's own vanity and greed." Richards got her wish, and daughters Sami and Lola Sheen appeared on the show. Although "It's Complicated" seemed primed for reality TV success, tepid reviews and rumors of an early cancellation loomed over the series. The show only lasted for two seasons.
Married to Jonas was wedded bliss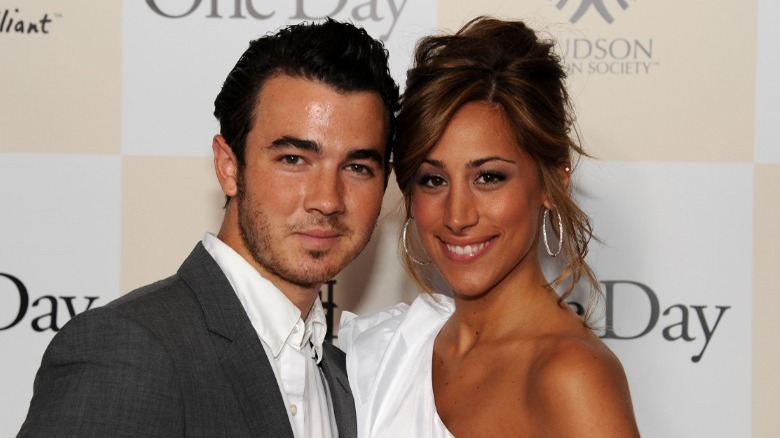 Larry Busacca/Getty Images
Oldest Jonas Brother Kevin Jonas and his wife Danielle Jonas starred in the reality TV series "Married To Jonas," which aired on E! For two seasons. Hair stylist Danielle didn't know who the Jonas Brothers were when she met Kevin while on vacation in 2007 and the couple married in 2009. "Married To Jonas" juxtaposed Kevin's international pop stardom with Danielle's down-home vibes. About his show, Kevin told People, "Danielle and I are out here in New Jersey, trying to be domestic. You'll get to know her big, Italian family and who the characters are. And you'll get a look into the lives of my family."
"Married to Jonas" drew solid ratings numbers for E!, enough for the network to order a second season. Counter to other celebrity couples who took the reality TV plunge with negative consequences to their relationships, Danielle said filming "Married to Jonas" was good for their marriage. She said in People, "I think doing a reality show has made us talk even more about things that maybe we would not have talked about or just left on the back burner. I just feel like this made us communicate more, and I think that's important in our relationship and keeps it strong." Even though the show wrapped in 2013, Kevin and Danielle are open to "Married to Jonas: Part II." They shared with E! Insider that they took a break when they had kids, but admitted things may change.
Mrs. Eastwood & Company mixed old and new Hollywood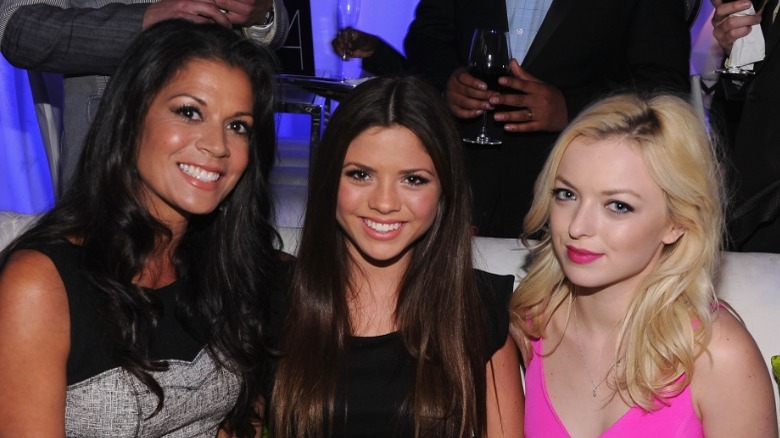 Dimitrios Kambouris/e/Getty Images
Hollywood legend Clint Eastwood in a reality TV series? Yes, this happened in 2012 when "Mrs. Eastwood & Company" aired on the E! channel. In 2009, Clint's wife Dina Eastwood began managing a South African boy band called Overtone. The band was asked to record a song for Clint's film "Invictus," and Dina became smitten with the group. She became their manager and thus, a reality TV show was born. However, the show morphed into a show that featured Dina and Clint's daughter Morgan Eastwood and Dina's step-daughter Francesca Eastwood, Clint's daughter with actor Francis Fisher. Dina told Variety, "People might be surprised by how we live our lives and our unconventional approach. I also believe that it's hard not to fall in love with my band, Overtone."
On "Mrs. Eastwood & Company," Dina juggled managing Overtone with parenting her teenage daughters and the show was not without controversy. In one episode, Francesca destroys a Birkin bag during a photoshoot with her artist boyfriend Tyler Shields. She received death threats for her actions, but Shields took responsibility for the stunt. And as for Clint, he appears in the show twice, but he pushed back when Dina wanted him to do more scenes. Although Dina was ready for multiple seasons of "Company," only had one. It didn't help that Dina didn't want to keep Clint's company, either. Dina filed for a separation from Clint in 2013. Their divorce was finalized the following year.
Ashlee+Evan kept the best drama off the show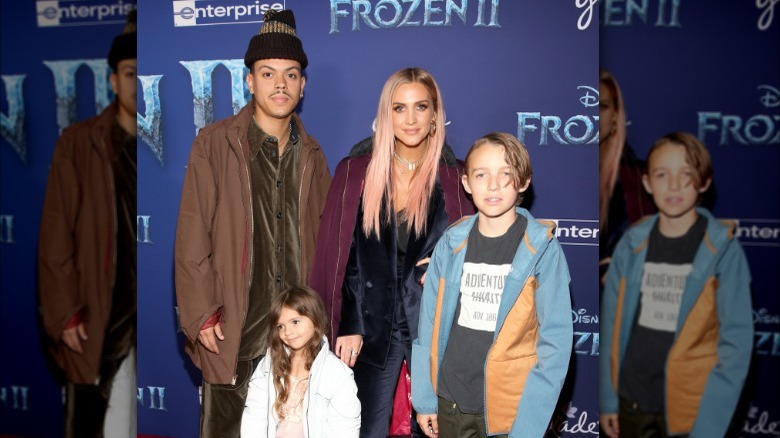 Jesse Grant/Getty Images
Ashlee Simpson made a pop culture splash with "The Ashlee Simpson Show" in the early '00s. Simpson chronicled her infamous "Saturday Night Live" lip sync hoedown on her show, a fiercely embarrassing moment for even the toughest of celebrities. So it might be surprising that she dipped her toes back in the reality TV waters with her husband Evan Ross in their short-lived series "Ashlee+Evan." Billed as a "docu-series," the show followed Simpson and Ross as they blended both their personal and their professional lives together, with special focus on the making of a joint album. Simpson was ready for a public comeback, and she told Refinery29, "I feel like it's been a minute and I feel like we wanted to share who we were and our love story and our process of making this album."
"Ashlee+Evan" purported to depict Simpson and Ross opening up for the cameras, but their juicy off-camera drama might have been more exciting than the show itself. A source told Radar Online, "Ashlee and Evan got in a huge fight because he didn't want to do the show in the first place and he is upset that now they look like failures." Amidst the alleged fighting, ratings for "Ashlee+Evan" were reportedly poor. Simpson confirmed "Ashlee+Evan" was done to Us Weekly in 2019. She said, "We are not doing that any longer."
Gene Simmons Family Jewels' rockstar family life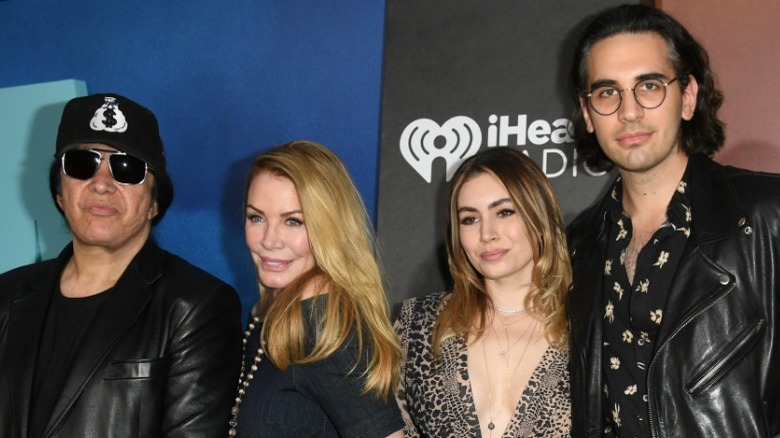 Kevin Winter/Getty Images
Yet another attempt to capitalize on the success of "The Osbournes," "Gene Simmons Family Jewels" framed KISS frontman Gene Simmons as the bossy patriarch and businessman. Co-starring his partner Shannon Tweed and their children Nick and Sophie Simmons, "Gene Simmons Family Jewels" puts rock star Gene in domestic situations for laughs. For example, protective dad Gene looks after his teenage daughter Sophie as she hangs out with boys, while he goes to adult entertainment expos. He might be an exacting businessman, but there's nothing like the scorn of a cool teen to knock even a wealthy sexed-up rock star down a peg.
The "Gene Simmons Family Jewels" show premiered to strong ratings in 2006. While the show had plenty of contrived scenarios, Gene and Shannon worked through their legitimate relationship issues in front of the cameras, but things worked out for the best for the pair. Three million people tuned in to watch Gene propose to Shannon on "Family Jewels" and they got married in 2011. A hit for A+E, "Family Jewels" ended after seven seasons in 2012. In a statement to The Hollywood Reporter, the Simmons family said of ending their show, "​​With Kiss on tour and with my other business commitments, we have decided to draw the final curtain on our show. It has been a wonderful, life-altering experience for our family, and after seven successful seasons, we feel it's time to move on."
Hammertime was actually legit to quit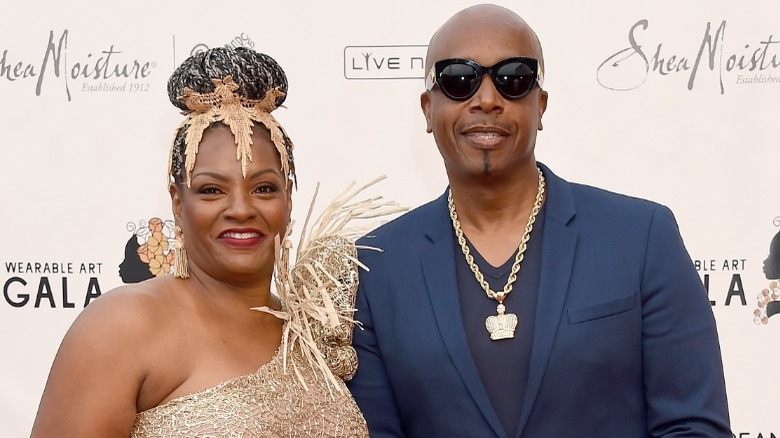 Gregg Deguire/Getty Images
MC Hammer, whose meteoric rise as a music phenom in the early '90s was just as epic as his devastating fall from superstardom, was the star of his own reality TV series "Hammertime." A slice-of-life show that followed MC Hammer, his wife Stephanie Fuller, their five children, and a nephew, "Hammertime" aimed to show the man behind the parachute pants. The musician hoped to give people a look at his family life as well as his entrepreneurial side. 
In "Hammertime," MC Hammer does the fatherly things like dealing with poor report cards, coaching his kids' talents, and talking to Stanford Business School. The show pulled in modest numbers in the ratings, but the sitcom vibes of "Hammertime" didn't sit well with critics and the show was done after one season. Not to mention the show scantily mentioned the compelling true story of MC Hammer. At the height of his career, MC Hammer reportedly made $33 million in 1991. But his gargantuan list of expenses, like his multi-million dollar mansion near San Francisco, and a jumbo jet, not to mention his staff's hefty payroll, all led to him filing for bankruptcy in 1996. One guesses that story that was best left to "Behind The Music" to tell. 
The Hasselhoffs got hassled off TV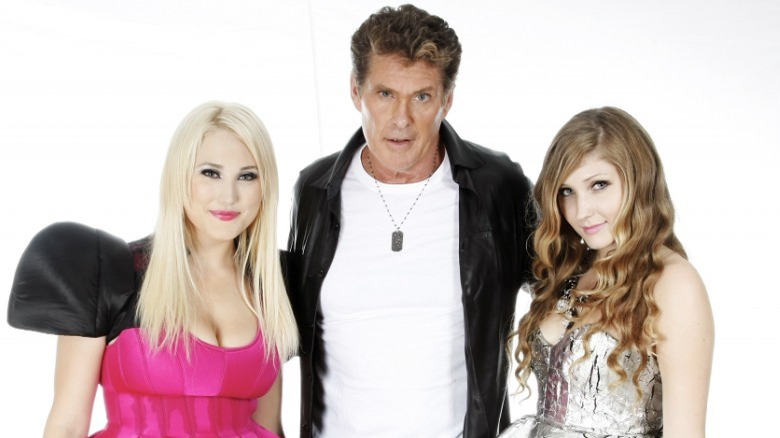 Florian G Seefried/Getty Images
Living pop culture meme David Hasselhoff got into the reality TV game in 2010 with "The Hasselhoffs." David wasn't shy about the show's intentions: It was meant as a vehicle to launch his daughters Hailey and Taylor-Ann Hasselhoff's careers. As an added bonus, David wanted to use the show to set the record straight on his own life. He told Yahoo! Entertainment, "I also thought it was a way for me to tell the world who I am without having to sit on a panel and answer questions on a talk show, or react to some magazine that's printing absolute lies about me that hurt my daughters."
Hailey and Taylor-Ann had already done a reality show in the U.K. called "Meet The Hasselhoffs" but wanted to give U.S. viewers a chance to get to know the family. Despite their tender intentions, "The Hasselhoffs" was pulled from A&E's schedule after airing only two episodes. Although "The Hasselhoffs" was a TV bust, the Hasselhoff daughters maneuvered their careers just fine without it. Taylor-Ann became a cast member of "The Rich Kids of Beverly Hills" and "Relatively Famous: Ranch Rules" Hailey has made headlines for being Playboy's first curve cover model and works as a runway model.
The Houstons: On Our Own was too much too soon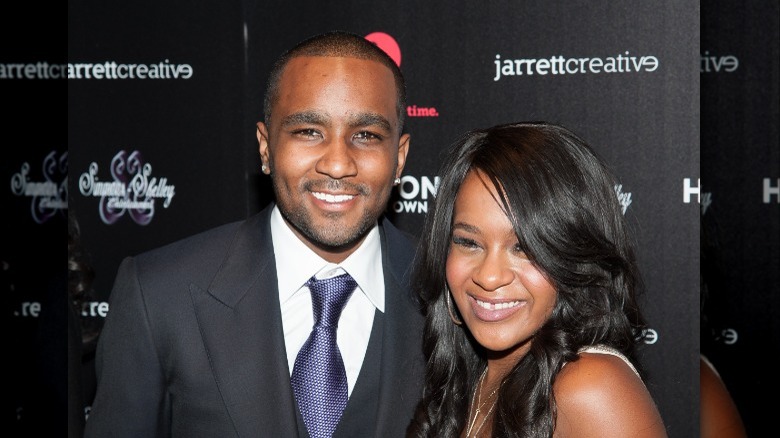 Dave Kotinsky/Getty Images
"The Houstons: On Our Own" centered around the Houston family in the aftermath of Whitney Houston's death in 2012. Production on the show was announced just three months after Whitney's death. Though the show was billed as focusing on Pat Houston and her family, Bobbi Kristina Brown and her relationship with her boyfriend Nick Gordon were also heavily featured. 
Bobbi Kristina had reality show experience before "On Our Own," having appeared on Bravo's "Being Bobby Brown" in 2005, but "The Houstons: On Our Own" was admonished by the press for building a reality series around the unexpected death of Whitney Houston so soon after her death. Panned by critics for being exploitative, the show aired for one season on Lifetime. Reflecting on the series, friends of Bobbi Kristina said filming "On Our Own" was too much, too soon. She was actively grieving the death of her mother and there was concern for Bobbi Kristina's well-being while making the show. Bobbi Kristina died in 2015 at age 22 from immersion in water and drug intoxication. Nick Gordon died from a heroin overdose in 2020 at age 30.
If you or anyone you know needs help with addiction issues, help is available. Visit the Substance Abuse and Mental Health Services Administration website or contact SAMHSA's National Helpline at 1-800-662-HELP (4357).
The Jacksons: Next Generation's other family band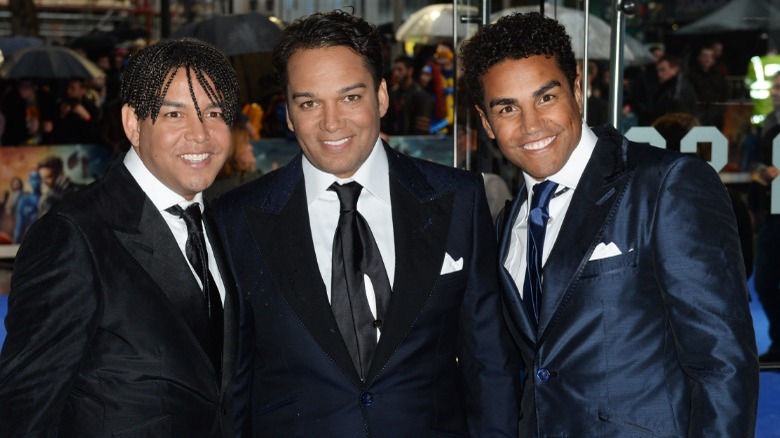 Dave J Hogan/Getty Images
"The Jacksons: Next Generation" chronicled the comeback efforts of Tito Jackson's sons and their band 3T. The elder Jackson brothers had already dipped their toes into the reality TV waters with "The Jacksons: A family dynasty" in 2009 and in "Next Generation," it was the younger generation's turn, specifically Tito Jackson's sons. Decades after the release of their multi-platinum album "Brotherhood," brothers TJ, Taj, and Tyrell contemplate how they'll make a comeback. Taj told ET, "First it was really hard because we are so private. There's certain things that you see and then we're like, 'No, you can't show that!' But then that's what keeps it real."
Certainly, "Next Generation" proved that the extended Jackson family had to keep things real, feeling the pressures of everyday troubles like paying the bills despite their powerful family name. Even with star power appearances by Micheal Jackson's son, Prince Jackson, the show only had one season on Lifetime. 3T eventually dropped new music, releasing their album "Chapter III" in 2016 and, according to their Instagram, in recent years they've been gigging at nostalgia concert events in Europe.