What Michelle Obama's Parents Really Did For A Living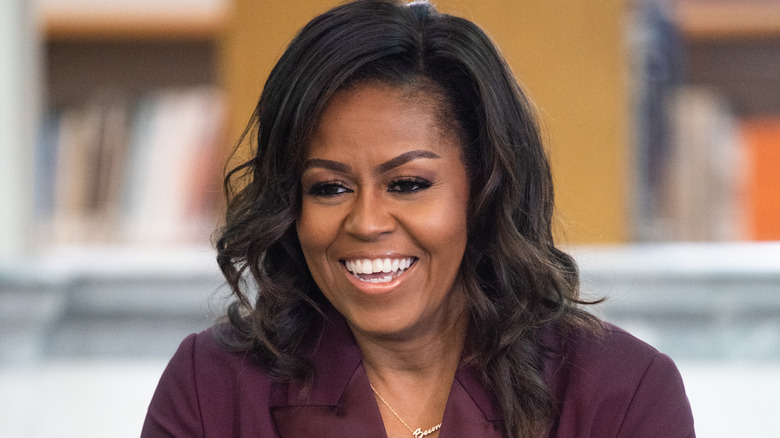 Jim Bennett/Getty Images
Way before becoming the first Black first lady in U.S. history, Michelle Obama already boasted an impressive list of accomplishments — which also goes back to how her parents raised her. 
After earning a bachelor's degree at Princeton University in 1985, Michelle applied for law school and received her juris doctor degree at Harvard three years later. She secured a job at a law firm in her native Chicago, where she met her husband, the future President Barack Obama. While there, Michelle mentored Barack when he came on as a summer associate. "In the luckiest break of my life, [she] was assigned to be my adviser, charged with helping me learn the ropes," he told O, The Oprah Magazine in 2007. She eventually left the job to focus on community-oriented causes, and established a Chicago location for the nonprofit organization, Public Allies. However, Michelle's success is, as she put it, "a statistical anomaly," Peter Slevin, author of "Michelle Obama: A Life," told PBS in 2015.
Michelle was raised on the South Side of Chicago by working-class parents. "She lived in a small apartment. Her parents had not gone to college. And the odds were kind of stacked against her," Slevin told PBS. "And then she managed to find her way to a magnet school, to Princeton, to Harvard, and to a position of some influence in the country." Michelle's own dedication and perseverance got her where she is today, but she attributes those qualities to her hard-working parents.
Michelle Obama's parents worked blue-collar jobs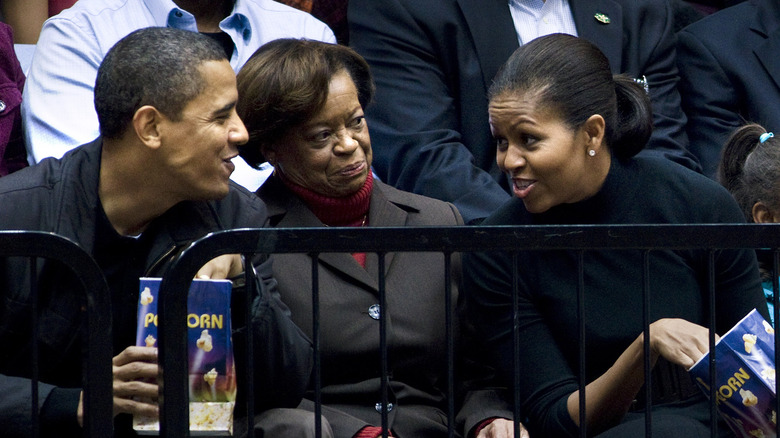 Brendan Smialowski/Getty Images
The youngest of two children born to Marian and Fraser Robinson III, Michelle Obama came from humble beginnings. Fraser worked as a pump operator for the Chicago Water Department, according to the White House website. Marian worked as a secretary for different employers, including retailer Spiegel and a bank, but she became a stay-at-home mother when her eldest, Craig Robinson, was born. Both of Obama's parents took their jobs seriously. 
At 30, Fraser discovered he had multiple sclerosis, a condition that had started weakening his lower body way before the diagnosis. Despite the physical struggles, Fraser kept working hard to provide for his wife and children. "He got up, he went to work, he was never late, he never complained, and he was always, always focused on his family," Obama told O, The Oprah Magazine in 2007. Fraser died in 1991 at 55. 
Marian embraced her job to raise two kids with the same dedication. Obama's mother believed that education was the key to a better future and that hard work would take them far. Her teachings were clearly effective. Like Obama, Craig also graduated from Princeton and ultimately became the executive director of the National Association of Basketball Coaches. While Marian believed in hard work, Obama made it clear that Marian also believed in loving just as hard. "Above all else, my mother gave me that nonstop, unconditional love that was so important for me to grow up," Obama said in 2022.
Michelle Obama's mom supported her at the White House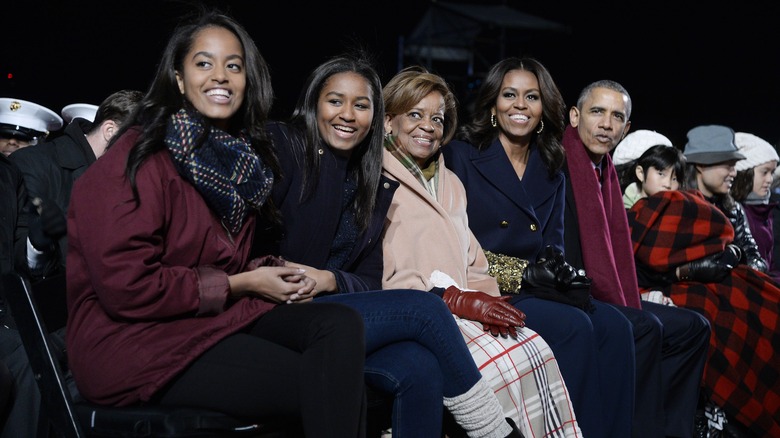 Pool/Getty Images
Marian Robinson never stopped working. Michelle Obama was in high school when Robinson returned to the workforce as a secretary, a job she kept until the summer of 2007. A little over a year later, Robinson moved into the White House to help her daughter and son-in-law, Barack Obama, with their two girls, Malia and Sasha, who were just 10 and 7. But Robinson wanted to help — not impose.
Robinson lived on the third floor of the White House while the Obamas lived on the second. "There are many times when she drops off the kids, we hang out and talk and catch up, and then she's like, 'I'm going home.' And she walks upstairs," Michelle told O, the Oprah Magazine in 2009. But Michelle was glad to have her mother there throughout her husband's presidency for reasons that went beyond her help with Malia and Sasha.
Robinson also provided her daughter with the same wisdom she had offered throughout Michelle's upbringing. "I can always go up to her room and cry, complain, argue," Michelle told Peter Slevin for The Washington Post in 2016. "And she just says, 'Go on down there and do what you're supposed to do.'" Their mother-daughter bond has even been visible to those who barely know the family. "[Michelle's] so devoted to her mother, Mrs. Robinson," Max Baucus, the then-U.S. ambassador to China, shared in 2014 during the first lady's trip to the country.