Why Michelle Obama Wasn't Impressed When She First Met Barack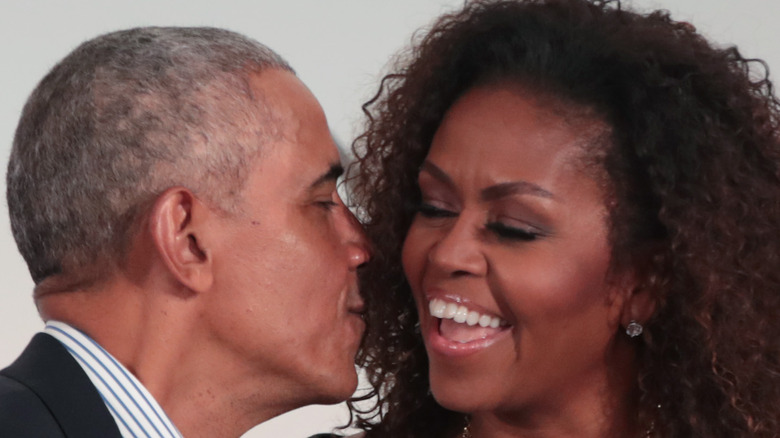 Scott Olson/Getty Images
Former president Barack Obama and his wife, Michelle Obama, née Robinson, are arguably among the country's most influential power couples. While Barack may have been president — and arguably the most powerful man in the world — for nearly a decade, he and his wife are still an ordinary couple who have a complex and dynamic history like most others. 
After meeting in 1989, the two got married three years later, and have since had two daughters together. So, how did the former president and first lady first meet? And how has an otherwise normal couple evolved into one of America's strongest super-couples in the 30 years since? Well, fans of the lawmaker may be surprised at how his relationship with Michelle began, given that it took the leading lady a while to realize that they should be more than professional associates. In fact, Michelle was hardly impressed at all when she first met the future president, not to mention her future husband. If it weren't for Barack's efforts, the course of history may have just unfolded very differently. 
Michelle was not interested in being set up with Barack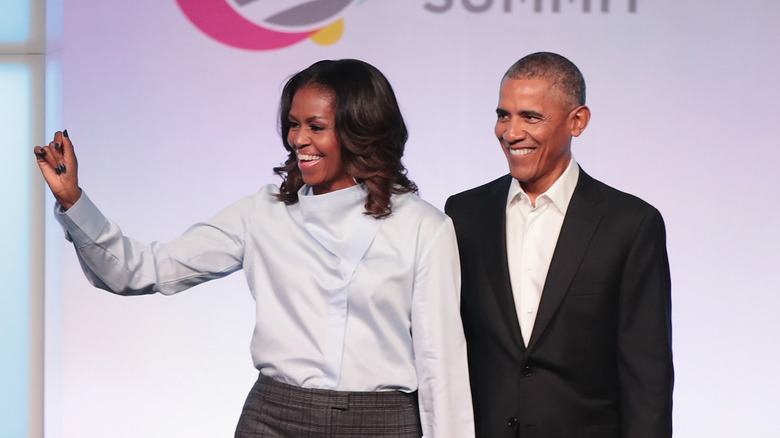 Scott Olson/Getty Images
Michelle Obama, née Robinson, and Barack Obama, both former lawyers, first met shortly after graduating Harvard Law School in 1989. According to ABC News, she had begun her career at a corporate law firm (Sidley Austin) while he was a summer associate there. "The firm thought, 'Oh, we'll hook these two people up,'" Michelle recalled in 2008, per ABC. She said that, while there was "a little intrigue," her immediate response upon her future husband first asking her out was, "No way. This is completely tacky." 
Michelle also felt as though racial prejudices may have been coming into play when hearing descriptions of Barack. "Rumor had it he was exceptional," she wrote in her 2018 memoir, "Becoming," per Goodreads. "[But] I was skeptical of all of it. In my experience, you put a suit on any half-intelligent Black man and white people tended to go bonkers. I was doubtful he'd earned the hype."
Michelle wasn't the only one. After finally agreeing to go on a date with him, the two ended up in a relationship, and she eventually decided to bring him home and introduce her new boyfriend to her family. Michelle said that her brother — and only sibling — Craig, in particular, was rather pessimistic about the two of them. "We all thought, 'it's too bad, that guy's going to be out in a minute,'" Michelle recalled. Of course, that isn't exactly how it turned out.  
How Barack Obama charmed Michelle into marrying him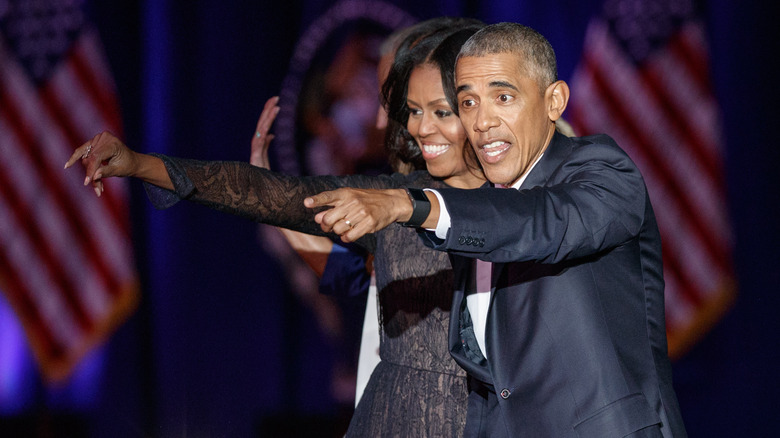 John Gress Media Inc/Shutterstock
Barack Obama, for his part, recalled how he was immediately stricken by his future-wife, then-Michelle Robinson, upon first meeting her. "I asked her out," he wrote for Oprah.com in 2007. "She refused. I kept asking. She kept refusing." "I'm your adviser," he recalled her telling him. "It's not appropriate." It was only after he offered to quit in exchange to go out with her that she finally relented. 
It was after their first date that Michelle said she was finally sold. "My assumption was this guy is got to be weird," she recalled of her expectations before meeting him in 2009, per The Indian Express. "First, I thought, 'What kind of name is Barack Obama?' And I found-out that he grew-up in Hawaii, I found that strange ... that was always where you vacationed and not where you were from." However, by the end of the first date, she said, "It was over. I was sold." 
Of course, Barack went on to propose to Michelle in 1991, and they would get married in 1992. And of course, the rest is history. "For the gentlemen out there who are not yet married," the president advised his single supporters in 2012, "Improve your gene pool by marrying somebody who is superior to you." No doubt Barack believed he has done that, and the confidence each of them have in each other will surely prove to make for another 30 strong years of marriage.