The Serious Car Accident That Changed Jason Priestley's Life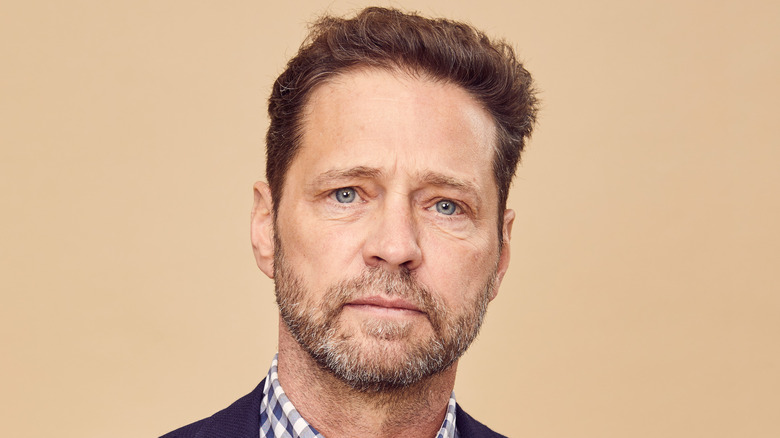 Emily Assiran/Getty Images
Jason Priestley is best known for his role on "Beverly Hills, 90210." For 10 seasons, he played Brandon Walsh, the twin sibling to Shannen Doherty's Brenda Walsh, on the FOX TV drama. But on the side, Priestley was making his mark as a race car driver. He scored his first racing victory during the prime of his "90210" years at the Motorola Cup Street Stock Championship in 1998. More wins followed — and he even landed a network commentator gig for seven big Indy races, including the Indianapolis 500.
But two years after wrapping his role as Brandon Walsh, Priestley faced the biggest challenge of his life when he was involved in a near-fatal race car accident. The horrific crash took place during a practice run at the Indy Racing Infiniti Pro Series at Kentucky Auto Racing Speedway in Sparta, Kentucky. On August 11, 2002, Priestley's car slid in oil on the track, and he lost control and hit two concrete walls on the track head-on. The actor was airlifted to the University of Kentucky hospital, and his life was never the same.
Jason Priestley suffered extensive physical injuries and a co-star said the crash altered his memory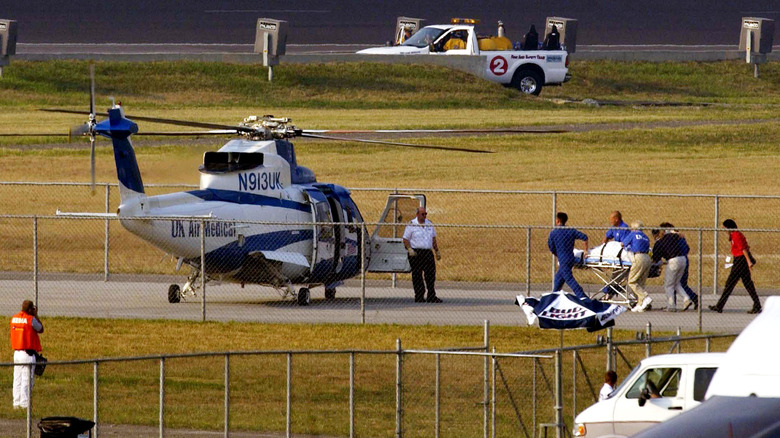 Lesley Ann Miller/Getty Images
Jason Priestley suffered fractures to both feet and his spine, as well as head and facial injuries in the accident, as reported by AutoWeek. At the time, Indy race doctor Dr. Steven Bock said Priestley's injuries were complex. "Both of his fractures are rather complicated fractures," he explained. Priestley underwent several surgeries following the accident, including back surgery. "I had the operation to repair the shelf that my eyeball sits on. I had the operation to repair my nose," he told ABC News in 2003.
In 2011, Priestley told CNN's Piers Morgan that the two years following the crash were the toughest of his life. "After I had my big racing accident, I was really trying to get back on my feet," he said. He also admitted that after suffering extensive facial injuries, he feared it would mark the end of his acting career. It didn't, but it was the end of his professional racing career.
Priestley's TV sister Shannen Doherty has speculated that the accident damaged parts of his brain. Doherty made her comments after Priestley published his 2014 tell-all book "Jason Priestley: A Memoir." Doherty took issue with some of the stories Priestley shared in his book and claimed some parts of it were fictionalized. In an interview on the "Just Jenny" podcast, Doherty told host Jenny Hutt, "I love Jason, but you know he had a car accident, a racing accident, and I think maybe parts of his memory got altered from that." "Everybody changes...they have their own perception of the truth," she added. "And his is definitely different than mine."
Jason Priestley has a long history of serious accidents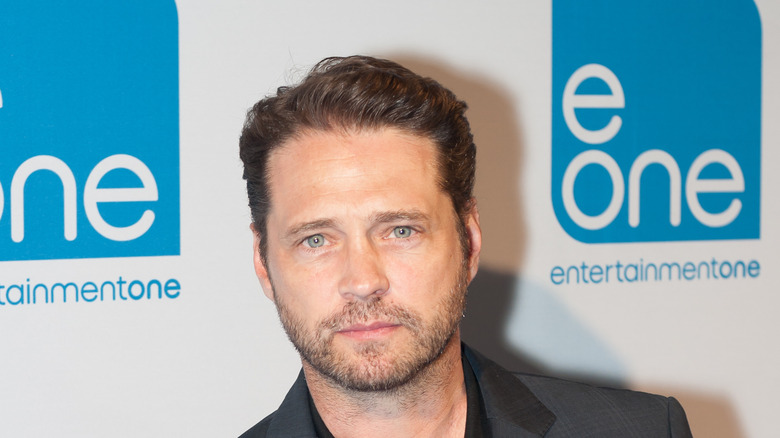 Stacey Newman/Shutterstock
The crash into the Kentucky Speedway wall was Jason Priestley's most serious accident, but the actor has been involved in multiple other mishaps over the years. Entertainment Weekly notes that the actor had previously crashed a powerboat while racing in Miami and has been involved in at least two other serious car accidents.
Priestley also suffered a concussion following a freak accident in 2015, when he was thrown off a horse while filming the ABC drama series "The Code." The actor updated fans on his condition following the on-set accident via a series of Twitter posts. "It's true, I did get thrown off a horse on set," he tweeted to fans after thanking them for their well wishes. "I got my bell rung pretty good... Because I have a history of concussions, they took me to see a neurologist for an assessment," he added. Priestley also confirmed that he suffered a concussion and was advised to take a few days off from work.