Jay-Z's Daughter Has A Strikingly Similar Name To His Rumored Ex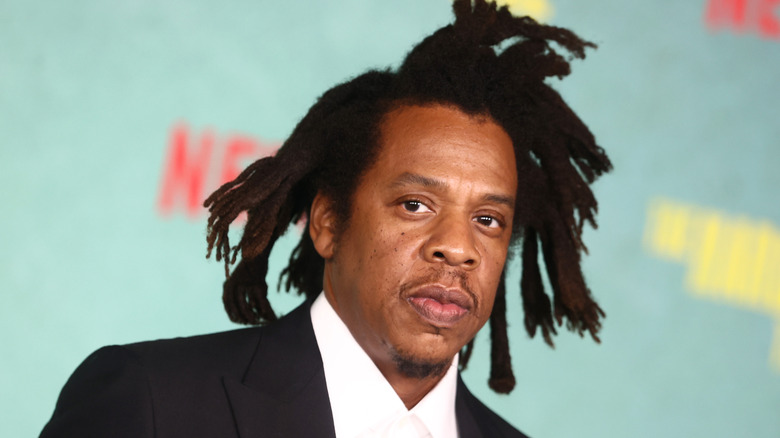 Rich Fury/Getty Images
Megastars Beyoncé and Jay-Z Carter are perfect for one another, so what's this about their first-born daughter being named after Jay-Z's ex? Though it's hard to imagine a time before Bey and Jay, the "99 Problems" rapper reportedly dated a singer named Blu Cantrell circa the '90s, according to HuffPost. This was all pre-TMZ, so we don't know too much about their romance. And while the Grammy-nominated singer is known for hits like "Hit 'Em Up Style (Oops!)" and "Breathe" feat. Sean Paul, she has nowhere near the industry cachet of Jay-Z. Music accolades aside, the hitmaker was said to be "smitten" with his girl and devastated when she ended things between them, at least according to SheKnows.
Shortly after Jay-Z and Cantrell fell out of touch, he met Beyoncé, and the rest, as they say, is history. The power couple's relationship weathered its biggest test when they were hit with cheating rumors, and Bey infamously sang about her husband's infidelity in her 2016 album, "Lemonade." But in this case, true love really did conquer all, and the couple reconciled. "That's my soulmate. It's the person I love," Jay-Z gushed to CNN in 2017.
Bey and Jay's love is held up as a fairy-tale example in the industry, so their decision to name their daughter Blue Ivy baffled fans. Given her name is so similar to Mr. Carter's ex, could it be that he's still hung up on the Blu of his youth?
Did Jay-Z Carter and Blu Cantrell even date?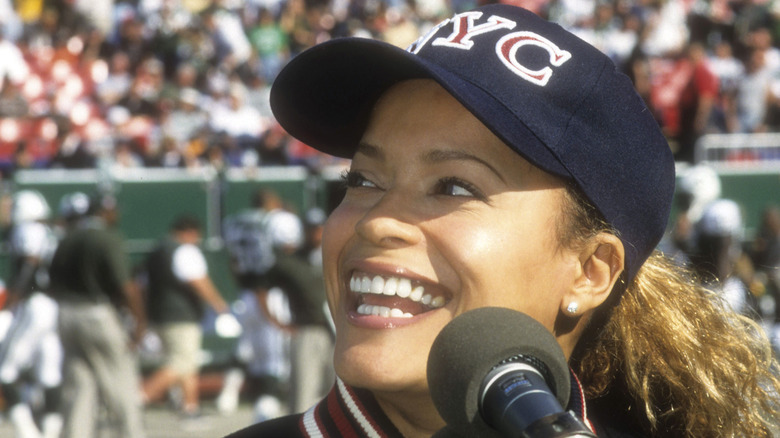 Al Pereira/Getty Images
It's unlikely that Blue Ivy was named in tribute to Blu Cantrell, as there's uncertainty as to whether Jay-Z Carter and Cantrell even dated in the first place. "Me and Jay-Z were said to have been dating, it was major press. I have to say to you, that we weren't," Cantrell dished to The Guardian in 2003. "It seems people are saying, '[Beyoncé Carter] took him away from you,' but that's not true because there was nothing to take. [Jay-Z and I] were just friends." Twitter account @Jay-ZDaily appeared to corroborate Cantrell's version of things, writing in 2020, "Blu Cantrell and Jay-Z were never a thing. She had a crush on him though, and said she wouldn't turn him down."
During an appearance with talk show host Wendy Williams, Williams alluded to the intimate nature of the relationship between Cantrell and Jay-Z. Cantrell played it coy, though she reiterated her feelings for the "Run This Town" singer. "I still have a crush on him now," she dished. "I don't care who he's dating, I always had a crush on him." Given Cantrell aired her love for Jay-Z, it didn't endear her to Beyoncé, and the media was quick to report on a potential feud between the two ladies. In response to Bey's lyrics that she'd been "hurt by a Pisces" (Cantrell's sign), Cantrell branded her "immature" via The Guardian. With all this beef, it doesn't make sense that Bey would consent to name her first-born daughter after Cantrell.
'My favorite color is Jay-Z blue'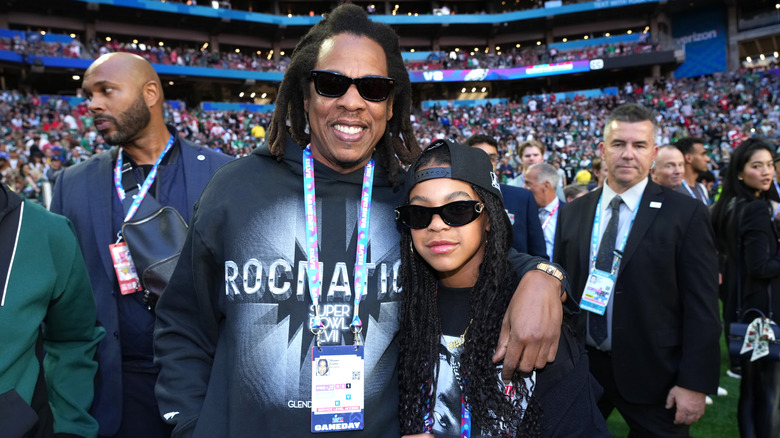 Kevin Mazur/Getty Images
What's more likely is that Blue Ivy Carter's name was inspired by the color blue. Fans know that Jay-Z Carter has an affinity for the shade, so much so that the color often crops up in his lyrics. "My favorite hue is Jay-Z blue," he rapped in 2005's "Go Crazy." Then, there are his albums "The Blueprint," "The Blueprint 2," and "The Blueprint 3" — not to mention that time he created and bought his signature shade with Pantone, according to The Denver Post. Supposedly, "Jay-Z blue" is a "pearly blue — mixed with platinum dust," a color that Pantone VP Laurie Pressman describes as "mesmerizing" and "magnetic," but you can forget about replicating it on your walls at home.
From his album art to his personal life, it's clear that blue is more than just a blip on Jay-Z's radar. Blue is here for the long haul, so it's a fitting name for his daughter. And, as with her first name, Blue's middle name "Ivy" bears significance to Jay-Z and Beyoncé Carter. Us Weekly reports that the first two letters represent the Roman numeral IV. Both Beyoncé and Jay-Z were born on the fourth — she in September and he in December — and they tied the knot on April 4, 2008. Beyoncé's 2011 album is also titled "4." So, when it comes to the question 'What's in a name,' the answer here is quite a lot!