Here's Who Prince William Was Reportedly Dating When He Met Kate Middleton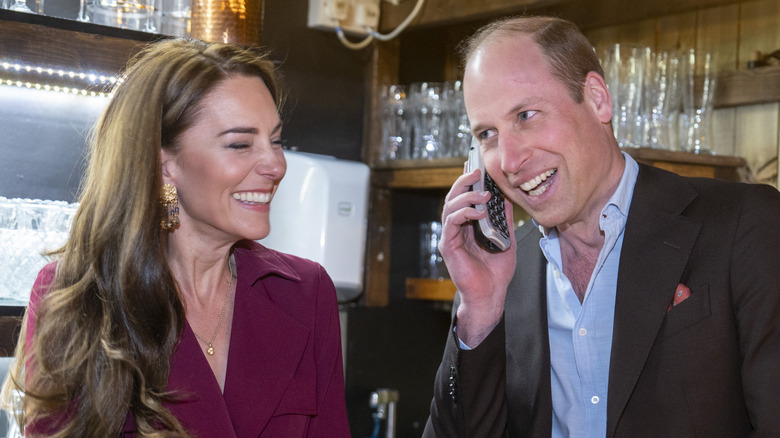 Wpa Pool/Getty Images
William, Prince of Wales, and Catherine, Princess of Wales, became friends before they fell in love, so they had to watch each other romance other people while building the foundation of their future relationship.
Prince William and Kate Middleton first met in 2001 while attending the prestigious University of St. Andrews in Scotland. After the pair crossed paths a few times, Kate received an invite to join William and his friends at their VIP breakfast table, according to "The Making Of A Royal Romance" author Katie Nicholl. However, only one half of the royal couple remembers their very first meeting. In their 2010 engagement interview, Kate told her soon-to-be-husband, "I actually went bright red when I met you and scuttled off feeling very shy," according to Express. William then had to admit that he couldn't immediately recall the moment that left such an impression on Kate.
But Kate would later force the future King of England to notice her at a 2002 charity fashion show, where she famously strutted down the runway in lingerie and a sheer mini dress. William was in attendance and immediately saw his breakfast chum in a much different light. In fact, Nicholl claims that Kate had to rebuff a kiss from William after the show. At that time, she was romantically involved with a fellow student named Rupert Finch. "She didn't want to give the wrong impression," a pal told Nicholl. According to some reports, William was also seeing someone else — another classmate named Olivia Hunt.
Olivia Hunt dated Prince William's bestie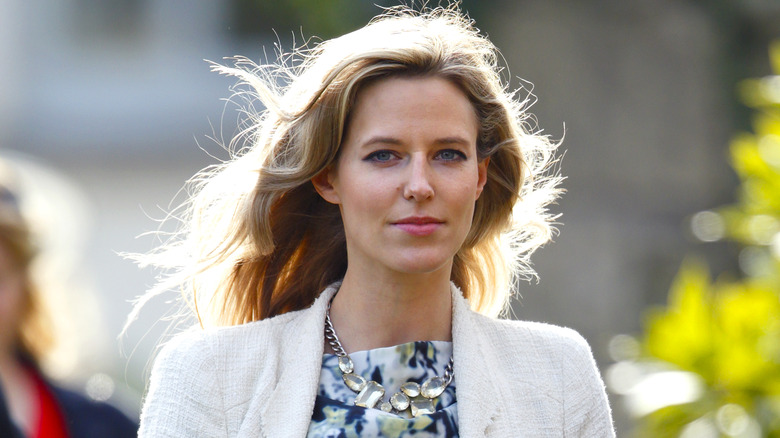 Max Mumby/indigo/Getty Images
Prince William dated a few other St. Andrews students besides Kate Middleton, but Olivia Hunt was the classmate who caught his eye right before Kate's little sartorial scheme left him totally smitten. Hunt ran in the same social circles as William and reportedly enjoyed kicking back and relaxing with him at a local pub, per the Daily Mail. 
But once intimi-Kate set her sights on William, Hunt reportedly decided not to fight her for the prince. "William was seeing Olivia when he met Kate and when Kate came on the scene Olivia moved off pretty quickly," an insider told the Daily Mail. Hunt then moved on as well — with William's best friend, William van Cutsem. In a move straight out of a sitcom about hip 20-somethings, the group remained pals, with Hunt and van Cutsem even joining William and Kate on a 2005 ski trip in Klosters. At the time, the Daily Mail reported that there was a good chance van Cutsem would ask William to be his best man when he and Hunt tied the knot. However, the couple didn't last. Hunt sorta shaded Wills when she told Tatler (via Female First), "Prince William is just a friend of my ex-boyfriend."
Hunt received an invite to Will and Kate's 2011 wedding, however, and when Hunt married barrister Nicholas Wilkinson in 2016, she extended the same courtesy to the royal couple. However, they did not attend, per the Daily Mail.
Olivia Hunt's brother-in-law borrowed her breast milk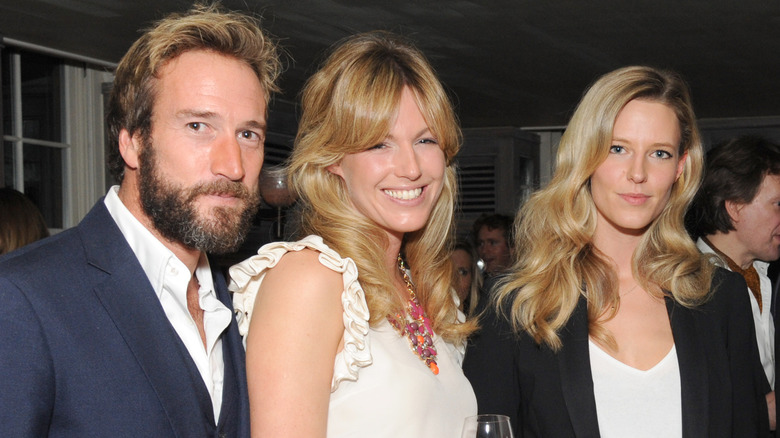 David M. Benett/Getty Images
Olivia Hunt is the daughter of a doctor, but she did not follow him into the medical field. Per LinkedIn, she's worked as the Executive Director of The Arts Club and the Director of Membership and Strategy for Maison Estelle and Estelle Manor. Olivia's sister, Chiara Hunt, however, did decide to become a doctor, and we can't help but wonder what the general practitioner's thoughts are about the dodgy medical advice that Olivia gave to her famous brother-in-law.
Olivia's other sister, Marina Fogle, is married to television presenter Ben Fogle. In early 2017, the family celebrated the birth of Olivia and Nicholas Wilkinson's first child, a daughter named Edie, and Olivia loaned Ben some of her breastmilk a few months later. "My wife has just put her sister's fresh breast milk in my eye to cure an infection," he told the Daily Mail. According to Ben, Olivia claimed that the milk contained antibodies that could help clear the infection up. "When I could see it running in my eye, I thought, 'This is a bit weird,'" he recalled. (Kids, don't try this at home.)
Ben didn't say whether the odd remedy actually helped, but his eye was still intact the following year when he missed Prince Harry and Meghan Markle's wedding (which Olivia did attend) because he was climbing Mount Everest, per Hello! (Does anyone else think there should be a spinoff of "The Crown" about all these fascinating royal-adjacent figures?)