How Did Kate Middleton And Prince William Meet?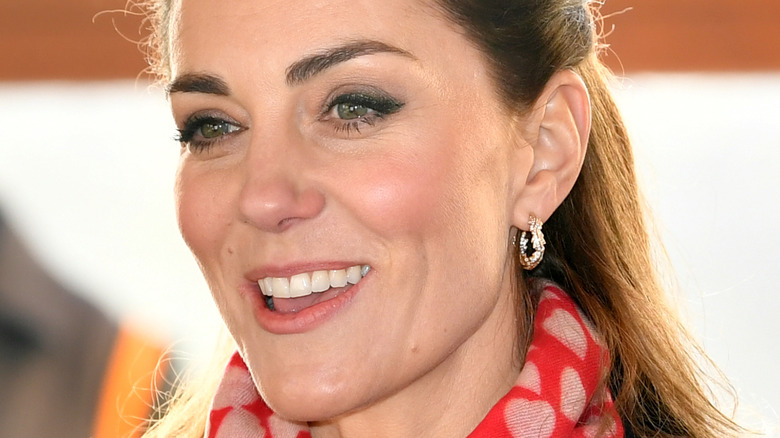 Wpa Pool/Getty Images
Prince William and his wife Kate Middleton (now officially Catherine, Duchess of Cambridge) are undoubtably among the foremost icons of the 21st century. Both have been included in Time Magazine's annual list of the world's most influential people numerous times, and Kate has had such a great impact on Western culture and fashion that it has even been labeled the "Kate effect." Their wedding in April 2011 brought in over 2 billion viewers, more than a third of the world's population, and to this day remains one of the most viewed television broadcasts of all time. 
William, grandson of the reigning Queen Elizabeth, is set to one day take the throne himself, and when that day does come, William is set to be King and Kate Queen regnant. But how did the extraordinarily influential couple actually meet in the first place? Well, Prince William and Kate Middleton's story is arguably so incredible that it almost seems to have come straight out of a storybook.
Kate Middleton changed schools to meet Prince William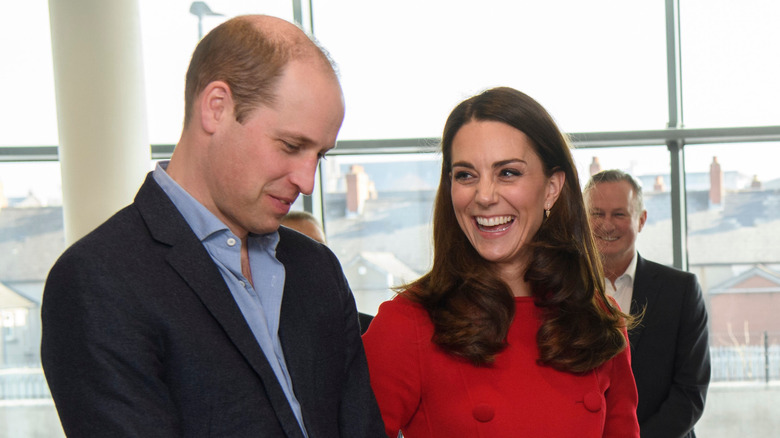 Pool/Getty Images
According to The Telegraph, Prince William first met his future wife in 2001, when the two were students together at the University of St. Andrews, in Scotland. At the time, Kate Middleton was 19 and William was 18; Kate was a year older because, in a life-changing and highly fortuitous last-minute decision, she decided to take a gap year.
According to Marie Claire, Kate was initially accepted into her "dream" college of Edinburgh (also in Scotland), but soon thereafter decided instead to take a year off, much to the shock of her teachers and advisors. During her gap year, she would apply to St. Andrews, where it was widely reported that William (often described in the media as a real-life "Prince Charming"), had been about to attend. In essence, Kate made the same impulsive decision as thousands of other girls across Britain and the world at the time, in hopes of meeting, and perhaps betrothing, the prince. The difference is that amazingly, it actually worked out for her. 
"On pretty good authority, we know that Kate wouldn't have gone to St. Andrews if William hadn't been there," said royal historian Robert Lacey, per ABC News. "She went up there to try and get Prince William and she got him." However, it wasn't for another year until the two would actually start dating.
Prince William had a very awkward first encounter with Kate Middleton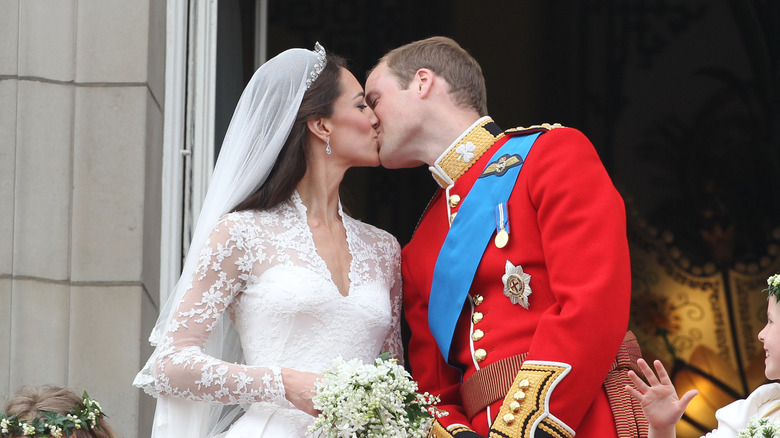 Anwar Hussein/Getty Images
Although Prince William and Kate Middleton may seem like the world's happiest couple today, their relationship arguably started out as rocky as anyone's. Upon their first meeting, per People, Kate curtsied, causing William to awkwardly spill a drink all over himself. Clearly, she was not the only one who was immediately smitten by the other. The two then became friends, and remained so for over a year before they actually began dating, and were even flatmates while Kate was with another man, according to ABC News.
William and Kate's romantic story reportedly started at a student fashion show in March 2002, when Kate was selected to model a particular see-through dress, which caught the prince's eye. As she came out, William turned to his friend and said, "Wow. Kate's hot." It was at a party that night that William kissed her for the first time. 
ABC News Royal Correspondent Katie Nicholl said that Kate was "as shocked as she was flattered," especially because she was dating a certain fourth-year student at the time. Naturally, that relationship did not work out. Though William and Kate went through a brief, but well-publicized, breakup in 2007, two years after graduating, they rekindled their romance shortly thereafter, and publicly announced their engagement in 2010. Now, with three children, a spectacular lifestyle, and a future as prosperous as any, the two are living about as happy a life as they could have ever imagined.