What We Know About Joe Alwyn's Co-Star Emma Laird (& Their Relationship)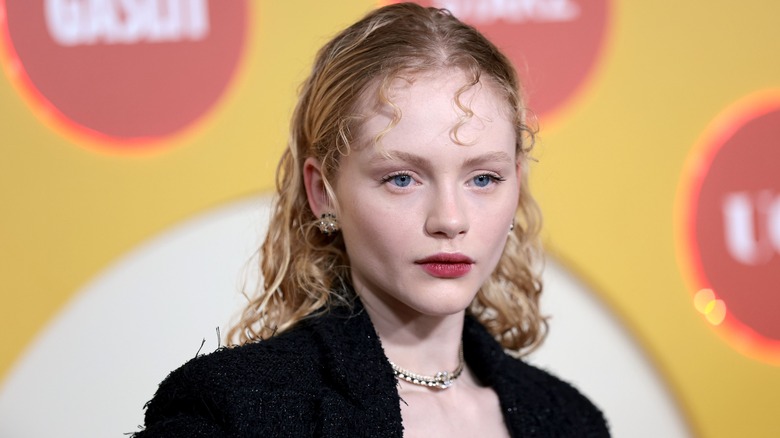 Dimitrios Kambouris/Getty Images
The latest non-story that has the internet's attention is the supposed relationship between actors Emma Laird and Taylor Swift's ex-boyfriend, Joe Alwyn. Poor Laird has been the target of Swifties the world over because they fabricated a romantic relationship and a cheating scandal where none exists.
When Laird, who is currently filming "The Brutalist" with Alwyn, posted an Instagram carousel containing many of the people she's working with, Swifties decided there was some hidden meaning in the photos. It didn't seem to matter that Laird posted nine photos with several different people in them, including Adrian Brody, Alessandro Nivola, rocker Izzy Phillips, and director Brady Corbet. The fact that the third image was a solo photo of Alwyn on a scooter (Laird isn't even in the photo) was enough for Swift's fans to assume that not only were Alwyn and Laird dating but that it's been going on long enough that Alwyn cheated on Swift with Laird and that's why they broke up. That leap is about as huge as a shuttle from Earth to Mars.
Fortunately, some Swifties recognized how wrong this was. "Swifties attacking Emma Laird need to touch grass," one fan tweeted. "Like you're seriously speculating that Joe cheated on Taylor with no actual evidence whatsoever and are sending her hate? Find a damn job or a hobby. Something." In the meantime, let's focus on what Swift would probably prefer fans focus on: what Laird has accomplished so far.
Emma Laird is sought-after newcomer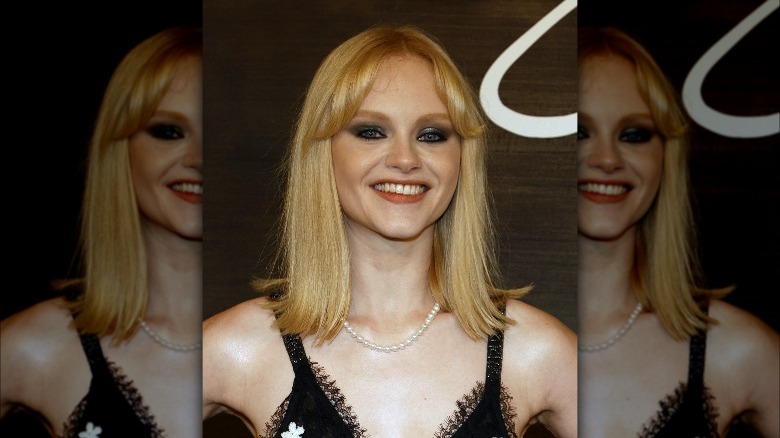 Ethan Miller/Getty Images
Up-and-coming actor Emma Laird was highly sought-after even before she landed any feature roles. The 24-year-old Scottish-born talent eventually signed with APA talent agency. She accepted the role of Iris in "Mayor of Kingstown," opposite Jeremy Renner, and has been making her meteoric rise in Hollywood stardom since the series premiered in 2021. Variety even listed her among their "10 Brits to Watch for 2021."
She stars opposite Tom Holland and Amanda Seyfried in the star-studded AppleTV+ series "The Crowded Room,"  and in the next installment of Kenneth Branagh's Hercules Poirot film series titled, "A Haunting in Venice." That's in addition to "The Brutalist," which stars Adrian Brody as real-life visionary architect László Toth and Felicity Jones as his wife Erzsébet as they escape post-war Europe for America. Laird was also on the shortlist for playing Madonna in the now-postponed biopic. 
This success follows a seven-year career in modeling that Laird says funded her acting career, and when she left, the potential activist spoke out against all the systemic problems in the modeling industry in a letter to her agents. Laird is also a budding singer-songwriter who occasionally posts her original songs on Instagram.
Emma Laird was forced off of social media
Just as Joe Alwyn and Taylor Swift kept their romance quiet for most of their relationship, Emma Laird is also trying to live privately. But it doesn't stop gossip publications — and Swifties — from jumping to conclusions. A source apparently told The Sun, "Emma has been there for Joe since news of his split from Taylor emerged." Perhaps this is because "Joe struggles with fame and enjoyed hanging out with Emma in Hungary, where he wouldn't be recognized," as the source claims. 
Alwyn's relationship with Swift ended amicably and "was not dramatic," as a source told Entertainment Tonight, "the relationship had just run its course." Despite the rumors, there doesn't seem to be any animosity between Alywn, Swift, and Laird. Meanwhile, the actor has faced so much trolling that she was forced to close the comments — and in fact, comments can no longer be seen on that post at all. Alywn seems to have turned off comments on his entire Instagram feed as well. Sadly, Laird has also deleted her Twitter account.