What Amber Heard Has Shared About Her Daughter Oonagh Paige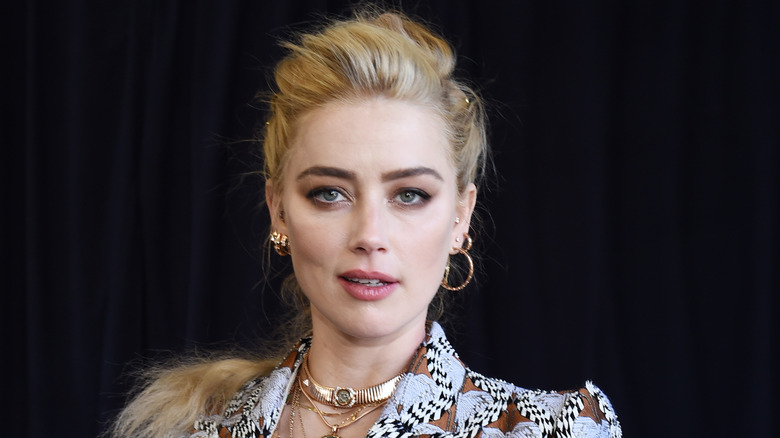 Amanda Edwards/Getty Images
Amber Heard is one proud mommy. Because of Heard and Johnny Depp's infamous trial, there hasn't been much that the actor has been able to celebrate these past several years. However, there was one thing that the "Aquaman" actor could find joy in, the birth of her daughter. According to People, Heard welcomed her first and only child, Oonagh Paige, on April 8, 2021. However, the actor held off on sharing the news until months later.
In July 2021, Heard officially announced the arrival of her little bundle of joy on Instagram. She shared, "I'm so excited to share this news with you. Four years ago, I decided I wanted to have a child. I wanted to do it on my own terms," she continued, "I now appreciate how radical it is for us as women to think about one of the most fundamental parts of our destinies in this way. I hope we arrive at a point in which it's normalized to not want a ring in order to have a crib." While the actor would have rather kept the birth a secret, she knew the "nature of her job" would not allow her to do this.
Since Heard has welcomed Oonagh into her life, there are many things the actor has chosen to keep private about her daughter, including what she looks like and who her father is. However, several details about Oonagh have been revealed, and we're here to fill you in on the details.
Amber Heard seemingly paid tribute to her mother with Oonagh Paige
Celebrities are known for their wild baby names, and Amber Heard's daughter, Oonagh Paige, is no expectation. According to The Bump, it comes from Scottish and Irish origins and means lamb. Lamb seems fitting for a little bundle of joy, but for Heard, it may go beyond just a cute name. According to IMDb, Heard has an Irish and Scottish cultural background, so it would make sense that she would choose a name of the same descent, although nothing has been confirmed.
Oonagh's middle name also seems to be of some significance to the actor, as Paige was the name of Heard's mother. "The Rum Diary" actor's mother passed away just a year before she welcomed Oonagh. After her mother's death, Heard shared a sweet tribute to her on Instagram. She said, "I am heartbroken and devastated beyond belief at the loss of my mom, Paige Heard. She left us too early, clasping onto the memory of her beautiful, gentle soul. She will be missed from the very depths of our hearts forever." By Heard's post, it was clear that her mother meant the world to her, so it shouldn't come as a surprise that she chose Paige as her daughter's middle name.
Amber Heard hopes her daughter will learn something from her trial with Johnny Depp
One day, Amber Heard's daughter, Oonagh Paige, will learn about her mother's bombshell defamation trial against Johnny Depp, to which Heard will forever be linked. When Savannah Guthrie asked the actor how she planned on addressing the trial with her daughter during an appearance on "Today," Heard expressed hope that something good would inevitably come out of it. "I think no matter what, it will mean something. I did the right thing. I did everything I could to stand up for myself and the truth," she explained. The actor's wish is for her daughter to understand her reasoning behind it all, but for now, she's relieved to be a normal mom again. After the trial, she shared, "I get to be a mom full time. Where I'm not having to juggle calls with lawyers."
Heard has kept herself and her daughter out of the spotlight since the trial ended. The last time the actor posted Oognah was right before she and Depp went to court, in 2022, as she shared a sweet post celebrating her daughter's first birthday. She wrote, "My little O is a year old today. I still can't believe you're here. The greatest year." Although she's keeping things private, the actor is sure to be enjoying every minute she has with her daughter.