John Oliver And His Wife Kate Norley Have Very Different Political Views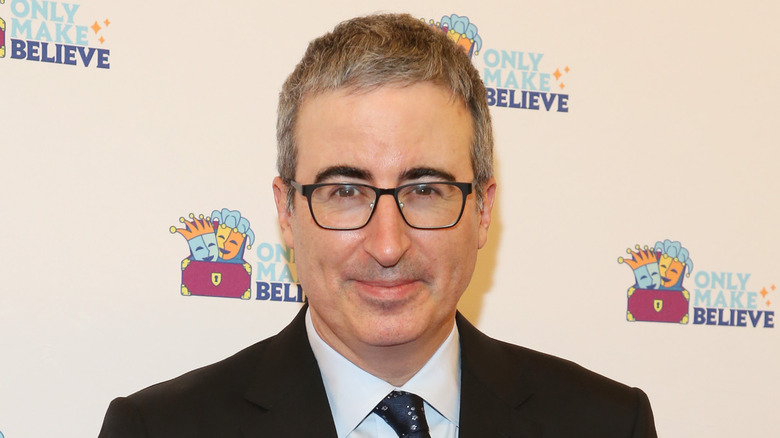 Rob Kim/Getty Images
In the political spectrum of TV show hosts, John Oliver skews very left-leaning — but did you know that his wife holds opposite political beliefs? Those who follow Oliver might find this surprising. After all, we're talking about the same TV host who endorsed Joe Biden's presidential campaign, and went on to celebrate Biden's 2020 election victory over former President Donald Trump. The British host has also routinely mocked Trump for being "staggeringly incoherent," and once suggested that "an iPhone would be a more coherent president of the United States."
As with many Democratic figures, Oliver has leaned into sparking policy change. In his case, he's leveraged his ability to humorously tackle a complex subject as a means of inspiring his followers to take action. Take his 2014 segment on net neutrality, for example. Shortly after it aired, the Federal Communication Commission was flooded with so many messages that the server went down, according to NPR. The Verge reported that Oliver's roasting of FCC officials even made the rounds in company emails. 
So, how does a man who makes his living in political satire end up married to a woman whose political affiliations are often the butt of his jokes? Let's unpack.
Kate Norley is an army veteran who identifies as Republican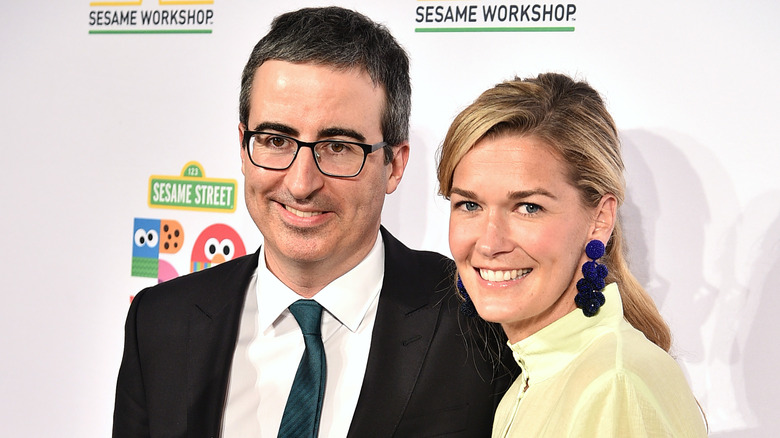 Theo Wargo/Getty Images
While John Oliver is an outspoken Democrat, his wife, Kate Norley, is an army veteran with conservative views, according to Parade. However — and especially in today's age — there's a big difference between traditional Republican schools of thought and Trumpian policies. Norley falls into the former category. After 9/11, she enlisted in the Army as a combat medic and mental health specialist, counseling soldiers on returning to conflict. When her time in the field came to a close, Norley began passionately advocating for veterans rights and funding. This traditionally right-wing platform once landed her in a Fox News interview segment.
Veterans tend to vote Republican, but Oliver's more Democratic views don't prevent him from supporting his wife. Far from it! The Brit has the utmost respect and admiration for his wife's service, describing her as "very American with a capital A." "When you've married someone who's been at war, there is nothing you can do that compares to that level of selflessness and bravery," he added. At a 2015 "Stand Up For Heroes" fundraiser, Oliver again reiterated how proud he is of Norley, telling fans that thanks to her, he "has more skin in the game regarding veterans' issues." She also provides him with some perspective on what a tough day at the office really looks like. "That's the problem with living with someone who has fought a war. You lose the moral high ground," he joked (via the Daily Beast).
Do their differing political views mean they are at odds?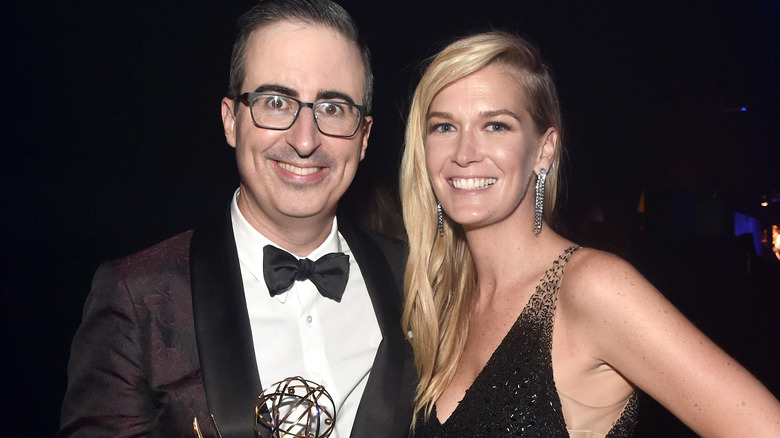 Alberto E. Rodriguez/Getty Images
We don't hear much about what Kate Norley thinks about her husband's views on "Last Week Tonight," but we imagine she takes them with a grain of salt, given he's a comedian. However, we do know Norley's experience with international conflict has influenced John Oliver. "I'm a little more defensive of how America is perceived overseas," the Brit told The Boston Globe. "America takes a lot of s*** ... from the rest of the world. And yet when something terrible goes down, people are waiting for Americans to fall out of the sky and help them." Guess it hits a little different when your significant other is the one serving on the frontlines!
Oliver has also spoken openly in support of veterans. In 2017, he was one of several comedians to headline the "Stand Up For Heroes" fundraiser, the proceeds of which benefitted wounded veterans. Before his gig as the host of "Last Week Tonight," he tweeted in support of Team Rubicon, a non-profit that mobilizes veterans to perform relief efforts at disaster sites and high-risk areas. (It's probably not a coincidence that Norley is a member of the group.)
Judging by Oliver's words and actions, Norley's beliefs have opened his mind to different schools of thought. And isn't that what a healthy relationship is all about? This liberal Brit and his Republican Army vet wife are the definition of a modern love story.