Sydney Sweeney And Fiancé Jonathan Davino Have A Bigger Age Gap Than You Thought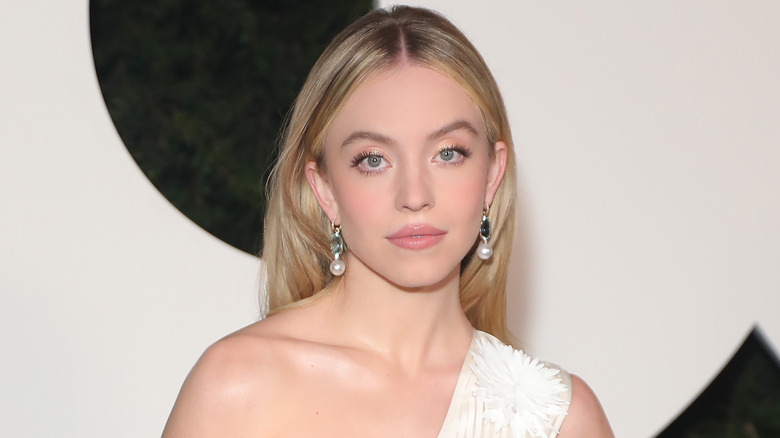 Leon Bennett/Getty Images
Age is but a number, especially for many celebrity couples. There have been plenty of stars who have thrown caution to the wind and have gotten involved with someone either much older or younger than them. From Beyoncé and Jay-Z to Michael Douglas and Catherine Zeta-Jones, they can't help who they fall in love with. Sydney Sweeney knows this firsthand.
The "Euphoria" actor is known for playing the wildly chaotic, hopeless romantic Cassie Howard in the hit HBO series. After the show premiered in 2019, the actors exploded on the scene. Since Sweeney was not only incredibly talented, but also stunning, many wondered if she had a romantic interest in real life. Turns out, she did. According to Capital FM, Sweeney has been in a longtime relationship with businessman Jonathan Davino. "The White Lotus" star has been incredibly private about her relationship with Davino — and there's a good reason for that. In 2022, Sweeney told Cosmopolitan, "I don't date people in the spotlight. I don't date actors or musicians or anyone in entertainment because I can just be normal Syd that way and it's easiest. I have a great support system."
Even as she has gained more fame, little is known about her relationship with Davino. But, there is one thing that sparked people's interest in their relationship: their age gap. That's right — Davino and Sweeney have a significant age gap that might surprise you.
Sydney Sweeney and Jonathan Davino have a 13-year age gap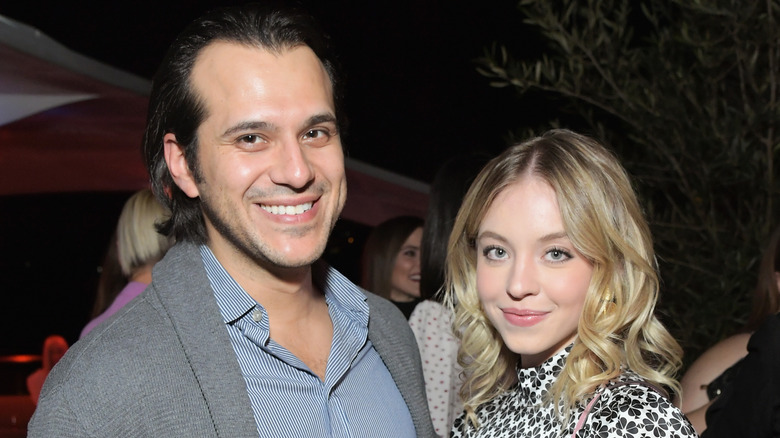 Charley Gallay/Getty Images
Nothing was stopping Sydney Sweeney and Jonathan Davino's love, not even age. According to Capital FM, as of this writing, the businessman is 38 years old and the "Euphoria" actor is 25 years old, meaning the two have a 13-year age gap. Neither Davino nor Sweeney have commented on the significant age gap, but because Davino isn't in the spotlight, it has made people wonder how the two even met in the first place.
According to People, the couple first crossed paths in 2018. At the time, Davino was 35 and Sweeney was only 21. To put it into perspective, the actor had just turned the age where it is legally allowed to drink in the United States. Still, while many may think the two don't have much in common because of their age gap, that is not the truth. Throughout the years, the couple has been spotted on several date nights, and Sweeney even hinted at settling down in Davino's hometown of Chicago, Illinois. "The Handmaid's Tale" actor revealed to Elite Daily that she had a place there, and when asked who she knew in Chicago, she slyly replied, "A friend."
Since hitting it off in 2018, the couple has remained strong. In March 2022, People reported Sweeney and Davino were engaged, and things seemed picture-perfect. But their engagement has seemingly been plagued by rumors (which have nothing to do with age).
Sydney Sweeney might be a sucker for older men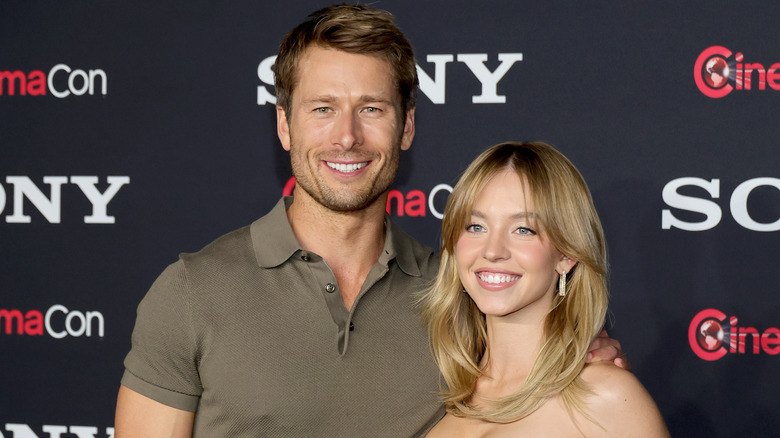 Ethan Miller/Getty Images
Sydney Sweeney may have a thing for older guys because rumors continue to swirl claiming the "Euphoria" actor is getting cozy with co-star Glen Powell. Powell and Sweeney have been shooting an upcoming rom-com film, titled "Anyone But You," per TMZ. During their time together, the pair has appeared extremely close and fans are convinced the two are having an affair. Powell is just four years younger than Sweeney's fiancé, Jonathan Davino, making the "Top Gun: Maverick" actor nine years older than Sweeney.
Although their supposed romance only seemed like pure speculation, the evidence seemed even more damning when Powell's longtime girlfriend, Gigi Paris, unfollowed Sweeney on social media, according to TMZ. Paris later shared a cryptic Instagram post of herself walking along the sidewalk in New York City with the caption, "know your worth & onto the next." Fans were convinced this was directed at Powell as the rumors of his and Sweeney's relationship exploded in the media.
While Powell and Paris' relationship may be done, "The White Lotus" star and Davino's is not. According to TMZ, a source revealed that Sweeney and her older beau are still engaged, and the actor is not dating Powell, despite all the rumors. Plus, Powell's an actor, which would completely go against Sweeney's previous declaration that she doesn't date people in the spotlight. Ultimately, however, only time will tell.