KJ Apa's Natural Hair Color Is Much Different Than His Riverdale Character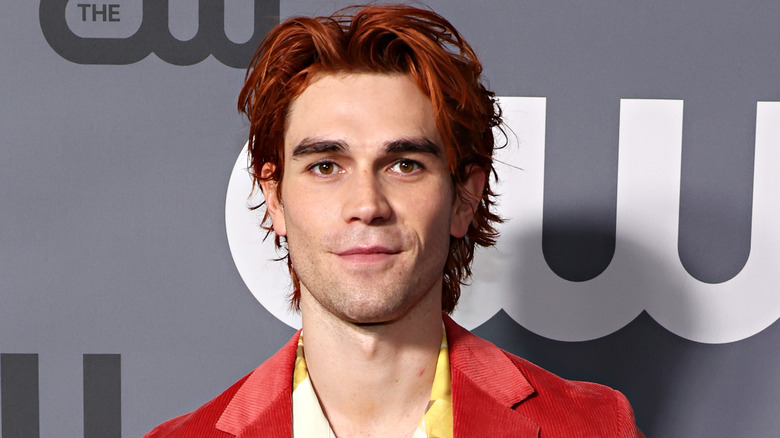 Cindy Ord/Getty Images
KJ Apa plays Archie Andrews on "Riverdale," the dark, mysterious, live-action version of Archie Comics. Unlike his teen peers, who are flawed (to almost ridiculous degrees), Archie at least attempts to forge an honorable path and treat others with basic respect. Still, his genuine nature isn't his most distinct characteristic — that honor goes to his signature red hair. Since "Riverdale" premiered in 2017, Apa has become famous for the blazing red locks his character fashionably flaunts. 
And while the show's zany plotlines influence the character's wardrobe each season, red hair has been a constant fixture of Apa's appearance. In fact, finding Apa and crafting his iconic look was at the top of the exec's priorities while putting the show's cast together. "I think we literally saw every redheaded young guy in L.A. It certainly felt that way," said producer Roberto Aguirre-Sacasa to Vulture. "Every time that a redheaded guy came in, my heart swelled a little thinking, 'Let this be the redheaded boy who is the answer to all our prayers.'" Ultimately, producers chose Apa to play the role. But did you know that Apa's natural hair color isn't actually red?
KJ Apa's natural hair is brown
Even though it's not easy to tell, KJ Apa's hair doesn't emerge from his scalp as the gorgeous sunrise red we've grown to love. Apa actually has brown hair, unbeknownst to many of his fans. During an interview with KTLA 5, Apa shared a little about what he went through to achieve Archie Andrews' look. "I was in the hair salon for about eight hours for the first time," Apa shared. "I was just sitting there, and I remember being hungry, as well. I remember being really angry because I was so hungry."
Unfortunately, Apa's frequent salon visits once ruined his hair. "My hair is permanently orange now because it's been bleached," the actor shared with HuffPost in 2018. "The only way for me to go back to brunette is if I grow my hair out, so they had to put a temporary mouse in it for the scene. Mate, the amount of s**t that has been put in my hair is unbelievable." He continued, "I wouldn't be surprised if I go bald in a couple of years. They used to do my eyebrows, but I told them no more dying my eyebrows." In 2022, Apa gave his scalp a chance to breathe when he shaved off his hair in favor of a short-cropped style. "Reset. One Fast Move," Apa captioned the since-deleted Instagram post.
Madeline Petsch is a natural redhead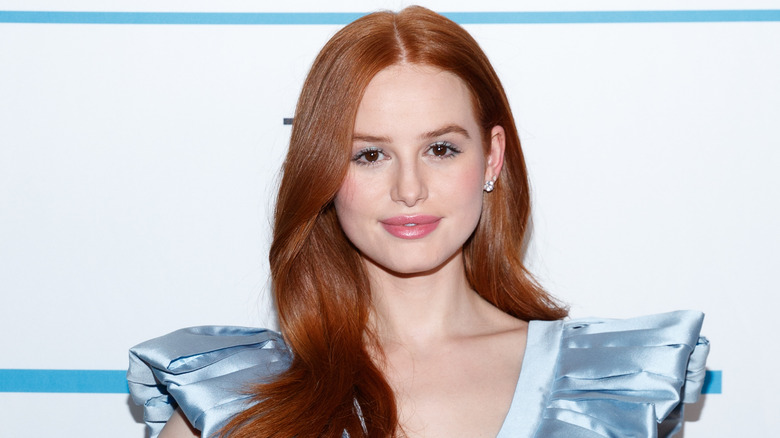 Rich Polk/Getty Images
AJ Kapa's red hair may be dependent on the perfect concoction of bleach and hair coloring, but his "Riverdale" co-star Madeline Petsch, who also sports a beautiful head of red hair, came by it naturally. "My hair is very much real," Petsch shared with Flare. "If I dyed my hair, my mother would actually disown me." However, Petsch isn't too worried about facing her mother's wrath. "I'd shave my head for the right role," shared Petsch with Us Weekly in 2019.
So far, Petsch has yet to land a role that would require her to make good on her promise. Still, she's not above experimenting. In 2021, Petsch surprised her fans by revealing striking blond tresses for Wonderland Magazine. "Surprise I'm blonde now," Petsch captioned the slideshow of photos. And even though Petsch is widely revered for her hair today, that wasn't always her experience. "I was mercilessly bullied," Petsch shared with Stylecaster. "I was a little kid with a South African accent and bright red hair. I was the weirdest kid in this small town in Washington."