Eminem's Daughter Alaina Mathers Lives A Pretty Normal Life Today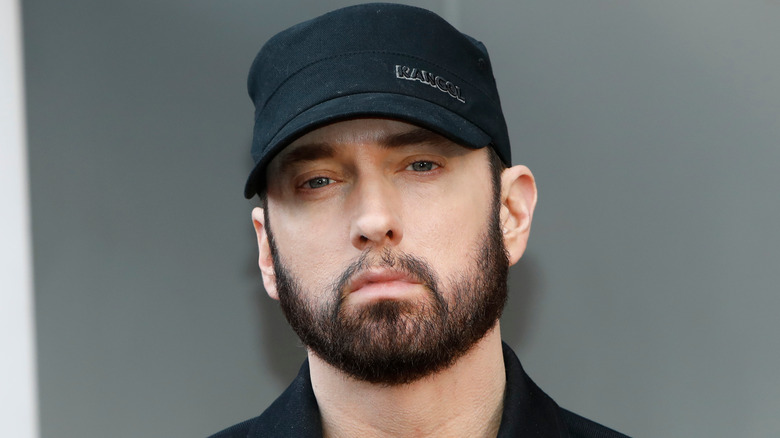 Kathy Hutchins/Shutterstock
Eminem is among the few respected white rappers in the game — and despite his unimaginable success, you might be surprised to learn that his daughter still lives a relatively normal life. The Detroit native has been a tabloid staple since he hit the big time with "My Name Is" in 1999. The track catapulted "The Real Slim Shady" to overnight stardom. The tabloids' biggest story inspiration was Eminem's and ex-wife Kim Scott's tumultuous relationship. Their daughter, Hailie Jade Mathers, regularly crops up in his tracks — as did Kim, albeit in a not-so-flattering light. However, relatively few people know that Eminem has another two daughters, Whitney and Alaina Mathers.
There's actually a reason you never hear about Eminem's two other daughters, but more on that later. Both girls — well, women now — have featured in their dad's tunes, but not as often as their older half-sibling. Still, that doesn't mean they're any less of a source of pride for Eminem, who remains close to all three of his kids.
While Alaina tends to stay out of the spotlight, she does support her father's performances. Page Six reports she and Hailie Jade were at the Super Bowl in 2022 to cheer Eminen on during his halftime show. Still, Alaina shuns jet planes, islands, and tigers on a gold leash in favor of a more down-to-earth daily existence. In fact, Eminem's daughter Alaina Mathers lives a pretty normal life today — by anyone's standards — let alone those of rap royalty offspring.
Body positivity and mental health advocacy
Eminem's little-known oldest daughter, Alaina Mathers, lives just about as far away from a stereotypical rapper's delight of sex, drugs, and rock 'n roll. There's no diamond-studded grillz, cups of sizzurp, or a Bentley Bentayga in sight. Instead, there are a bunch of travel pics from exotic locales, adorable pics of Alaina and her fiancé, now husband, Matt Moeller, balloon-filled birthday parties, and dachshunds, lots and lots of dachshunds.
According to her Instagram, where she goes under Alaina Marie Scott, her mom's last name, she's a "body positivity and mental health advocate." Oh, and a "lover of travel," but we guessed that from all the cool pics. Looking at Alaina's social, you'd be hard-pushed to figure out who her famous father is. There are scarce clues, aside from a pic showing Alaina and her sister sitting in front of a neon sign saying "Just a Little Shady," the name of Hailie Jade Mathers' podcast, and a few cryptic mentions here and there.
People reports that Alaina attended Oakland University in Michigan, graduating with a BA in communication with a double minor in public relations and advertising. As she lists in her Instagram bio, Alaina is a major proponent of removing the stigma still surrounding mental illness. She regularly posts about her own battles with depression and about the traumatic effects of losing her mom to a suspected drug overdose in 2016.
Eminem's greatest acheivement
Alaina Mathers was first namechecked along with Hailie Jade Mathers in 2004's "Mockingbird," Eminem's lament about how his toxic relationship with Kim Scott may have affected his "two girls." After kicking off the first verse with an ode to Hailie, Eminem moves on to Alaina. "Lainey, uncle's crazy ain't he, yeah, but he loves you, girl, and you better know it," he raps (via Genius). "Daddy's still here, Lainey. I'm talking to you, too; Daddy's still here. I like the sound of that; yeah, it's got a ring to it, doesn't it?" he rounds out the second verse.
Not surprisingly, the song had people asking, "Who is Lainey?" According to The U.S. Sun, Hailey was actually born as Eminem's niece-in-law. Her mom was Dawn Scott, the identical twin of Eminem's now ex-wife Kim Scott. Sadly, like Kim, Dawn struggled with drug addiction. As it became apparent she was struggling to cope with a young child, Eminem stepped up and adopted Alaina.
When he remarried Kim for an ill-feted second round, the rapper also adopted her daughter Whitney Mathers, AKA Stevie Lane Scott, who Kim had with ex-boyfriend Eric Harrter, who tragically died in 2019, per People. Eminem told "Hot Boxin' with Mike Tyson" that being a dad is his most outstanding achievement. "When I think about my accomplishments, like that's probably the thing that I'm the most proud of, you know, is that — is being able to raise kids," he said.