Did Gisele Bundchen's Dad Prefer Leonardo DiCaprio Over Tom Brady?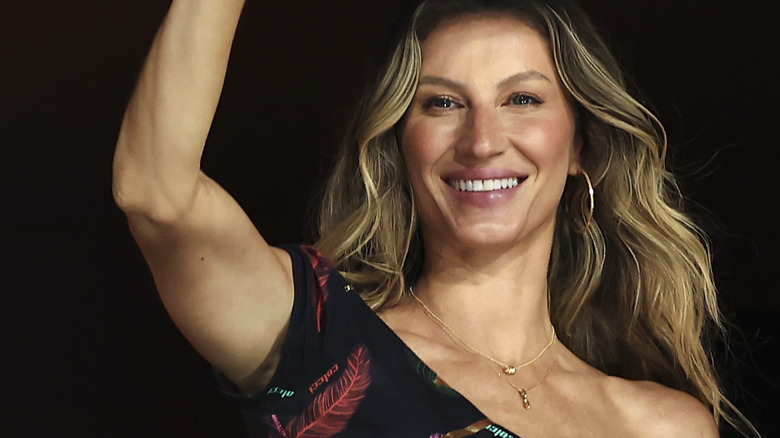 Buda Mendes/Getty Images
To quote Miley Cyrus, the end of Gisele Bündchen and Tom Brady's relationship hit us like a "Wrecking Ball." Now that Bündchen has debunked those rumors about her jiu jitsu instructor, it's left us wondering whether any of her exes might be gunning for a second shot. Specifically, one Oscar-winning ex who happens to be both very eligible and very available.
Before she was Mrs. Brady, the model dated actor Leonardo DiCaprio from 2000-2005. "Gionardo" was a long 'ship by Hollywood standards, and both Bündchen and DiCaprio still have had nice things to say about each other. As for why they split, Bündchen alluded to major lifestyle differences between the pair in a 2019 interview with Porter Magazine. "No longer numbing myself with smoking, drinking and too much work, I was becoming more and more aware of things that I'd chosen not to look at," she said (via OK!). "Was I alone in wanting to do some serious soul-searching while [Leo] stayed the same? In the end, unfortunately, the answer was yes."
From there, we know that Bündchen began dating Brady. Those two were aligned on priorities ... until they weren't. But with Bündchen and Brady no more, could she be taking her cues from Bennifer and looking back at DiCaprio in a new way? Odds are, he's matured since 2005! If Bennifer 2.0 wasn't enough incentive, there's always the fact that Bündchen's dad was a big fan of "The Wolf of Wall Street" star.
Leonardo DiCaprio was a big hit with the Brazilian clan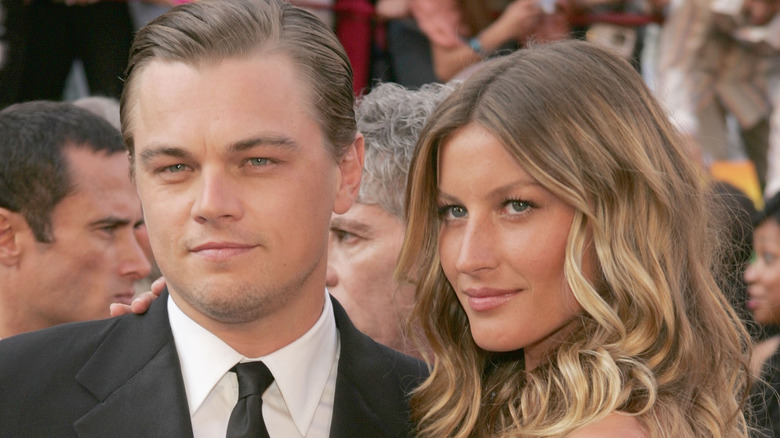 Frank Micelotta/Getty Images
Watch Leonardo DiCaprio on the big screen, and he seems like a charmer. He certainly charmed more than one person in the Bündchen clan! Despite not visiting Gisele Bündchen's parents in their native Horizontina, Brazil, Leonardo DiCaprio spent time with them on private family vacays. "I got to know [Leonardo] when he joined our family on a boat cruise in Argentina and Chile," Valdir Bündchen shared with the Daily Mail in 2016. "We took a bus from Brazil and met up with Leo and Gisele. It was a great time." As The Things pointed out, Valdir and DiCaprio were such good buddies that many speculated they even continued to hang out after Gisele started dating Tom Brady.
Because he was a Hollywood actor, DiCaprio possessed a certain cachet that instantly endeared him to the Brazilians in Horizontina. Conversely, Brady was much less well-known. "Everybody here knows Leonardo DiCaprio, but nobody [has] ever heard of this American footballer," Lilico, a Horizontina native, told ESPN in 2008. She went on to explain that the NFL was a foreign concept to Brazilians, adding, "Everybody knocks down everybody but nobody knows why."
Prior to Brady and Gisele's marriage, Valdir was described as being very fond of DiCaprio, and expressed more lukewarm sentiments about Brady. "You cannot say that you know someone just by having seen him once, but [Brady] seems to be a nice person," Valdir said.
Valdir Bündchen has his daughter's best interests at heart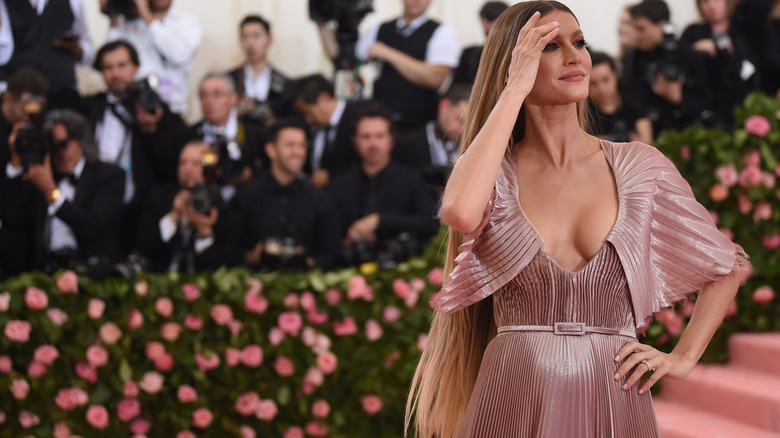 Jamie Mccarthy/Getty Images
Valdir Bündchen's feelings about Leonardo DiCaprio weren't unique — the A-lister endeared himself to another model's father. DiCaprio, whose tendency to date women in their early 20s is an Internet joke, branched out when he set his sights on 28-year-old Gigi Hadid in 2022. Though initial sparks sizzled out, Gigi's father Mohamed Hadid was quite taken with DiCaprio. "I met Mr. DiCaprio in St. Tropez four or five years ago and he is a very nice man," Hadid told Daily Mail. "I liked him." So, what is it with DiCaprio and dads on vacation? We'll just call it the DiCaprio effect.
In the meantime, fans are pointing to the fact that the time might be ripe for a Gisele Bündchen-DiCaprio rekindling, especially because she would be his first age-appropriate relationship in years. But do the hurdles that led to their initial breakup still exist? Here's where Valdir's POV comes into play. Though the Bündchen patriarch was undoubtedly a big fan of DiCaprio, he's also a realist with his daughter's best interests at heart. "For people in the movies ... their downtime is very short," he told Daily Mail in 2016. "They have to be here, there and everywhere for work — there's a lot of pressure. ...Sometimes relationships pay the price." 
Right now, we haven't heard a peep on a possible romance with DiCaprio. Instead, Gisele is taking some time to work on herself and her career.