How Michelle Obama's Relationship With Daughters Malia And Sasha Has Changed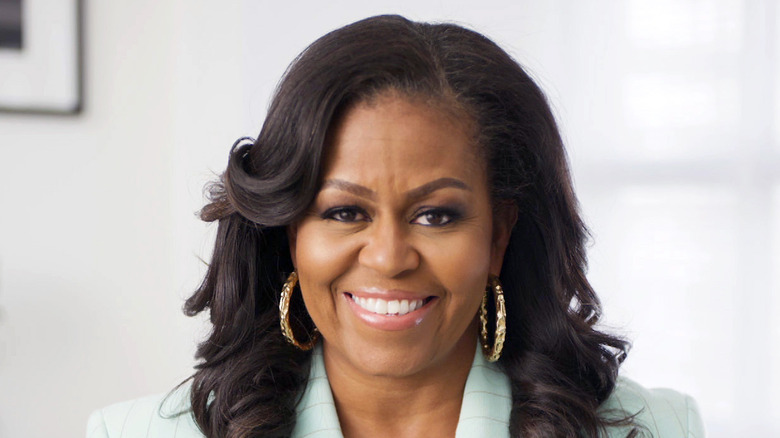 52nd Naacp Image Awards/bet/Getty Images
When President Barack Obama and Michelle Obama first moved into the White House in 2009, their daughters, Malia and Sasha Obama, were only 10 and seven years old, respectively. When Michelle visited "Ellen" that year, host Ellen DeGeneres asked the first lady to describe herself in three words and the first one that came out of her mouth was "Mom" before sharing an adorable picture of Sasha with her missing teeth.
During their time at 1600 Pennsylvania Avenue, Michelle did her best to remain present in her daughters' lives. "I'm a mother first. And I'm going to be at parent-teacher conferences, and ... I'm going to be at the things that they want me to attend. I'm not going to miss a ballet recital," the first lady stated, per CNN. Now with Malia and Sasha in their twenties, their relationship with their mother is a bit different, and Michelle revealed how she had to take a step back in parenting.
Michelle Obama is on the other side of parenting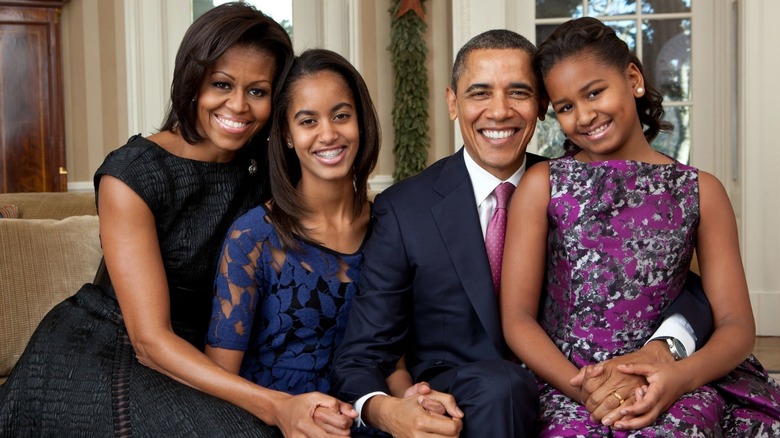 Salma Bashir Motiwala/Shutterstock
Now that her kids are all grown up, Michelle Obama is not so quick to hover over Malia and Sasha Obama. "I'm moving from mom-in-chief to advisor-in-chief. That's a lovely thing — to be able to watch my girls fly and have the relief that okay, I think I didn't mess them up," she shared on "Michelle Obama: The Light Podcast." Michelle went on to say that she doesn't look at them with a "critical eye" anymore and recalled once telling Malia, "You're wrinkly — you're gonna do something about this." At that moment, Michelle realized she was "fixing things" and stated, "[Our] kids just want our gladness. They don't need us to fix them. They don't need us to point out the thing that's wrong, first."
As first lady, Michelle has had to balance being an open book without sharing too much information about her daughters. On having to share her truth in her memoir, "Becoming," she shared with People, "It is hard for me to delve too deeply ... into the lessons I've learned as a parent because I'm trying to protect the privacy of my girls. You have to pull back on how much you share about their lives and how much you put them back out in the public eye because they're not looking for the attention." As adults, Malia and Sasha still maintain a level of privacy and now that they have moved out, Michelle revealed what life is like without her daughters at home.
Michelle Obama is embracing being an empty nester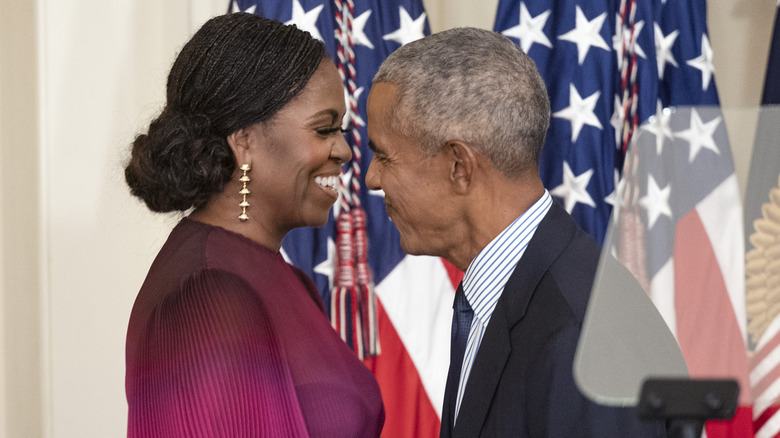 Kevin Dietsch/Getty Images
Life is completely different for Michelle and President Barack Obama now that their daughters have left the house. The "Becoming" author revealed that her husband was the one who had the harder time, while she embraced the change. "He was weeping! And he's still like, 'They left me,'" she shared on "The Kelly Clarkson Show." Michelle explained, "That's because I spent all the time with them. He was president ... I was like, 'Kick them out the door.' It's like, 'Get out of my closet.'" She griped that her daughters were always taking her makeup and sneaking into her room to grab her things. "I'm like, 'When does school get back in session? When can they go back to those dorms?" she joked.
These days, Malia is a Harvard graduate anda writer for Donald Glover's series "Swarm" after serving a stint as a production assistant on "Extant." Sasha is living with her sister in Los Angeles and attending the University of Southern California studying psychology. Michelle shared that she held back when her daughters told her they were going to be roommates and revealed to People, "You try not to react too much because it's like, you don't want to go, 'Oh my gosh, I'm so happy for you!' because then they think, 'Well, maybe this is not a good thing if my mom likes it ... But yeah, it feels good to know that the two girls you raised find solace at a kitchen table with one another."