Kurt Russell Used A Questionable Pickup Line To Charm Goldie Hawn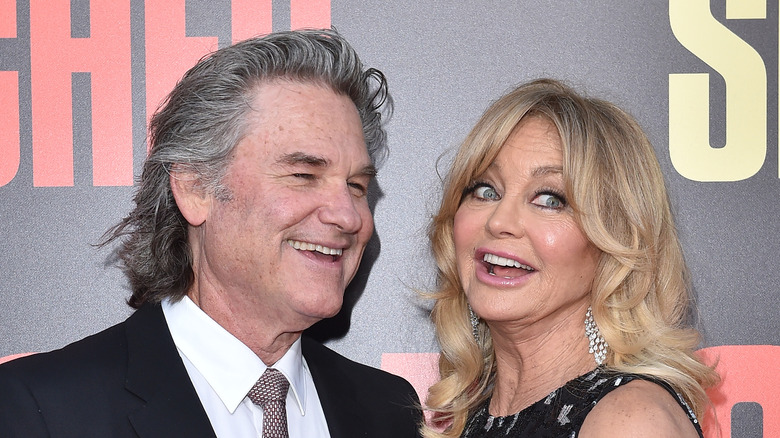 Axelle/bauer-griffin/Getty Images
Kurt Russell and Goldie Hawn have one of the most admirable relationships in Hollywood, and the more we learn about them, the more fascinating their story becomes. The two actors first crossed paths on the set of "One and Only, Genuine, Original Family Band" in 1966. At the time, Russell was only 15 years old, while Hawn was 21. Russell recalled being on-set with his mother, watching young women audition, when she pointed out Hawn, saying, "You see that blonde with a funny haircut? She's gonna get the job," according to Variety. Russel added, "And sure enough, she did. I thought she was extremely attractive. You couldn't miss her. She just had this energy about her."
Their relationship was purely platonic back then, but when Russell and Hawn reunited in 1983 to film "Swing Shift" together, their romance blossomed. Apparently, Hawn was smitten by Russell's charms, and it may have been his direct compliment that piqued her interest.
Kurt Russell complimented Goldie Hawn on her great figure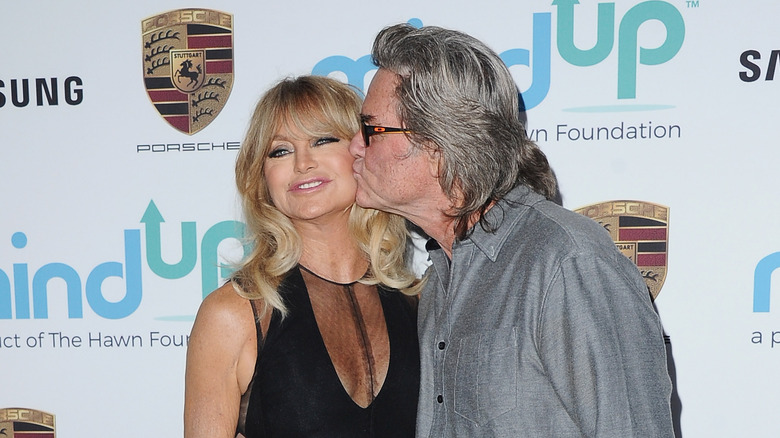 Jon Kopaloff/Getty Images
Kurt Russell was no longer a young teenager when he reunited with Goldie Hawn 17 years later to audition for "Swing Shift." However, a late night with his father nearly derailed their second meeting. Russell shared on Conan O'Brien's eponymous show that he had stayed up until 4 a.m. drinking with his dad and went into the reading "severely hungover." Upon seeing Hawn, all those years later, the first thing he blurted out was: "Man, you've got a great figure." Russell admitted his words could have been taken offensively, but Hawn merely replied, "Why, thank you."
Russell and Hawn's first date was far from PG. They went to the Playboy Club to dance and, eventually, ended up back at Hawn's new house. However, their romantic evening was cut short when the police arrived. "We eventually found our way upstairs, looking around at imaginary furniture and we were in the imaginary bedroom, now, and we are realistically having sex when the police walked in because we had to break into the place to get in," he told People. "That was our first date. It was a lot of fun, I'll tell you what. I can't believe it was a long time ago," he mused. Since then, the pair have been inseparable and have shared their secrets for a long and happy relationship.
Kurt Russell and Goldie Hawn don't think marriage is the key to happiness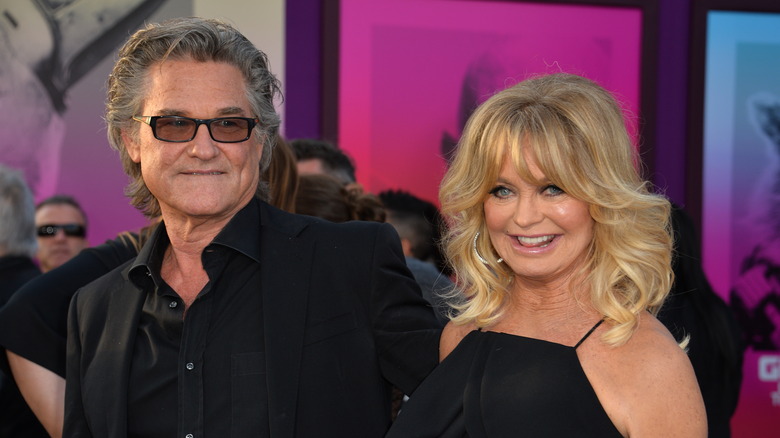 Featureflash Photo Agency/Shutterstock
While Kurt Russell and Goldie Hawn have been together for 40 years, they never felt the need to tie the knot. "I like the idea of being his girlfriend and vice versa. I think you don't demand things. I think we have independence, but two pillars hold up the house," Hawn revealed to Mirror. On how she keeps things spicy, Hawn shared, "If two people really want to be together there's something to cherish, so you keep it fresh by surprising each other. Go to a hotel room, go take a hike. Make something happen that's unusual."
"For people like us, the marriage certificate wasn't going to create anything that otherwise we wouldn't have. I don't know. 40 years isn't enough to finally say, 'Well I guess...'" Russell told People. Hawn pointed out that she, Russell, and her daughter Kate Hudson were all once married, but it didn't last. "It's okay. It's not about the marriage. It's about the people and the relationship, and the will to stay together," she stated. Another sage piece of advice Hawn shared with E! News? "The secret to my romance is separate bathrooms."