Jamie Foxx Hasn't Always Seen Eye-To-Eye With Will Smith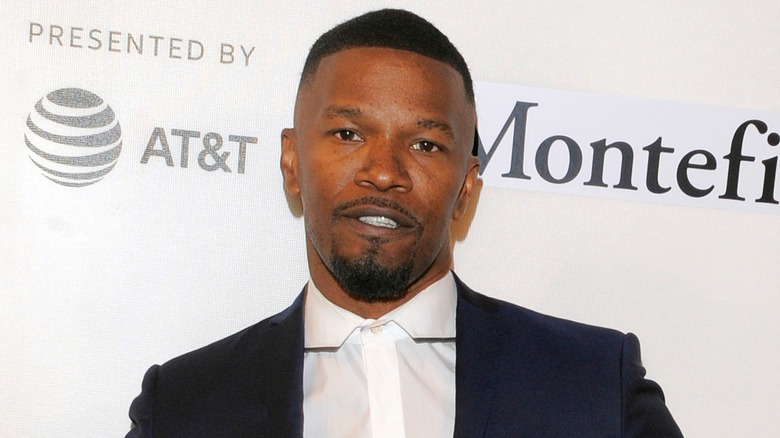 Ron Adar/Shutterstock
When you think about it, Jamie Foxx and Will Smith have a scary amount of things in common. And it goes far beyond their starring and supporting roles in 2001's "Ali." For starters, both actors are known for their vibrant, larger-than-life personalities. Both actors also have a diverse acting portfolio, including comedies, action flicks, and even sci-fi thrillers. During the '90s, Foxx and Smith starred in their own TV shows where they played the lead characters. Smith starred in "The Fresh Prince of Bel-Air," as a character sharing his name, while Foxx starred in "The Jamie Foxx Show" as Jamie King. 
Plus, Foxx and Smith are both (so far) one-time Oscar winners who took home awards for best actor. Both roles were a part of biopics. Foxx won an Oscar for his role in "Ray," where he portrayed Blues singer Ray Charles. In 2022, Smith won an Oscar for portraying Richard Williams (Serena and Venus Williams' father) in "King Richard." Last but not least, both Foxx and Smith are musically talented. For a good 10-year stretch, Smith was one of the most popular rappers in the world. Meanwhile, Foxx can sing just about anything, whether it's his sultry R&B songs or his club bangers. With all of these similarities, Foxx and Smith should share an unbreakable bond. And while they certainly appear friendly, Foxx and Smith haven't always been on the same page.
Jamie Foxx downplayed Will Smith's Oscar woes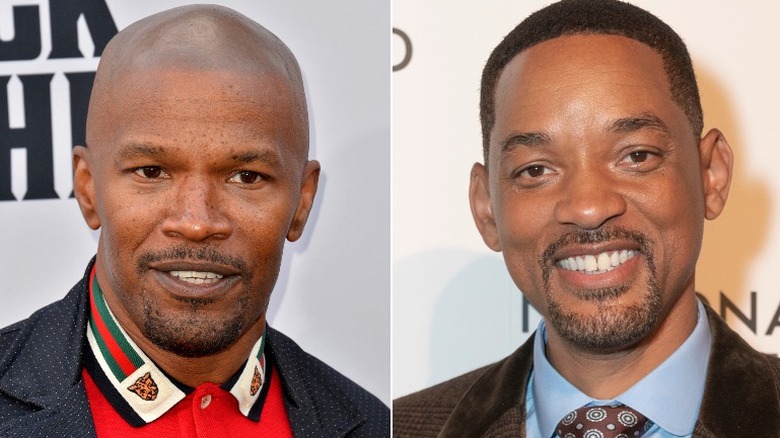 Featureflash Photo Agency & lev radin/Shutterstock
Jamie Foxx wasn't exactly supportive of Will Smith following his historic Oscar boycott. To recap: Smith had recently starred in "Concussion" as Dr. Bennet Omalu, the doctor responsible for discovering the link between CTE, a serious brain disease, and professional football. That year, neither Smith (nor any Black actors) were nominated for any of the most prestigious Oscar categories. At the urging of his wife, Jada Pinkett Smith, Will boycotted the event, per Variety. As noted by the publication, Will's boycott did see support from directors Spike Lee and Quincy Jones. 
However, he didn't win over Foxx, who shared his opinion about the situation at the American Black Film Festival Awards that same year. "All these Oscar talks, I don't even trip about that," Foxx said (via Daily Mail). "I mean, what's the big deal? I was sitting at home with my Oscar, like 'What's all the hubbub?'" He continued, "'My friend said, "Are you mad?' Um, kind of, but not really. I started calling Denzel [Washington], and we just Instagrammed our Oscars together." Foxx also said "act better," which sounds like a critique of Will's acting chops.
Jamie Foxx and Will Smith have sung each other's praises
It's unclear what prompted Jamie Foxx to take such a public dig at Will Smith all those years ago, but it seems like everything is all good between him and Smith today. In fact, the actors have spent the last few years openly supporting each other's accomplishments. In March 2023, Smith reposted a fan-made tweet, where they celebrated Foxx's versatility as a performer. "Jamie Foxx doesn't get enough credit for casually being the most talented person on earth," wrote the fan. On Instagram, Smith added the caption, "@iamjamiefoxx is a BEAST!!! Singer, Actor, Comedian — THE TRUTH!" posted Smith to Instagram.
The admiration isn't one-sided, however. This past November, Foxx gushed about Smith on Instagram after viewing "Emancipation." "The other night I had an opportunity to see an incredible movie and an incredible performance, by none other than @willsmith his movie emancipation is gut wrenching, soul saving, and boldly captivating... please get ready to be blown away by another incredible performance!!" wrote Foxx. "it was also great to be able to hang and break bread, and have some laughs... @willsmith biggups!!!"