Jamie Foxx's On-Set Behavior Caused Drama More Than Once In His Career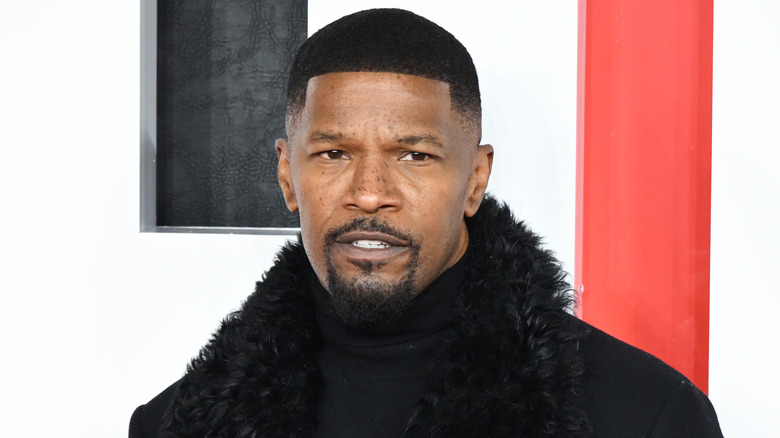 Karwai Tang/Getty Images
Sometimes when celebrities get big in the industry, the fame can get to their heads. In fact, several famous individuals have been known to cause some difficulties both on set and off. One of those happens to be "Collateral" actor Jamie Foxx.
Foxx undoubtedly has a charismatic and hilarious demeanor that many love. Tom Holland, who starred alongside Foxx in "Spider-Man: No Way Home," gushed about the actor in an interview with Serieously. Holland shared, "Jamie is one of my favorite people I have ever worked with. Not only is he just super talented and really fun, he's just such a nice guy." However, not everyone feels the same about the actor, as he has reportedly caused some drama on set.
When shooting the film "Any Given Sunday" in 1999, tensions rose between Foxx and his co-star, LL Cool J. Bill Bellamy, who also starred in the film, detailed to the "Drink Champs" podcast how the two famous stars got involved in a heated fistfight (via Yahoo!). According to Bellamy, the actors had "competing egos" and Bellamy even warned Foxx not to mess with the rapper. However, when the "Ray" actor injured LL Cool J while filming on set, it was the last straw. LL Cool J took his song "Mama Said Knock You Out" a little too literally because he punched Foxx straight in the face. Although this incident happened years ago, it was just the beginning of Foxx's dramatic on-set behavior.
Jamie Foxx caused headaches on the 'Miami Vice' set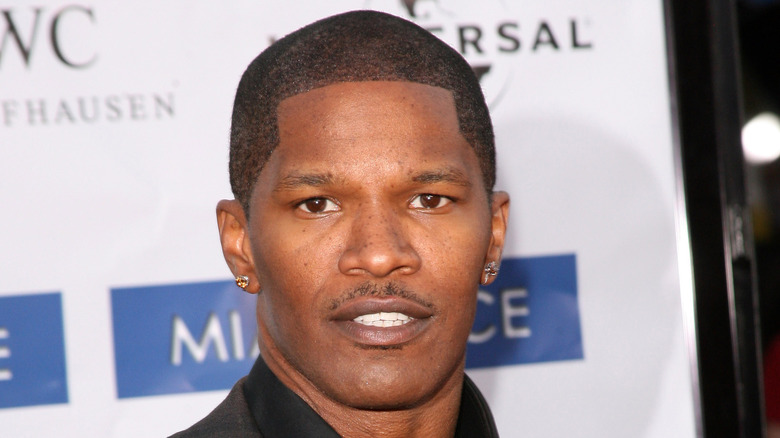 Jason Merritt/Getty Images
Jamie Foxx brought the heat on set of the film "Miami Vice," and not in a good way. According to Yahoo, Foxx, and "Miami Vice" director Michael Mann, had an incredible relationship leading up to the film. But when production began, it became a disaster partly because of the "Django Unchained" actor's behavior.
According to Slate, when they began filming the movie, Foxx had a well-known reputation in the industry. The actor was coming off of the success from the Oscar-winning film "Ray," and it seemed like all the accolades got to his head. Crew members reported that Foxx constantly showed up to set with an "entourage" and an "attitude." A crew member even revealed that although Colin Farrell, Foxx's co-star, struggled with personal issues, he was still better to deal with than Foxx. They shared, "Yes, Colin comes to play around, but he always showed up on time and prepared. Jamie is more of a diva in the sense that he was afraid of boats, afraid of planes — there were a lot of things where he was afraid for himself. Colin will do anything."
Eventually, Mann's constant changes on set led the "Collateral" actor to leave the film completely, causing production and the director to rewrite an entirely new ending. According to the Bomb Report, the movie only ended up making $164 million worldwide with a $135 million budget, which showed that all the fuss definitely wasn't worth it.
Cameron Diaz' comeback to acting has been soured by Jamie Foxx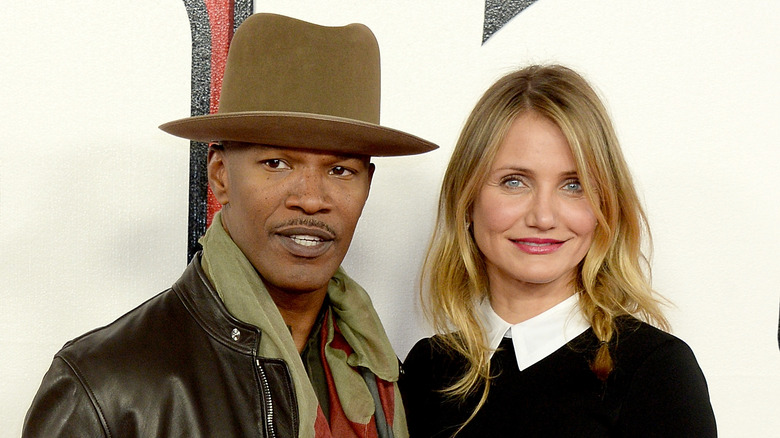 David M. Benett/Getty Images
Cameron Diaz has had an incredible career with some of the biggest films to ever hit the screen. But in 2018 the actor announced that she was "retired" from the industry, per Entertainment Weekly. After years of taking a step back from the acting world, Diaz officially decided to return to the entertainment industry for the 2023 film "Back In Action." The "Charlie's Angels" actor was ecstatic about her comeback partly because she was joining her friend and co-star, Jamie Foxx. She told the "Tonight Show Starring Jimmy Fallon," "The first movie back is this film with Jamie. So, it's amazing. He's so great. He's so easy. He's so professional. He's so talented. And just being able to work with him, it'll be so much fun." However, when the two officially began production, it turned out to be anything but fun.
According to The Sun, Foxx derailed Diaz's return to acting while shooting the upcoming Netflix film. A source shared, "There have been some issues on set and Jamie has had a major meltdown over it all. He demanded the problems be sorted immediately and sacked four of the production staff — as if that would magically improve the situation." Foxx's ridiculous demands and power to fire people has reportedly made him "unpopular" with crew members. And although it's unclear how Diaz feels about her friend's behavior, it's sure to have put a damper on filming.