The Best And Worst Breakup Speeches On Love Is Blind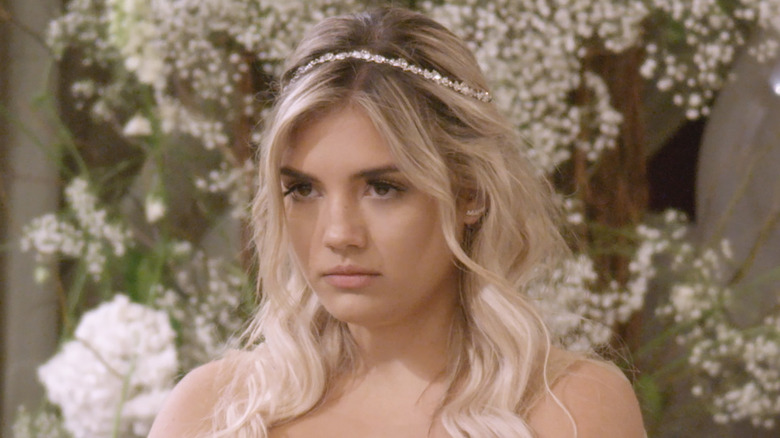 Netflix
Netflix's "Love is Blind" was an instant hit with fans, and it's easy to see why. The show is based on the idea that it's possible to fall in love based on personality and an emotional connection alone, without ever seeing the other person in the flesh. Every season, a group of men and women are given the chance to take part in the "Love is Blind" experiment, which sees them spend an inordinate amount of time in custom-made "pods." In these special rooms, they're able to speak to potential love interests through the wall, and if they make a love connection, they must take the leap and get engaged. Only after an engagement can contestants finally meet face-to-face. Obviously, this has led to some beautiful love stories ... and some horrifying breakups.
Only some couples actually make it to the altar, and even then, there's no guarantee that they're going to go through with the wedding. Over the course of four seasons, as of this writing, we've seen runaway brides, brutal truths, complete surprises, and a plethora of mistakes being made. Here, we round up the best and worst breakup speeches on "Love is Blind" to date.
Worst: Marshall and Jackie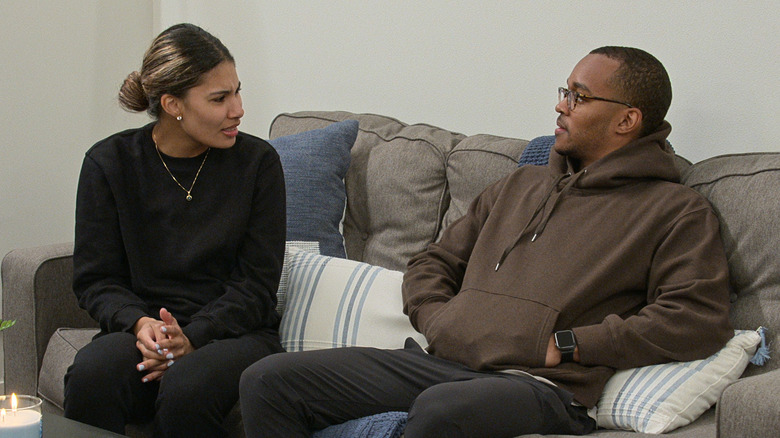 Netflix
Season 4 of "Love is Blind" featured so much drama, a lot of which was caused by Jackelina "Jackie" Bonds and her fiancé, Marshall Glaze. Jackie and Marshall's love story was turbulent from the start, as contestant Josh Demas was also interested in pursuing a relationship with Jackie. Ultimately, Jackie and Marshall got engaged in the pods, went to Mexico together, then took their romance back home to Seattle. In the real world, they hit some speed bumps, with Jackie not turning up for her wedding dress fitting, sending a clear message to Marshall about the status of their relationship.
They finally split in Season 4, Episode 10, with Jackie telling her former partner, "Marshall, I can't love you, because I'm attracted to Josh. I just saw Josh, and there is some chemistry. ... I don't wanna be with you anymore." Understandably, Marshall was shocked by the news that his fiancée had been in contact with another man. "You wanna be with Josh?" he asked her. She quickly responded, "I will find that out." 
The breakup descended from there, with Marshall asking for the engagement ring back. Jackie stated, "Well, I'm gonna keep the ring, because I accepted it because I wanted to marry you." Marshall conceded and told Jackie she could keep the ring, saying, "I want you to be reminded that you passed up on something great." 
Best: Deepti and Shake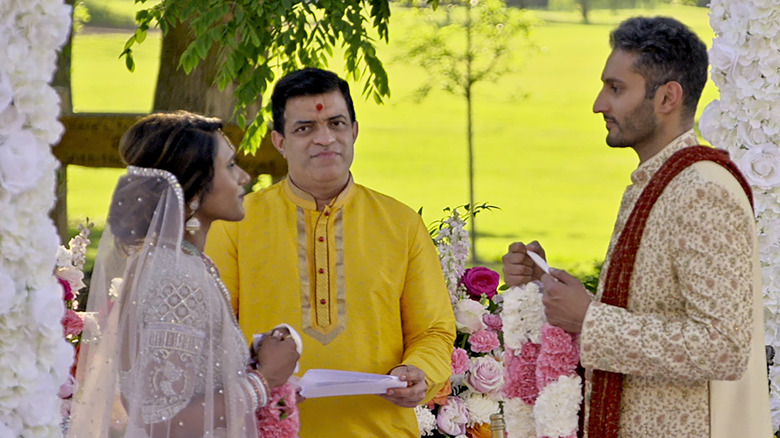 Netflix
Abhishek "Shake" Chatterjee and Deepti Vempati's relationship just simply wasn't meant to be. From the beginning of Season 2, Shake angered viewers and contestants alike with his comments about people's weight and his seeming fixation on women's looks. Once he was engaged to Deepti, things didn't improve, and their relationship seemed all but guaranteed to fail. In the end, it was Deepti who decided to pull the plug on their romance. 
During their wedding in Season 2, Episode 10, Deepti told Shake at the altar, "I hope you know how much you mean to me and the impact that you've made on my life. But no, I cannot marry you. I deserve somebody who knows for sure. So, I'm choosing myself, and I'm gonna say 'no.'" Obviously, Deepti's bold words made a huge impact with viewers, and she was celebrated for making such a feminist statement. 
Addressing her decision to break up with Shake at the altar, Deepti told Us Weekly, "There's a lot of things that he said that he didn't say to my face and [things] I've heard from other cast members." She continued, "I just don't have room for anybody in my life that doesn't see me in the best way. And who could even think those types of thoughts, I guess." The "Love is Blind" star has since released a book based upon her experiences on the reality TV show, aptly named "I Choose Myself."
Worst: Paul and Micah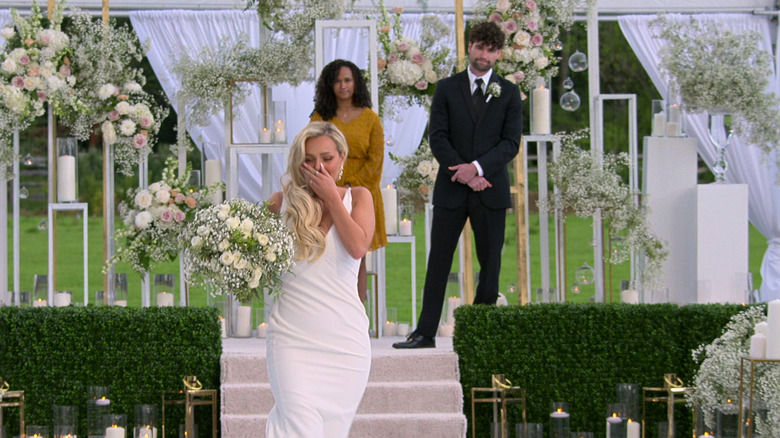 Netflix
One of the worst breakups of Season 4 happened between Paul Peden and Micah Lussier, both during their wedding and immediately afterwards. During this "Love is Blind" finale, Paul and Micah made it to the altar. However, when Micah was asked if she would marry Paul, she refused to answer, saying she wanted to let Paul answer first. He replied, "I love you, but I don't think that we can choose each other right now. I think that we're not there." 
Devastated by his answer, Micah fled the wedding. Arguably making the situation even worse, Paul gave an honest interview after the failed nuptials — and perhaps got a little too candid about his fiancée. Speaking to the camera, Paul explained, "To tell her no, destroyed me. I completely broke into pieces." Then, for some reason, Paul decided to get extremely personal, saying, "I struggled with ... at least in terms of envisioning, like, you know, a mother. I think for me it was difficult for me to do. It's just sort of like a nurturing aspect that some people have. I don't know. But whenever I tried, I just know I wasn't able to see it clearly." 
Following the Season 4 reunion, Paul addressed his comments in an interview with ET, saying, "It was framed as, the reason that I said no was that she wasn't able to fill a mothering role and a nurturing atmosphere and whatever. That was one piece of the puzzle."
Best: Sal and Mallory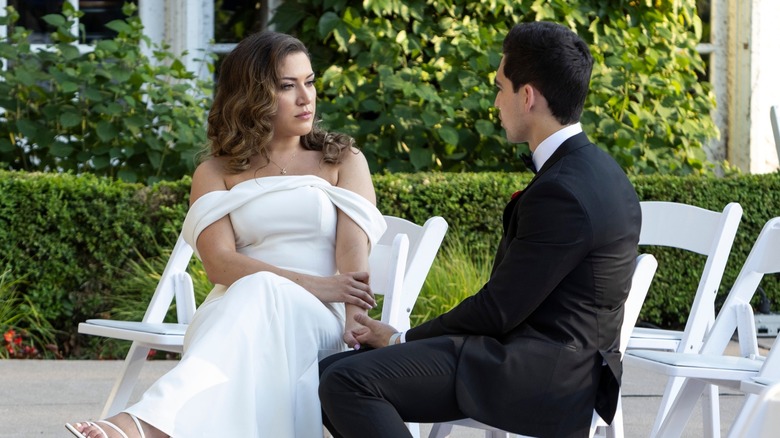 Adrian S. Burrows Sr./Netflix
Salvador "Sal" Perez and Mallory Zapata got engaged during the second season of "Love is Blind," and they even made it to the altar. At their wedding, Mallory said she would marry Sal, but Sal wasn't ready to tie the knot. "I cannot. I feel like I just need more time," he tearfully said during Season 2, Episode 10. After Mallory left, Sal addressed her family and friends, saying, "I don't even really know what to say. I feel like I just need to talk to Mallory's loved ones and family." He continued, "I feel like I haven't had the time to meet a lot of you, and I just wanna say, I know this is hard for all of you, too. I can only give her my truest self and my most honest choice, and that's why I said 'no' today." 
Sal addressed the guests at his wedding in a super respectful way, and viewers wondered if there might be hope for the couple after the show ended. But sadly, Mallory and Sal just weren't meant to be. During an interview with Extra TV, Sal elaborated on his decision to say "no" at the altar, saying, "I just felt like we had a lot of arguments ... just private arguments, you know, like to ourselves and just seeing the way that we handled our challenges together. We just weren't working together. We weren't a team."
Worst: Bartise and Nancy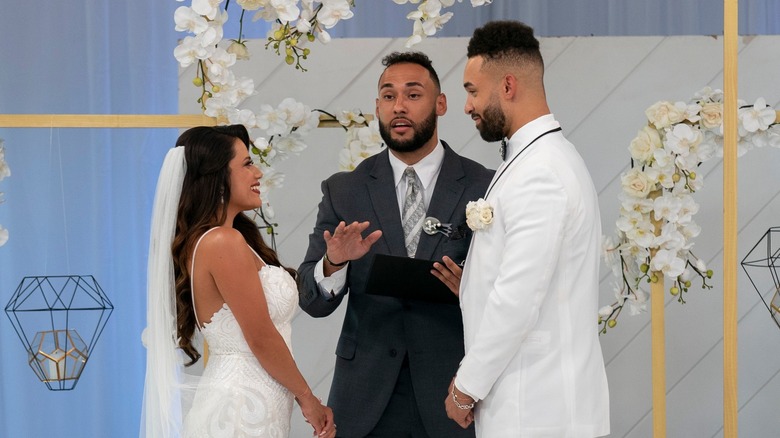 Mitchell Haaseth/Netflix
Bartise Bowden and Nancy Rodriguez got engaged on the third season of "Love is Blind," but their relationship was pretty rocky from the beginning. During the post-engagement vacation, contestants had the chance to meet other people they'd had a romantic connection with in the pods. After meeting Raven Ross for the first time, Bartise couldn't seem to stop talking about how attractive he found her, arguably totally disrespecting his fiancée in the process. 
Still, they made it to the altar, and Nancy said "yes." However, Bartise subsequently told Nancy he couldn't marry her in Season 3, Episode 11. After saying "I do not," he asked her, "You wanna talk about it here?" Nancy told him she didn't and left the wedding venue. Bartise followed Nancy and tried to talk to her outside, but her family continually interrupted them. Nancy's mom appeared visibly angry and wouldn't leave the pair to discuss what had just happened at the altar. Nancy ended up saying, "Mom, please go away. You have to go." 
It was an incredibly awkward moment, and the pair couldn't seem to have a conversation about their relationship without other people getting involved, making it one of the worst breakups in "Love is Blind" history. During an interview with People, Nancy later revealed that she decided she needed space from Bartise after the wedding, saying, "I was so blindsided that I needed to process, how did this happen?" They have since gone their separate ways permanently.
Best: Natalie and Shayne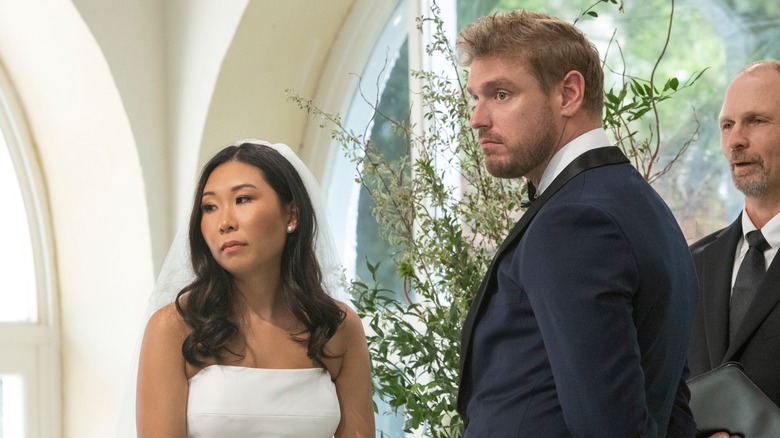 Adrian S. Burrows Sr./Netflix
During Season 2 of "Love is Blind," Shayne Jansen and Natalie Lee fell in love, got engaged, and overcame obstacles like Shaina Hurley to make it to their wedding. While it initially seemed as though Natalie and Shayne would tie the knot, Natalie threw a curveball at the last minute. In Season 2, Episode 10, Natalie told Shayne at the altar, "I'm so glad that we shared this journey together. I think we've grown a lot, as two people who have fallen in love. I know I've grown a lot because of you. But I don't." Natalie's words appeared to catch Shayne by surprise, as she continued, "I'm so sorry. I'm really sorry, Shayne. I still love you, and you're still my best friend. But like, we have really big issues to sort through."
Outside of the wedding venue, Shayne was visibly upset by the rejection, and Natalie tried to talk her decision through with her partner. It was revealed that they had an argument the night before the wedding, and some brutal words were exchanged. After Shayne said he meant what he'd said during the fight, Natalie asked, "So you're saying you truly felt like you hated me, and I was the worst thing for you at that moment?" 
Sadly, Natalie and Shayne are no longer together, and Shayne has since appeared on the Netflix dating show "Perfect Match."
Worst: Zanab and Cole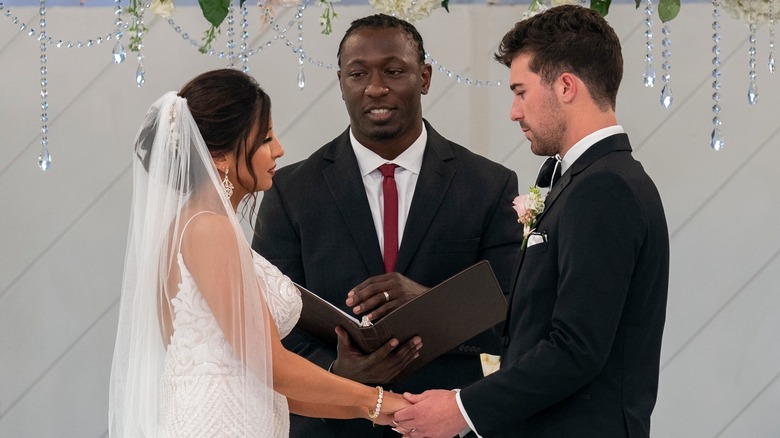 Mitchell Haaseth/Netflix
Zanab Jaffrey and Cole Barnett got engaged on the third season of "Love is Blind," but they were faced with some challenges on their way to the altar. Ultimately, Zanab turned Cole down, and her words raised some eyebrows. "You have disrespected me," Zanab said at their wedding. "You have insulted me. You have critiqued me. And for what it is worth, you have single-handedly shattered my self-confidence. And I hate that you have had that kind of effect on me." 
To be clear, the only reason we're categorizing Zanab's speech as one of the worst is because we can't imagine the pain that seemed to lead up to that moment for her. The fact that Zanab spoke her truth is something to be applauded, and we're just sad she allegedly didn't feel listened to up until that point. For his part, Cole expressed shock in a confessional interview, pondering why Zanab hadn't expressed these thoughts prior to their wedding day.
In an interview with USA Today, Zanab elaborated on the words she said at her wedding, explaining, "When I looked at him ... I was like, 'Wow, this guy has to listen to me up here. He's going to have to hear me. He can't talk over me; he can't dismiss me.'" She continued, "I used the opportunity to state facts. ... And I wanted him to have a very clear understanding of why it was a 'no.'" 
Best: Jessica and Mark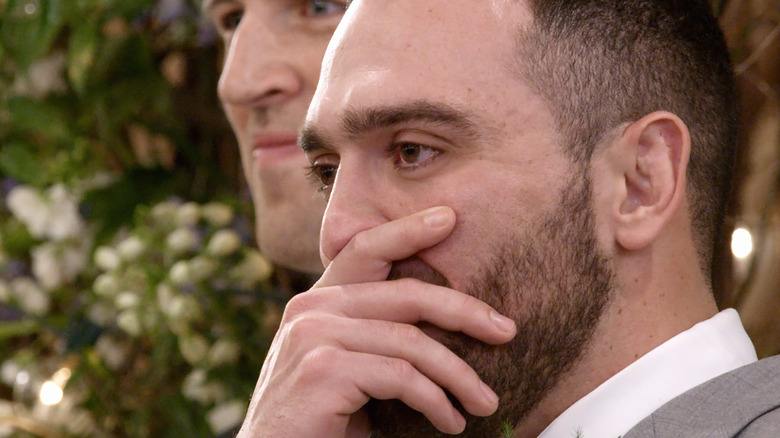 Netflix
During the first season of "Love is Blind," Jessica Batten and Mark Cuevas had a somewhat unexpected romance. For starters, Jessica seemed besotted with another contestant, Matt Barnett — though he decided to get engaged to Amber Pike instead. Jessica ended up accepting Mark's proposal, but she immediately questioned their 10-year age gap, and seemingly continued to flirt with Matt, much to Amber's chagrin. By the time Mark and Jessica got to the altar, it seemed like a forgone conclusion that they wouldn't be getting married.
In Season 1, Episode 10, Jessica told Mark while standing at the altar, "I cannot [marry you]. I'm so proud of us for getting through the ups and downs, but I don't think either one of us is ready to take this on." She continued, "But I do want you to know that I do love you so very much, and I've always been truthful with you, because I respect you so much as a man. And you'll always have a very special place in my heart." 
In an interview with Entertainment Weekly, Jessica suggested that she would've called off the wedding if it had been up to her. "I had to stay," she told the publication. "I definitely had a conversation about leaving and I wasn't able to do that."
Worst: Diamond and Carlton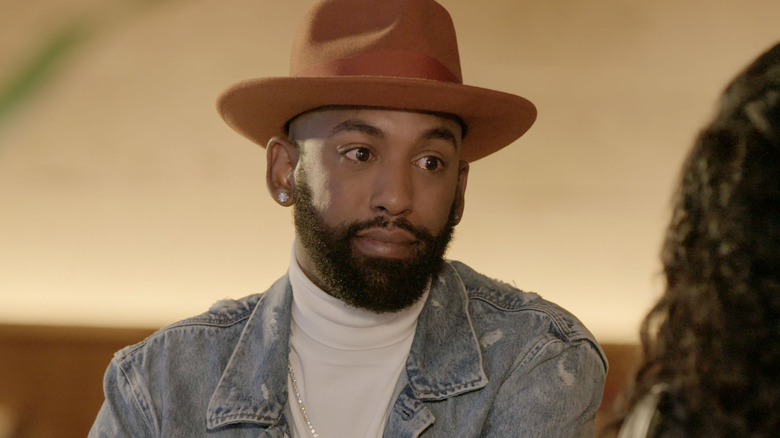 Netflix
One of the most devastating "Love is Blind" breakups of all time took place between Diamond Jack and Carlton Morton during Season 1. After falling in love in the pods, Diamond and Carlton joined the other successful couples for a dream vacation. It was then that Carlton revealed to Diamond that he identified as bisexual, a fact he hadn't shared during their initial dates. Unfortunately, communication between the pair started to break down and descended into a row by the swimming pool, during which the engagement ring got thrown into the water. 
"I personally feel that you left out who you really are," Diamond told Carlton in Season 1, Episode 4. Because emotions were heightened during the "Love is Blind" experiment, Carlton and Diamond's breakup only got worse from there. "This is why I don't deal with b*****s like you," Carlton said, to which Diamond replied, "F*** you, f***er." She then thew a drink in his face, and he insulted her, saying, "Watch your wig, 'cause it keeps sliding. It's been sliding since day one." 
During the Season 1 reunion, Carlton actually defended his ex and wanted to address the backlash she'd faced. "I want to make it very clear that the woman that I fell in love with, I never felt that she was biphobic, homophobic, or that she wouldn't love me," he explained.
Best: Kelly and Kenny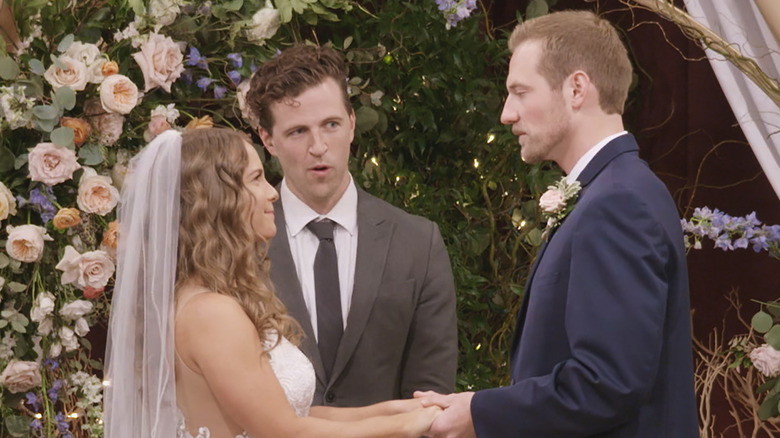 Netflix
Throughout the show's first season, Kelly Chase and Kenny Barnes seemed like one of the most solid couples. However, once they got to their wedding day, it became clear that their relationship might not be as strong as viewers initially thought. In Season 1, Episode 10, Kelly told Kenny at the altar, "I absolutely adore you and love you. I love you. But I don't. I can't marry you. And I hope that you can appreciate that and respect that decision of mine." Kelly then left the venue. 
Despite being left at the altar, Kenny managed to deliver a super respectful speech to their family and friends, saying, "Obviously, this is just a whirlwind for everyone." He continued, "It is authentic, and it is real, but today is not our day. But I love each and every one of y'all, and it's something that I'll cherish and be grateful for forever." Kelly's mom was seemingly so impressed with her daughter's fiancé that she was seen reacting to Kenny's speech, saying, "God, I love this guy."
Unfortunately, Kelly and Kenny's romance didn't continue after the show. Kelly later revealed that they'd planned to keep seeing each other after "Love is Blind," but Kenny changed his mind. As she told People, "It was our last filming day, and he had a conversation with me like, 'Hey, I think I am not emotionally available right now.'"
Worst: Giannina and Damian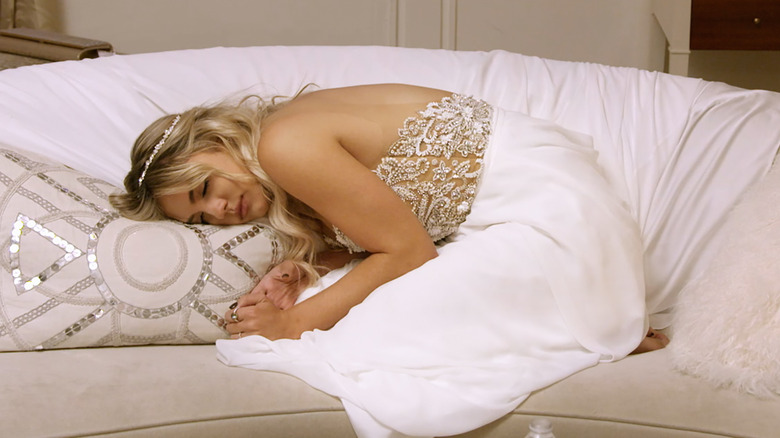 Netflix
Damian Powers and Giannina Gibelli got engaged in the pods on the first season of "Love is Blind." However, their road to the altar wasn't all peachy. Unfortunately, this meant that their wedding day didn't go off without a hitch. In Season 1, Episode 10, Giannina agreed to marry Damian at their wedding, without realizing what he was about to say next. "Giannina, I do love you," Damian said. "Since day one, I have wanted this, I have wanted to marry you." Then, he started making digs about his fiancée, saying, "I've stayed consistent all the way through this, and you have not. I can't handle the ups and downs of you loving me one day and saying you wanna be friends the next. It would be selfish of me to marry you today." 
Obviously, Giannina was devastated, having already said "yes." She became the show's first and perhaps most dramatic runaway bride. When Damian tried to approach her outside, she yelled, "How dare you! Get out of my face." Despite their brutal wedding day split, Damian and Giannina decided to continue dating after the show. But in August 2021, these "Love is Blind" contestants confirmed they had split for good. 
In January 2022, People reported that Giannina had started dating "Bachelor in Paradise" star Blake Horstmann. Meanwhile, Damian was a contestant on the Netflix dating show "Perfect Match," on which he paired with "Too Hot to Handle" alum Francesca Farago, but they are no longer together.
Best: Zack and Bliss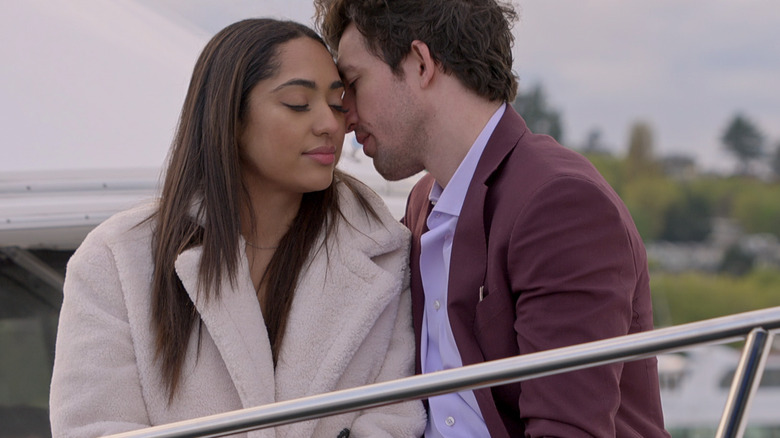 Netflix
On the fourth season of "Love is Blind," Zack Goytowski and Bliss Poureetezadi seemed like a match made in heaven. During their pod dates, the pair discovered that they shared a favorite song — "I Hope You Dance" by Lee Ann Womack — and they also realized that they both love owls. In spite of these pretty magical details, Zack decided to propose to Irina Solomonova instead (more on that later). As a result, he had to break up with Bliss in the pods, which became one of the most emotional moments of the season. 
In Season 4, Episode 3, Zack started by saying, "Bliss, you are so amazing, you're brilliant, you're caring." This prompted Bliss to ask, "Are you breaking up with me?" Zack then started crying and told her, "I really do love you, Bliss." While she clearly thought Zack was making a mistake, Bliss was nothing but gracious, saying, "I love you too, and I'm really grateful to have met you, and I hope that you find your happiness. ... I wish you all the best in the whole world." 
As it turned out, Zack also eventually felt like he was making a huge mistake, which he managed to rectify later in the season. The pair tied the knot in the Season 4 finale, and they revealed during the reunion episode that they're still married.
Worst: Irina and Zack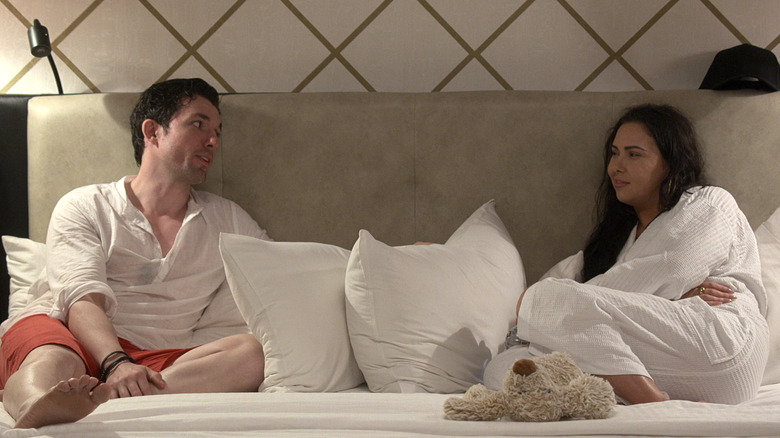 Netflix
After breaking up with Bliss Poureetezadi, Zack Goytowski proposed to Irina Solomonova, as previously mentioned, and they embarked upon a vacation with the other "Love is Blind" couples. Almost immediately, Zack and Irina's relationship was on the rocks.
In Season 4, Episode 5, Irina told Zack, "I just wanted to let you know, on the plane ride home tomorrow ... I don't think we should sit together, and just have our space." Zack was in agreement with Irina's suggestion, saying of the trip, "It's been horrible, it's been absolutely horrible." Irina was big enough to admit that she was at fault, telling him, "I'm a complete jerk to you, and I know that. You don't deserve that." Seemingly at peace with the decision, Zack said, "I think we should call it. I don't think it's gonna work out." Irina even told Zack that he'd chosen the wrong person in the pods, saying, "I hope you get a chance to see [Bliss] when you get back to Seattle."
And that's not all. In an interview, Bliss shared that Irina had actually contacted her after the trip. "She did text me actually when she got back from Mexico, [saying] that I dodged a bullet," Bliss told People. "And then she's like, 'Oh wait, that was mean.' And I just didn't respond." Luckily, it all worked out in the end, but we imagine that Irina's admittedly harsh treatment of Zack won't be forgotten quickly by "Love is Blind" fans.