Jane Lynch And Her Wife Jennifer Cheyne Reconnected Years After Their Split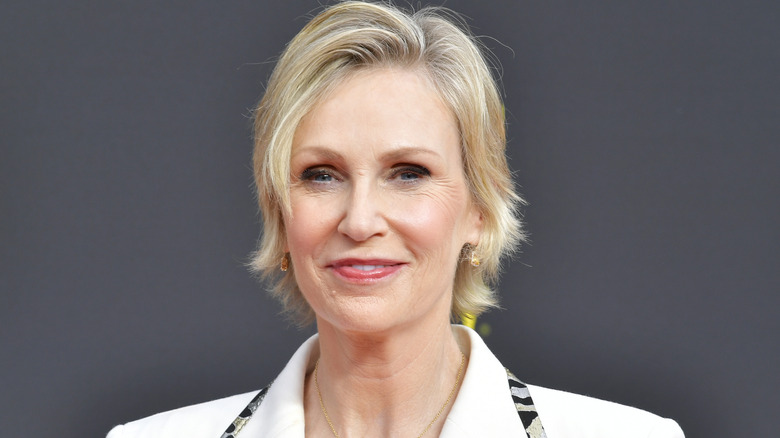 Amy Sussman/Getty Images
Jane Lynch had a really good motivation to get married in her 60s. In 2021, Lynch and Jennifer Cheyne were looking for insurance for Cheyne when the prices caused Lynch's romantic side to awaken. "I said, 'Let's just get married' ... I fell on one knee as I said it, looking at the prices of the insurance we were going to have to pay for," the "Glee" alum joked on "Live with Kelly and Ryan" in June 2022.
That year, they tied the knot in a private ceremony that included just the two of them and Cheyne's son. "Harry became a minister with the Universal Life Church ... So he married us," Lynch explained on the Today "Sunday Sitdown" in April 2022. "And it was just the three of us out in the courtyard at the courthouse. And it was lovely." Even though the wedding was motivated by practical reasons, Lynch felt unexpectedly sentimental on the day. "It was really nice. I shed a tear," she told Kelly Ripa and Ryan Seacrest, adding: "I was a little surprised."
Living and raising their rescue dogs together, Lynch and Cheyne had been a couple for many years before America's healthcare system urged them to get married. They live in Montecito, California, where they walk amongst illustrious citizens — sort of. "My neighbors are Meghan and Prince Harry," she told The New Yorker in March. "I haven't actually seen them." But before starting their shared life, Lynch and Cheyne had already dated several years before.
Jane Lynch and Jennifer Cheyne dated in the early 2000s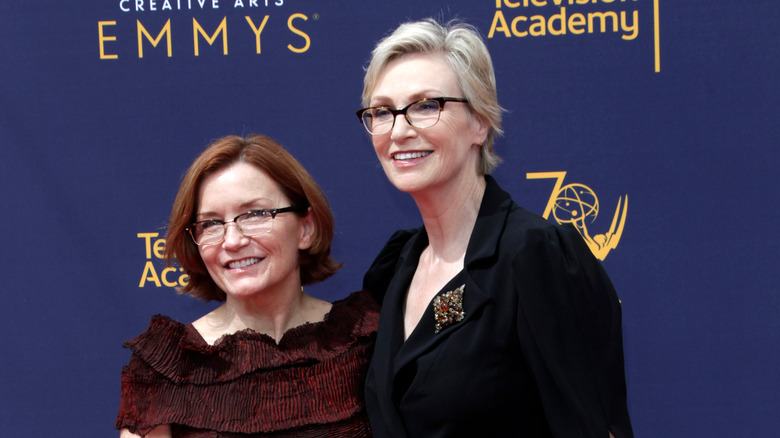 Kathy Hutchins/Shutterstock
Jane Lynch fell in love with Jennifer Cheyne several years before they became a long-term couple. "Jennifer and I were partners for a couple of years in the early 2000s," Lynch told Parade in November 2019. It wasn't their time to shine yet, but they found their way back into each other's lives. "We broke up and then reconnected a decade later and just fell back together so easily and lovingly." The "Funny Girl" star and Cheyne needed that time apart.
When they re-established their bond in the mid-2010s, Lynch and Cheyne had grown past some of their previous clashing traits. "Finding love in my 50s has been a blessing ... We're very different people now — we don't have the same insecurities we used to have," "The Marvelous Mrs. Maisel" actor explained. "We live very peacefully." In many ways, Lynch and Cheyne make each other's lives easier. "She figures out how to deal with [everything]," Lynch told People in September 2020. "She's like, 'I don't need to hire a handyman.'"
Lynch and Cheyne have no children, but that doesn't mean their home isn't filled with little ones. "We've had many dogs — cause we adopt seniors and we only get to keep them for a few years," Lynch said on "The Tonight Show" in 2021 (via People). And it isn't by chance that Lynch's dogs tend to have human names. "I knew I wasn't going to have kids," she explained. 
Jane Lynch was married before reconnecting with Jennifer Cheyne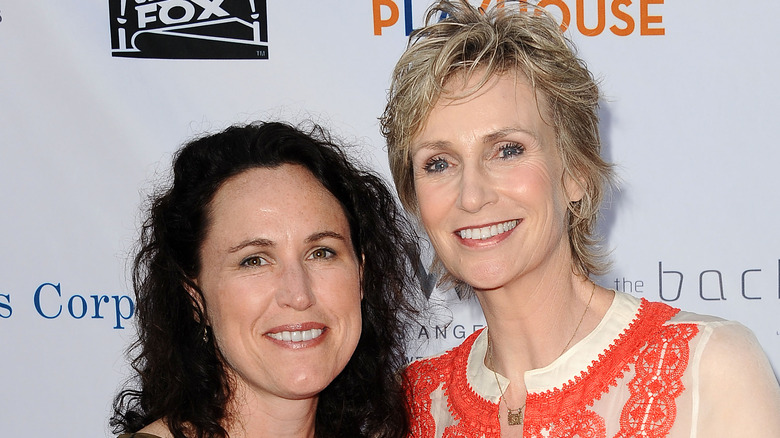 Jason Laveris/Getty Images
After breaking up with Jennifer Cheyne in the aughts, Jane Lynch moved on with Lara Embry. The pair wed in May 2010, exactly a year after meeting at a fundraiser in San Francisco. "We actually have a picture of the moment we met," Lynch told The New York Times. But the union didn't last. The pair announced they were going their separate ways in June 2013 — not long before Lynch reconnected with Cheyne. "This has been a difficult decision for us as we care very deeply about one another," she told People in a statement.
Lynch and Embry's divorce quickly got complicated. After more than a year of back and forth, Lynch settled in October 2014 after agreeing to pay Embry $1.2 million split over two years, E! News reported. Embry was also granted half of Lynch's residuals from the shows she starred in during their relationship, which included "Glee" and "Two and a Half Men." But Lynch proved she had no ill feelings toward her ex-wife. In fact, she believed Embry got what was rightfully hers. "[California] is a half-and-half state, as well as it should be," Lynch told PopCrush.
The settlement wasn't going to be the defining aspect of their relationship. "It's just money," she concluded. Lynch said their split was amicable. "All's good. We have a little girl — she has a little girl [Haden] — who's very dear to me," Lynch told Larry King in July 2013.