Why Kathleen Turner And Michael Douglas Never Dated Despite Their Chemistry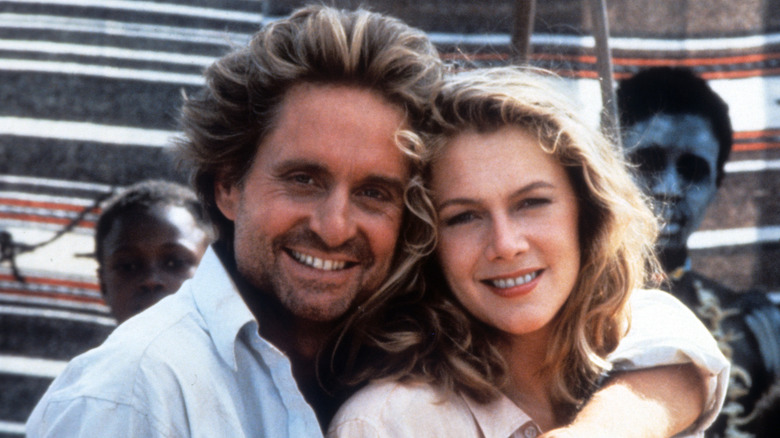 20th Century Fox/Getty Images
Kathleen Turner and Michael Douglas were one of Hollywood's favorite movie couples and their on-screen chemistry was palpable when they first starred together in 1984's action-adventure film, "Romancing the Stone." While Douglas was a shoo-in for the movie, Turner had to work a bit harder to show the filmmakers that she was right for the role. "I took some convincing to have them want me to do it. They were afraid, actually, that I was a little too forceful for the first part of the film and that I wouldn't be as convincing as necessary," she shared in a 1984 interview. Douglas explained that Turner wanted the part badly enough to do a test scene and as soon as she did, he said it was "evident in two seconds that she was capable of a wide range."
Turner and Douglas went on to star together in "The Jewel of the Nile," the sequel to "Romancing the Stone," and the 1989 film "War of the Roses." Despite their obvious fondness for each other, the two actors never took their chemistry off-screen, and it was due to Turner's revelation when Douglas had a special visitor on set.
Michael Douglas' then-wife gave Kathleen Turner a warning to back off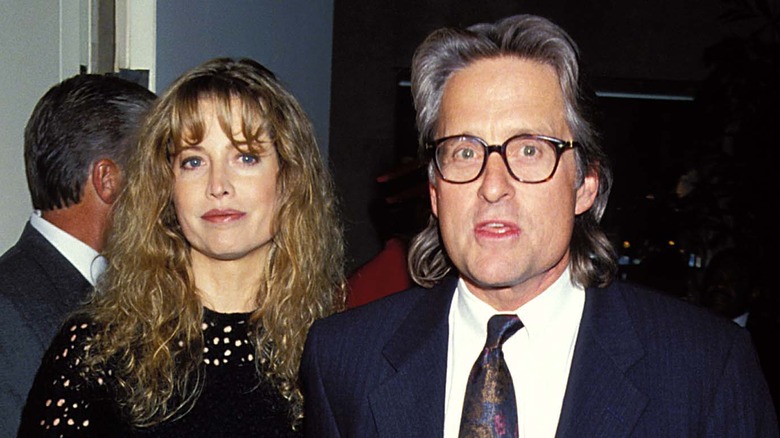 Jeff Kravitz/Getty Images
Kathleen Turner and Michael Douglas could have very well taken their on-screen chemistry off-screen while filming "Romancing the Stone" had it not been for an interruption by the "Basic Instinct" star's first wife, Diandra Luker. "I think we might have been falling in love. But then Diandra flew down and made it clear that she did not consider Michael to be available. So that ended that because I can't get involved with another woman's relationship," Turner told The Guardian.
Turner revealed that Luker told her, "You know we're still married and I have no intention of ending it," during a dinner in Valencia. "I thought, 'That's that.' The last thing I'd do to another woman is interfere in that. I felt sick," she shared, per the Daily Mail. Turner also didn't have rose-colored glasses on when it came to her and Douglas. "Look, I love the man, but he is old-fashioned," she declared in Stellar Magazine (via the Daily Mail). "First of all he would never, ever have supported having another star, at that point, in his life. And that would never have worked. I had no intention of being second to anybody, certainly not a man," the actor continued. While the time for Turner and Douglas' romance has passed, the two have remained close friends and reunited in a new project decades later.
Kathleen Turner and Michael Douglas played exes in a hit comedy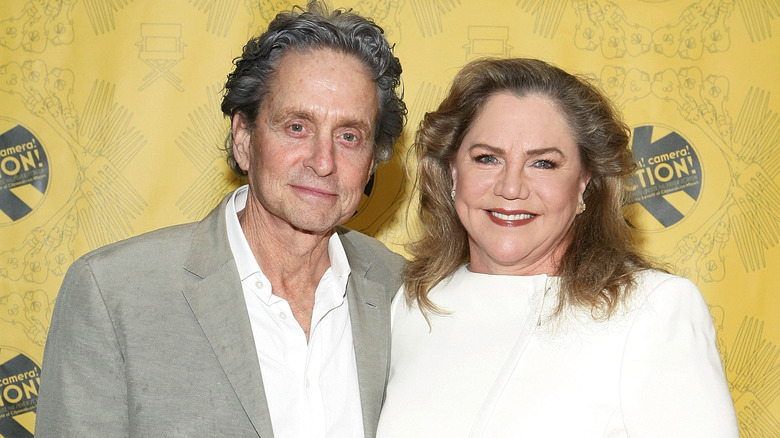 John Lamparski/Getty Images
When Michael Douglas needed to cast someone as his ex-wife in his comedy series "The Kominsky Method," he naturally thought of Kathleen Turner. "We know each other so well. You protect and cherish when you've got a good relationship," he told People. Douglas and Turner's camaraderie made it easy to play embittered exes. Douglas stated, "It was so much fun. It just is a comfort factor. Then you get to see it on screen and [realize], 'Oh, this is really good.'" Turner chimed in, "It was a no-brainer. They say it's like slipping on an old shoe, which I assume means that it's one of your favorite things. And that's how it feels."
Despite it being over 30 years since they've acted together, Turner revealed that she and Douglas kept in touch over the years. "Michael lives on the East Coast also, in the Hudson Valley up there. So when he came down to New York for like a matinee or something, we'd have lunch, which was great to see him," Turner revealed in an interview with Variety. On working with Douglas again, she declared that they "just picked up immediately — as if there'd never been all the years in between working together." Although "The Kominsky Method" has ended its third and final season, Douglas and Turner's brief on-screen reunion was reminiscent of why fans fell in love with their characters years ago.