Kathleen Turner Makes Depressing Claim About Burt Reynolds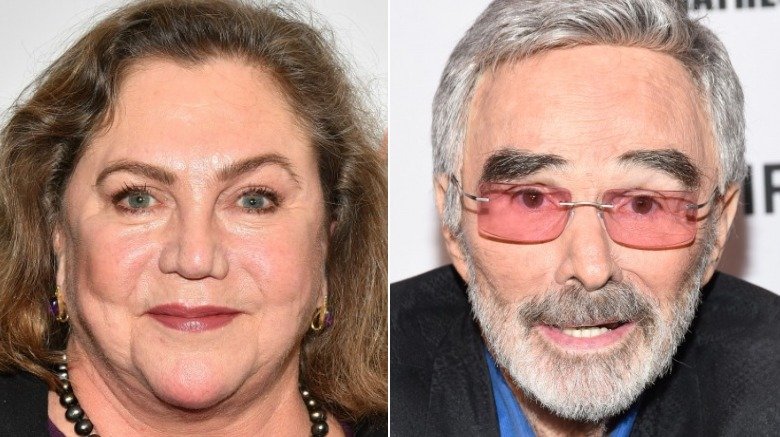 Getty Images
Kathleen Turner is not mincing her words when it comes to her former Switching Channels co-star, Burt Reynolds.
During her candid interview with Vulture, which went viral on Tuesday, Aug. 7, 2018, the veteran actress opened up about the duo's time working together on the newsroom comedy flick in 1988. And, well, her claims are pretty depressing.
"Working with Burt Reynolds was terrible," Turner, 64, bluntly told the publication. She continued, "The first day Burt came in he made me cry. He said something about not taking second place to a woman. His behavior was shocking. It never occurred to me that I wasn't someone's equal."
After leaving the room "sobbing," the Oscar-nominated actress went on, "I called my husband and said, 'I don't know what to do.' He said, 'You just do the job.' It got to be very hostile because the crew began taking sides." With one final dig at her former co-star, she added, "But as for the performance, I was able to put the negativity aside. I'm not convinced Burt was."
At the time of this writing, Reynolds has yet to publicly comment on Turner's remarks. However, the 82-year-old actor, who also famously feuded with Paul Thomas Anderson on the set of 1997's Boogie Nights, previously slammed his former co-star during his March 2018 appearance on Watch What Happens Live With Andy Cohen. When prompted to name the most overrated actor of the '70s and '80s during a round of "Plead the Fifth," Reynolds turned heads when he simply replied, "Kathleen Turner."
Turner's headline-making interview spent much of Tuesday, Aug. 7, as a trending Twitter Moment. When it came to the decades' long Turner-Reynolds feud, a number of social media users seemed to be #TeamTurner. 
Alongside a screenshot showcasing Turner's prolific '80s output, Louis Virtel of the podcast Keep It tweeted, "Reminder that no one has done a decade better than Kathleen Turner did the 1980s." Meanwhile, NPR's Linda Holmes wrote, "I agree with everybody who's noted how good this interview is, but I'm also furious every time I hear actresses I love unload about what incredible, unrelenting sexist bulls**t they have endured."
Regarding the overarching theme of the popular interview, journalist Mark Harris perhaps summed it up best when he tweeted, "What if Kathleen Turner just said anything she wanted to say exactly the way she wanted to say it? Nobody burns bridges more delightfully." Indeed.
In addition to slamming Reynolds, the outspoken actress sounded off on a number of other celebs she'd encountered throughout her four-decade career. The interview kicked off with Turner claiming that Elizabeth Taylor had an "awful" voice and wasn't a "very skilled" actress. She then dragged the likes of Nicolas Cage and President Donald Trump, before describing Michael Douglas, Jack Nicholson, and Warren Beatty's "competition" about "who would get me first." Turner noted, "None of them did, by the by."
While discussing her experience working on Friends — the actress famously played Chandler Bing's transgender father on the series — Turner said, "I didn't feel very welcomed by the cast ... The Friends actors were such a clique — but I don't think my experience with them was unique. I think it was simply that they were such a tight little group that nobody from the outside mattered." 
The raspy-voiced movie star also commented on an unnamed A-list actress who's "played the same role for 20 years." Whomever she meant, of course, is anyone's guess. But as interviewer David Marchese tweeted, "The great Kathleen Turner...deserves a spot in the Hall of Fame of IDGAF Interviewees."
So, where does Turner and Reynolds' ongoing mutual beef stand among the most infamous of recent celebrity feuds? Are things about to heat up à la Blac Chyna vs. the Kardashians or mellow out like Taylor Swift vs. Katy Perry? Only time will tell, but with a 30-year history between these two legendary actors, we're not exactly holding our breath for the latter.