What Really Happened To The Jerry Springer Show?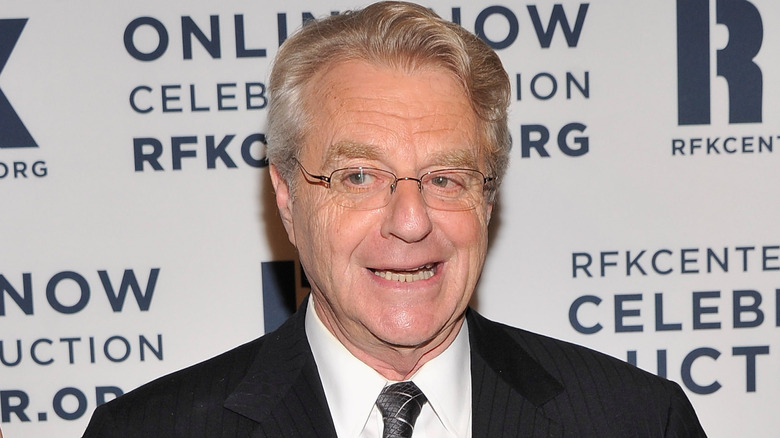 Stephen Lovekin/Getty Images
On April 27, 2023, veteran talk show host Jerry Springer died from pancreatic cancer. "Jerry's ability to connect with people was at the heart of his success in everything he tried whether that was politics, broadcasting or just joking with people on the street who wanted a photo or a word," Jene Galvin, a representative for the broadcaster, said in a statement, per People.
Springer, a former lawyer, kicked off his public life in 1970 when he vied for a seat in the United States House of Representatives. Though he lost, Springer would go on to be elected to the Cincinnati City Council the following year. Most significantly, between 1977 and 1978, Springer also served as Mayor of Cincinnati. It was, however, not until 1991 when he started hosting his eponymous talk show that he gained national recognition. 
The show, popular for its sensational and controversial topics, sparked interest across the nation. It was eventually criticized for ruining the concept of talk shows. "I think [the show is] silly, crazy, and has no redeeming social value other than an hour of escapism," Springer once admitted, per CNN. "There is never anything on our show that hasn't been on the front pages of newspapers in America. The only difference is that the people on my show aren't famous." Despite some of the resistance it faced, though, "The Jerry Springer Show" remained a fan favorite — until it wasn't. 
'The Jerry Springer Show' suffered low ratings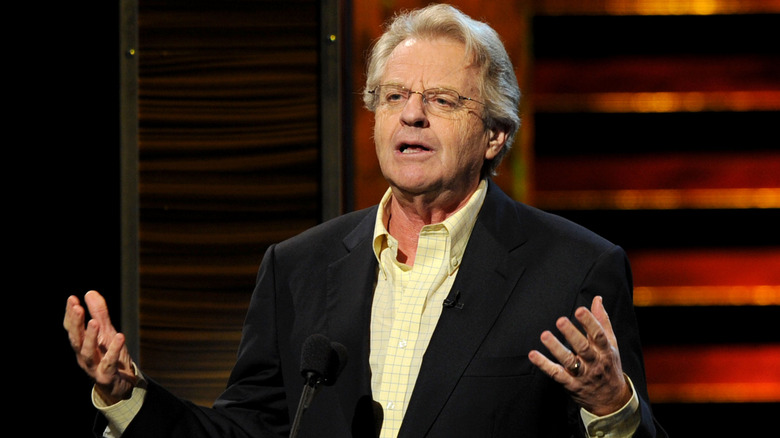 Kevin Winter/Getty Images
In 2018, after 27 years of sensational topics and one too many catfights, rumors started swirling that "The Jerry Springer Show" was being canceled. In June of that year, NBC confirmed the news, revealing that they had stopped producing new episodes. Speaking to Entertainment Tonight, however, Springer explained that even though NBC put a pause on filming new episodes, CW had acquired rights to air some previous episodes. "A deal has been made with The CW and so our show will be on in most cities twice a day," he explained to the outlet. "It will be mostly from the shows we've done, so every once in a while, you'll be seeing shows where I look a lot younger."  
At the time, the iconic television host also hinted at the possibility of the show making a comeback."The show as I understand it will be on for at least another two or three years, and then they'll — if it still continues to rate good, then they'll do some more," he added. "The Jerry Springer Show" was never revived.
And while the cancelation might have broken the hearts of fans across the world, it remains one of the longest-running talk shows in America — a feat Springer once attributed to its controversial nature. "It's got a niche, and no one else kind of goes in that niche so I think that's one of the reasons it's lasted," Springer admitted in an interview with Today.
Jerry Springer became Judge Jerry
Gary Gershoff/Getty Images
While Jerry Springer initially thought he would be retiring after his eponymous talk show ended, NBC had other plans for him. In 2019, one year after canceling "The Jerry Springer Show," the network premiered "Judge Jerry," a courtroom show hosted by the veteran television host. "NBC had been talking to me for years about doing something else, and they thought the judge show was a natural fit because I started out as a lawyer and it's a daytime audience," Springer explained in an interview with the New York Post.
Though far from what he was used to, Springer couldn't have enjoyed the "Judge Jerry" challenge more. "I love doing ["Judge Jerry"] because it's the first grownup job I've had in 30 years. I have to do research and I have to remember what I learned in law school and practicing law. I really do my homework." Sadly, in March 2022, "Judge Jerry" was canceled after only three seasons. As reported by Deadline, the show's cancelation came amid extremely low ratings. 
But while "The Jerry Springer Show" and "Judge Jerry" are his best-known works, Springer served as host on many more shows including "America's Got Talent," "Miss World" and "Miss Universe." When he was not on television, Springer also occasionally carried out his hosting duties on the radio with shows like "Springer on the Radio" under his belt. A legend on and off the screen, Jerry Springer's legacy will never be forgotten.