Joe Jackson Laid To Rest In California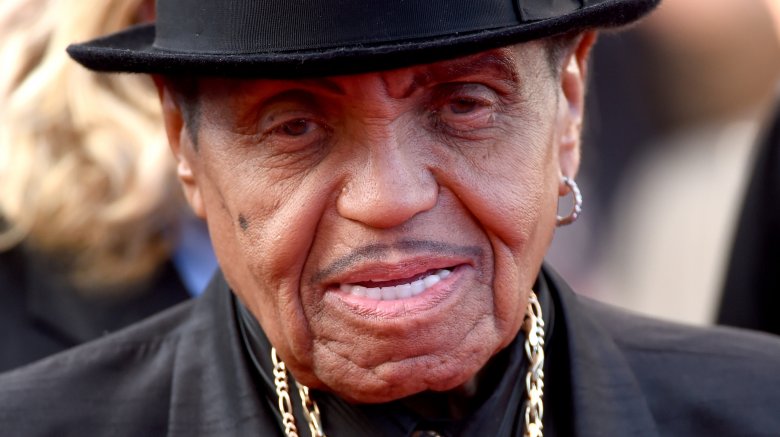 Getty Images
Joe Jackson has been buried in the same cemetery as his son Michael Jackson.
The Associated Press reported that the Jackson family patriarch was laid to rest at Forest Lawn Memorial Park in Glendale, Calif. on Monday, July 2, 2018. The late Michael Jackson was entombed in a mausoleum on the property following his death in 2009.
According to TMZ, Janet Jackson was among many family members who attended Joe's burial. The gossip rag notes that the service was private, but a public service will follow later.
As Nicki Swift previously reported, Joe passed away on Wednesday, June 27, 2018, after battling terminal pancreatic cancer. He was 89 years old.
After his passing, a number of celebrities, including famous members of his own family, took to social media to respond to the news. His daughter La Toya Jackson, for instance, tweeted out, "I will always love you! You gave us strength, you made us one of the most famous families in the world. I am extremely appreciative of that, I will never forget our moments together and how you told me how much you cared."
Joe's granddaughter Paris Jackson, who was Michael's only daughter, also penned a sweet tribute to her grandfather. Sharing a photo of her and Joe's hands clasped together, Paris wrote, in part, "Spending those last few moments with you were everything. being able to tell you everything i needed to tell you before saying goodbye was such a blessing."
She continued, "You are the first true jackson. the legend that started it all. none of us would be anywhere near where we're at if it weren't for you. you are the strongest man i know. your life's work will go down in history, as will you, to be known as one of the greatest patriarchs to ever live." Paris went on, "i will cherish every moment with you til the day i die, especially our last moments. being able to hold your hand, lay with you and cuddle you, give you kisses all over your cheeks and forehead, meant more to me than you'll ever know. ... my heart is full knowing we left each other in that way."