Details About Tom Cruise's Relationship With His Son Connor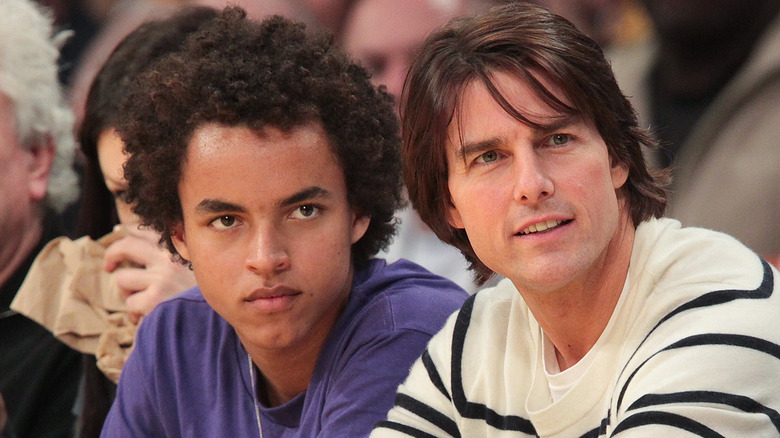 Noel Vasquez/Getty Images
When Tom Cruise was married to Nicole Kidman, the couple adopted a son, Connor Cruise, and a daughter, Isabella Cruise. After the couple split, Cruise married Katie Holmes, and they had a daughter together, Suri Cruise. It has been reported that the "Top Gun" star has distanced himself from Suri as she is not a member of Scientology. The Hollywood A-lister has, however, maintained a relationship with his two other children, and is rather close with his son.
In 2016, the Daily Mail offered a glimpse into Connor's life in Clearwater, Florida, where he drove a GT Mustang and spent time deep sea fishing on his $500,000 boat paid for by his father. He also spent ample time at the Scientology headquarters located in Clearwater where he was given star treatment. "The security treat him like a god, they look starstruck whenever he arrives and practically queue up to high-five him and say hello," a source told the Daily Mail at the time. Similar to his dad, Connor was heavily involved in their religion and lived in a Scientology community. "High-level church officials think it's imperative Connor carries the torch," the insider added.
Formerly, Connor was a DJ, but he had pivoted to focusing on deep-sea fishing. He runs a business, Connor's Meat Shack, which provides, "Wagyu, brisket, burgers, chicken, and ribs on chars, flats and smokers," according to the company's Instagram page. Over the years, Connor has bonded with his dad over shared passions. 
Why Tom Cruise and Connor Cruise bonded so closely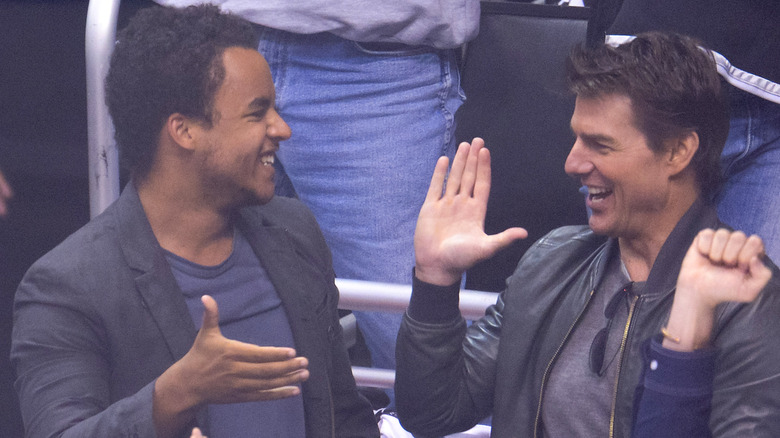 Noel Vasquez/Getty Images
Tom Cruise's devout faith is well-known, and it is something that his son Connor Cruise has adopted as well. "Connor has been able to remain close with Tom because of Scientology," a source told People in 2019. The "Mission: Impossible — Fallout" actor was photographed with Connor in 2019 as the two boarded a private helicopter. Not only was it a rare public appearance for the father-son duo, but the pair was headed to the International Association of Scientologists together. "Tom and Connor stepping out together in London was a big deal," the insider added.
While the two do not make many public appearances together, they are supportive of one another behind the scenes. When the 2023 Academy Award nominations were announced, Connor showed support for his pops with a post on his Instagram Stories, listing the six nominations "Top Gun: Maverick" had nabbed, along with a row of trophy emojis, per Hello!
Even though Connor is the son of one of Hollywood's biggest stars, he leads "a pretty simple life in Clearwater," and spends a lot of time deep-sea fishing, a source told People in 2018. Connor's passion for fishing comes from time with his dad. "We used to go fishing a lot when I was a little kid," he told People in 2016. Another hobby of his as a kid was music. "I started DJing in my bedroom when I was about 13," Connor added. Tom was a supporter of his son's musical career.
How Tom Cruise shows support for Connor Cruise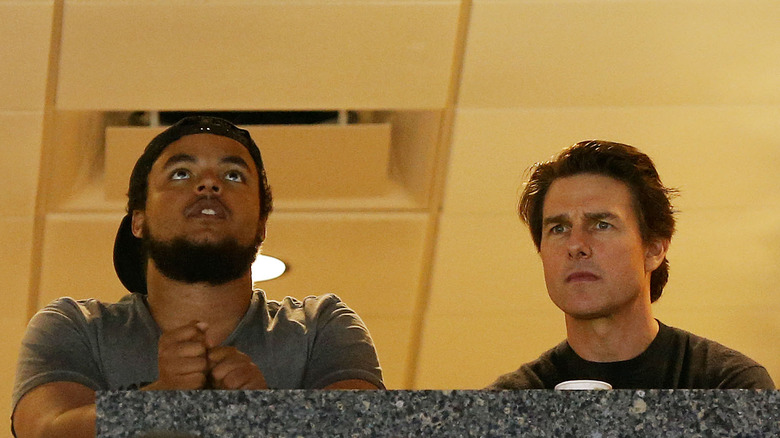 Mike Carlson/Getty Images
When Connor Cruise was still pursuing a career as a DJ, he played a show in London and Tom Cruise showed up to give his support. "Tom walked in and went straight over to Connor and hugged him," a bystander told People in 2012 while mentioning that the "Edge of Tomorrow" actor stayed for the set to watch his son play. That same year, Connor returned the favor and supported his dad at work. He visited the set of "Oblivion" in 2012, which was an important time to be supportive as Tom Cruise had just finalized his divorce from Katie Holmes. There were claims that Tom's devotion to his faith had caused the split. "Let me be very clear about this. The Church of Scientology played absolutely NO ROLE in the divorce settlement talks at all. Period," the actor's lawyer, Bert Fields, told E! at the time. Four years later, while Tom was working on "Jack Reacher: Never Go Back," Connor once again dropped by to visit his dad. The pair exchanged a "loving hug" before parting ways, per People.
While Connor has grown closer with his father thanks to their shared involvement in Scientology, his faith has been rumored to cause a rift between himself and his mother, Nicole Kidman. When Connor tied the knot with a fellow Scientologist in 2019, Kidman was reportedly not invited to the ceremony, per Tom Cruise's wishes. "Connor worships the ground his father walks on and would never disobey Tom," an insider told Radar at the time.