Inside Connor Cruise's Life Today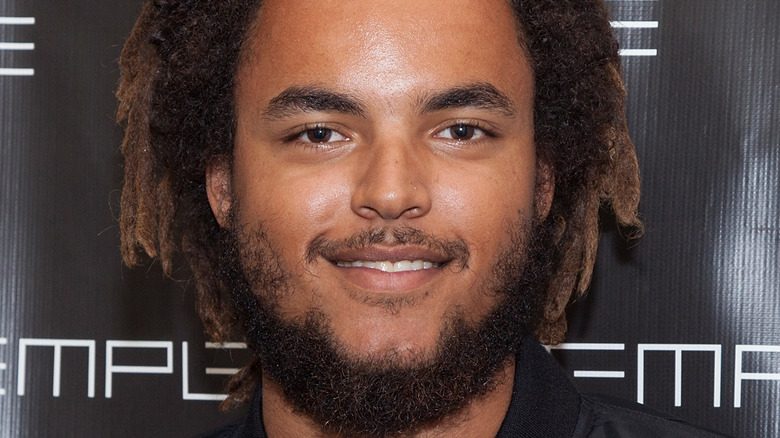 Kelly Sullivan/Getty Images
Tom Cruise's children with ex Nicole Kidman, Isabella and Connor Cruise, have led a relatively quiet(er) life ever since Tom's daughter with Katie Holmes, Suri Cruise, came along. Adopted by Cruise and Kidman respectively in 1992 and 1995, per Page Six, Isabella and Connor were frequently seen by the erstwhile couple's side during their 11-year marriage.
Ever since June 2006, when Kidman married country crooner Keith Urban, however, the "Nine Perfect Strangers" star has not been photographed with either of her eldest two children, per Australia's Now To Love. (She also shares daughters Faith and Sunday with Urban.) That may have something to do with Connor and Isabella — now ages 26 and 28, respectively — staying with their father Tom after their parents' divorce in 2001 (via News.com.au). As Kidman clarified to the Aussie news outlet, the kids remaining with Tom "was their choice." She added, I'd love them to live with us, but what can you do?" 
Nonetheless, Kidman appears up-to-date on Isabella's current affairs, as she resides in England with husband Max Parker. In 2019, Kidman gave Vanity Fair in 2019 some insight into how "Bella" was navigating married life across the pond. "Bella lives just outside London. You know, she really feels more English," Kidman mused, noting that her daughter's first exposure to England came as a child when the family filmed such classics as Stanley Kubrick's 1999 "Eyes Wide Shut" and the first "Mission Impossible" installment.
With Bella enjoying wedded bliss far removed from Hollywood, what is younger brother Connor up to these days? 
Connor Cruise spends most of his time in the water
While Isabella Cruise, daughter to Nicole Kidman and Tom Cruise, has lived in London since 2017 with husband Max Parker, per the Daily Mail, her younger bro, Connor Cruise, has been residing in Clearwater, Florida, developing a passion for deep-sea fishing and deejaying gigs. The location is opportune for Connor, as it not only boasts the perfect fisherman's waters, but also the headquarters for the Church of Scientology (of which Connor is a member, per People).
A quick scan of Connor's Instagram page shows the 26-year-old frequently flaunting his epic catches of the sea, quipping in a mid-August birthday Instagram Story to friend Jack Vasilaros (per the Daily Mail), "Happy birthday @hookedforlife! Cheers to another year slaying monsters around the globe." (The two are proudly propping up an enormous piscine catch together in the Story.)
As for Connor's DJ endeavors, they seemed to have at least temporarily been put on the backburner. With his Instagram suggesting his last spinster gig was in August 2016, a People source revealed that while Connor "still deejays ... he has really become a big fishing guy" who's "content with living a quieter life." That quiet also includes "Connor's Meatshack," an Instagram account curated to showcase Connor's love of meats and grilling said meats. Having also acted in high-profile flicks like Will Smith's 2008 "Seven Pounds" and the 2012 reboot of "Red Dawn," Connor truly appears to be a jack of all trades. 
Has Connor Cruise been in touch with Nicole Kidman?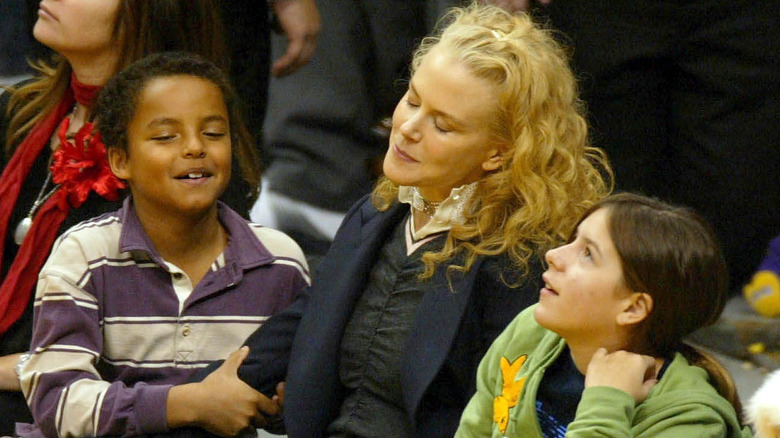 Matthew Simmons/Getty Images
Despite rumors to the contrary, both mother Nicole Kidman and son Connor Cruise seem to be on stable ground these days. Per Little Things, Connor and sister Isabella Cruise are Scientologists like their father Tom Cruise, while Kidman was reportedly deemed a "SP," or "Suppressive Person," by the Church. Many wondered if this had caused a wedge between Kidman and her oldest kids. Leah Remini, an ex-Scientologist, alleged in her 2015 memoir "Troublemaker: Surviving Hollywood and Scientology" that Isabella had told her in 2006 she wasn't in touch with Kidman, snarking, "Not if I can help it, she's a f**king SP," while Connor "just looked out the window" (via Now To Love). 
Tom denied that Kidman was blocked from seeing Connor and Isabella, telling Oprah Winfrey in 2008 (via Reuters), "We share custody. Whenever." Kidman affirmed this in 2018 to Who, sharing, "They have made choices to be Scientologists ... It's our job as a parent to always offer unconditional love." The "Big Little Lies" actor did confess to The Sun in September 2019 (via Honey) that her relationship with Connor and Isabella entailed "peaks and valleys," asserting that "motherhood is about the journey ... whether you are an adopting mother or a birth mother."
For his part (as of 2014), Connor told Woman's Day Australia (via E! News) that he and Kidman were copacetic. "I love my mum. I don't care what people say, I know that me and Mum are solid," he said. That's great to hear!