Katie Holmes Shares Rare Photos Of Daughter Suri Cruise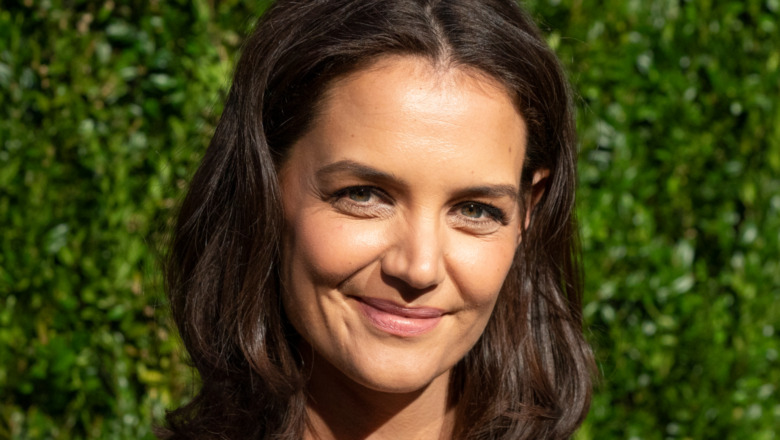 Shutterstock
They sure grow up so fast! Katie Holmes' daughter, Suri Cruise, is officially one year older. The proud mama praised her now-15-year-old baby girl in honor of her birthday on April 19, 2021, and fans can't believe how fast the time has gone.
It feels like just yesterday the mother-daughter duo was celebrating Suri's 14th birthday in quarantine amid the coronavirus pandemic. Last year Holmes' hosted a socially distanced party for her teenager and shared some behind-the-scenes photos via Instagram from her special day. Showing off their floral wall and Suri's birthday flower crown, the Dawnson's Creek star captioned the photos writing, "Happy Birthday Sweetheart!!!!!!! I am so blessed to be your mom. May this year be incredible!" and later added, "Birthday vibes."
Calling the teenager's 14th birthday celebration, "a beautiful moment," in a July 2020 interview with Entertainment Tonight, Holmes added, "This year is a reminder that the simple things are really beautiful. I think when you have less, you are more creative."
Keep scrolling to see how Holmes is celebrating Suri's birthday this year.
Katie Holmes 'can't believe' Suri is 15 years old
It's hard to believe it's been 15 years since Katie Holmes welcomed Suri with ex-husband Tom Cruise, and it looks like the proud mama is in disbelief just like us. "Happy 15th Birthday Sweetheart! I love you!!!!!!!!" Holmes captioned a series of Instagram photos from her special day on April 19, 2021. "I can't believe you are already 15!" she concluded.
In the series of black and white photos, Suri can be seen sitting with her friends as a tot and in another picture, she was captured laying on her mother's chest. The mom concluded her photo slide show with a more recent picture of the mother-daughter duo where Suri was snapped giving her mother a big squeeze in matching flannel shirts.
In the comments, fans couldn't get over Suri's age and the beautiful young woman she has become. "Wow! 15! Seems like just yesterday, she was a little girl, wearing dresses and refusing coats. A diva cutie. Keep that spirit! Happy Birthday!" one fan commented. "15!!! What a gorgeous girl she is!!" another social media user added. "You must be proud of what you've done @katieholmes raising her to be normal in a not-so-normal world. I congratulate you. Love from an Aussie mum bringing up two beautiful girls. #girlwarriors." It sounds we're all in awe over Suri!