What Martin Lawrence And Tisha Campbell's Relationship Is Like In Real Life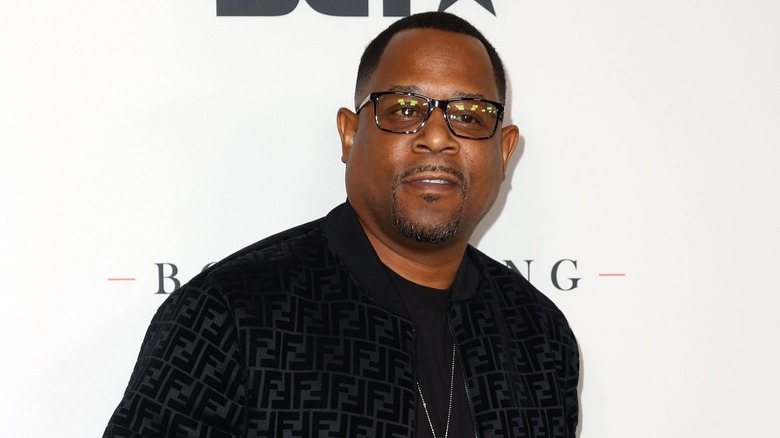 Jc Olivera/Getty Images
Martin Lawrence and Tisha Campbell starred in "Martin" from 1992 until 1997. There's no denying that Lawrence was definitely number one on the call sheet, but the relationship between his and Campbell's characters was essential to the show's popularity. Lawrence and Campbell, who played Martin Payne and Gina Waters, were a young, successful couple who could easily pivot between serious and humorous scenes. Today, Gina and Martin remain one of the most beloved '90s TV couples. In 2022, TVLine included them in their list of the best Black rom-com couples, seating them among the likes of Harriette and Carl from "Family Matters" and George and Louise from "The Jeffersons."
Back during the height of "Martin," Lawrence and Campbell participated in several promotional interviews. In 1994, Lawrence surprised Campbell during an interview with Conan O'Brien and poked fun at Campbell's real-life relationship with then-boyfriend (and now ex-husband) Duane Martin. "She's living two lives, she's got the best of both worlds," Lawrence joked. Campbell agreed. "He's right; I have a great boyfriend on-screen, great boyfriend off-screen," she said. Lawrence then asserted that his character was actually her fiance. Unfortunately, the easy chemistry they displayed in this clip apparently didn't encompass all sides of their real-life relationship ... at least according to Campbell.
Tisha Campbell once accused Martin Lawrence of sexual assault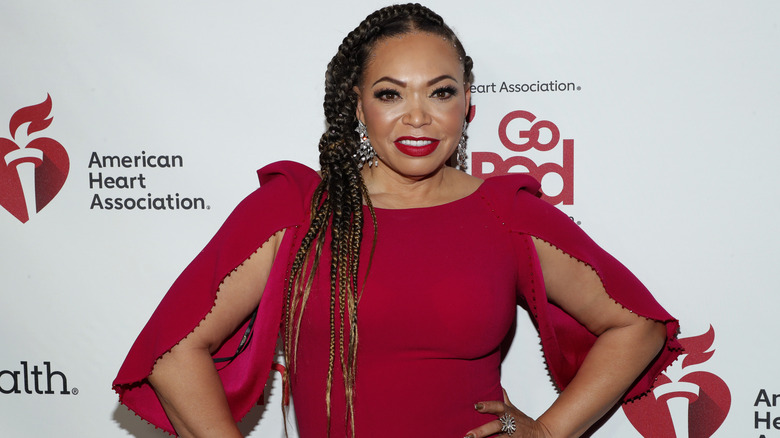 Astrid Stawiarz/Getty Images
Given that Martin Lawrence and Tisha Campbell's relationship was such a beloved aspect of "Martin," the couple's lack of scenes during the fifth season was impossible to ignore. While IMDb lists Campbell as appearing in all 132 episodes, she and Lawrence didn't have scenes together for most of the show's end. This production decision was influenced by Campbell's sexual assault lawsuit she'd filed against Lawrence in 1997.
According to the Los Angeles Times, Campbell's filings alleged that Lawrence sexually harassed and threatened her.  She also claimed that HBO failed to protect her on-set, despite being well-aware of her working conditions. Lawrence denied any wrongdoing and still does to this day. While speaking to GQ in 2020, Lawrence opened up about what caused his show to end prematurely. "Well, how can I say this? It just was time to end," said Lawrence. After he likened the situation with Campbell to "a lot of bullsh*t," the interviewer asked if the former co-stars had talked about her lawsuit. "We don't need to talk about something that just didn't happen. So I just decided to walk away from the show. I just decided to end it. People said that I got canceled, but that wasn't the case." 
Martin Lawrence and Tisha Campbell are on better terms now
Despite the seriousness of Tisha Campbell's past claims, she and Martin Lawrence have managed to repair their former bond. In 2022, the "Martin" cast reunited for a special celebrating their iconic TV show. Hosted on BET+, the special included most of the main members, including Campbell and Lawrence. The only main cast member who was not present was Thomas Mikal Ford, who died in 2016. During the reunion, Lawrence and Campbell appeared quite comfortable with each other as they remembered their time on the show. 
Apparently, Campbell and Lawrence reconciled before the special came to be. During an interview with CBS This Morning, Campbell said, "We worked really hard to reconnect, to forgive, and to really, this reunion is about a celebration of everything that we did, everything that we accomplished, and our growth as human beings." She added, "And so, we concentrated mostly on that." In March 2023, Campbell celebrated Lawrence getting a star on the Hollywood Walk of Fame. "Wish I could've been there couldn't get off that set but everyone PLEASE congratulate @martinlawrence on his #staronthewalkoffame SOOOOOO DESERVING!" she posted to Instagram.