Mama June Speaks On The Uncertain Future Of Daughter's Rare Cancer Treatment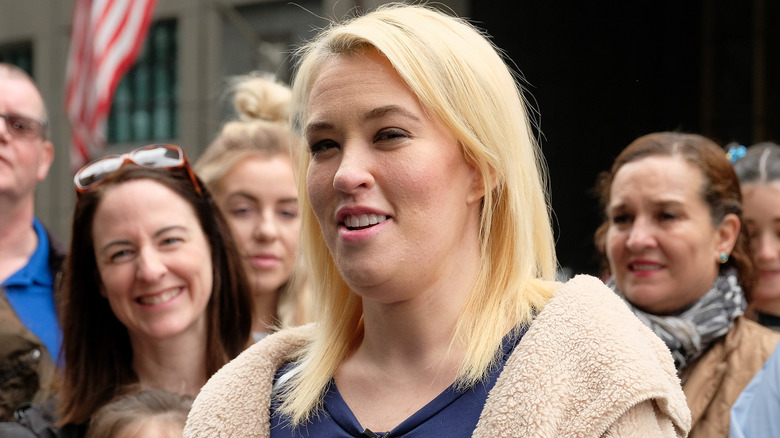 D Dipasupil/Getty Images
June Shannon a.k.a. Mama June rose to fame alongside her daughter, Alana "Honey Boo Boo" Thompson, when they landed roles on the reality television show, "Toddlers and Tiaras." The family drew quite a bit of intrigue which led to them getting their very own spinoff titled "Here Comes Honey Boo Boo." In the reality series, fans got to know the Shannon family, which consisted of Alana and her three older sisters, Anna Cardwell, Jessica Shannon, and Lauryn Shannon. In 2017, June, alongside Alana and Lauryn (aka "Pumpkin"), appeared on her own show on WeTV called "Mama June: From Not to Hot," a series that followed her weight loss journey after losing about 300 pounds with weight loss surgery.
The show has continued to air on the network, following Mama June's downward spiral after her weight loss — including her drug addiction and losing custody of Alana. Another hit to the family was the unexpected news that one of Shannon's daughters had been diagnosed with cancer. At the end of March 2023, sources told TMZ that Cardwell, whose nickname is "Chickadee," had been diagnosed with stage 4 adrenal carcinoma in January. Doctors found cancer in the 28-year-old's liver, kidney, and lung after she had been experiencing stomach pains.
Cardwell has been undergoing chemotherapy treatments and now, Mama June is speaking out for the first time about her daughter's prognosis. 
Anna Cardwell's life expectancy isn't known
On May 5, Page Six published an interview with Mama June Shannon, where she revealed she was uncertain about daughter Anna Cardwell's future. "I'm bluntly honest about people with this: We don't know what the life expectancy is," Shannon told the outlet. "Her cancer is very rare. Only one in 1 million people get it." Because of how rare it is, the reality star also shared that only a few doctors in the United States have experience with treating it. "And the couple of doctors here ... I feel like — I'm not trying to be mean — are experimental doctors," she added. Shannon also said that doctors are being "very aggressive" with treatment and that Cardwell is on her third round of chemotherapy. "If it's not helping, then we go back to the drawing board, and we don't know what the next step is," Shannon said.
Cardwell hasn't been active on social media since her cancer diagnosis, but she did share her first post of the year on Instagram on March 28. "Well, I ain't posted here in a while. Your girl is back sorry for the photo dump that's going to happen hahah I love y'all and I hope y'all hope y'all are having a good week," she captioned the selfie. The mom of two has yet to speak out about her diagnosis.