Victoria's Secret Model Izabel Goulart And Athlete Kevin Trapp Are Engaged
Getty Images
Izabel Goulart and Kevin Trapp are set to tie the knot!
On Thursday, July 5, 2018, the Victoria's Secret Angel took to Instagram to announce to her 4.3 million followers that her boyfriend, soccer star Kevin Trapp, had asked her to marry him. Sharing a video that focused on her flashy new engagement ring before zooming out and showing the happy couple kissing and embracing, Goulart wrote in the caption, "Soon to be Mrs Trapp."
The model continued, "When you meet the one who changes your life in every sense then you are sure that he is the right one!"
Trapp also posted the video on his account, calling Goulart his "future wife to be." Describing their engagement, he also said, "I have no words to describe such a magical moment."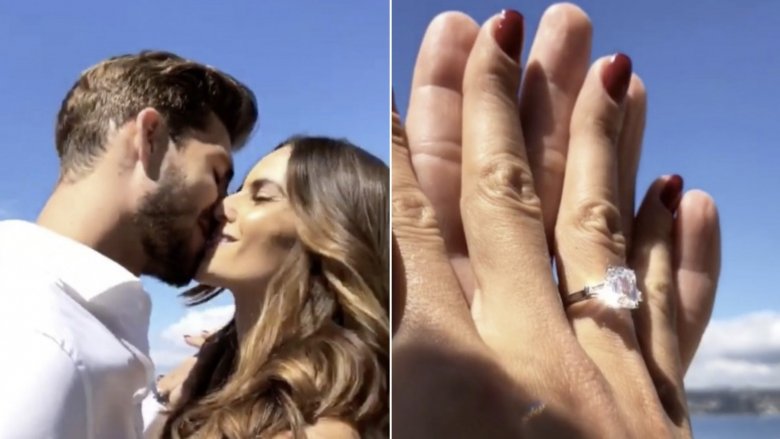 For those confused as to why Goulart is donning her (enormous) engagement ring on her right hand rather than her left, The Brazil Business explained that, unlike countries like the United States, it's tradition for a woman to wear an engagement ring on the ring finger of their right hand in Brazil, which is where Goulart is from.
As noted by E! News, Goulart, 33, and Trapp, 27, have been together for over two years, after the pair first met while vacationing in Paris.
Goulart and Trapp are hardly the only famous pair to have gotten engaged in recent weeks. As Nicki Swift previously reported, Chance the Rapper announced that he'd proposed to his girlfriend, Kirsten Corley, over the Fourth of July weekend. David Foster also popped the question to Katharine McPhee in early July. According to the American Idol alum herself, Foster had asked her to marry him while the pair were vacationing in Italy.