Angelina Jolie's Bond With Son Maddox Jolie-Pitt Was Instant: A Look At Their Relationship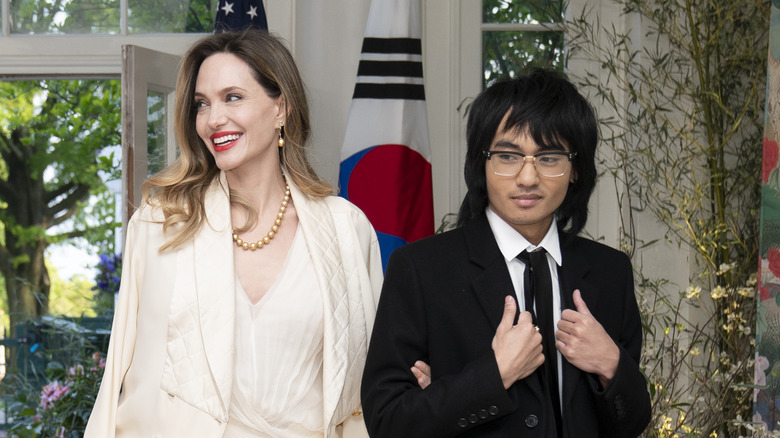 Bloomberg/Getty Images
Being a mother to one child is no easy feat, let alone being a mom to six. But superstar Angelina Jolie takes pride in raising the six kids she shares with ex-husband Brad Pitt: Maddox, Zahara, Shiloh, Pax, and twins Knox and Vivienne. "I see myself as a mom first. I'm so lucky to have that role in life," the actor once said. "The world can like me, hate me, or fall apart around me and at least I wake up with my kids and I am happy."
Surprisingly, Jolie initially thought motherhood was never in the cards for her. Speaking with AP in 2016, the "Maleficent" star shared that she never thought she had a maternal bone in her body. "It's strange, I never wanted to have a baby," she confessed. "I never wanted to be pregnant. I never babysat. I never thought of myself as a mother." But come 2000, after she flew all the way to Cambodia to film "Tomb Raider" and got the opportunity to interact with the local children, a realization hit her — maybe she was cut out to be a mother, after all. "It was suddenly very clear to me that my son was in the country, somewhere," she said.
That son turned out to be Maddox, her eldest kid, the first in what would be a big, beautiful family. And when it came to choosing Maddox during the adoption process, Jolie said it was the easiest choice she's ever had to make.
Angelina Jolie was drawn to Maddox Jolie-Pitt right away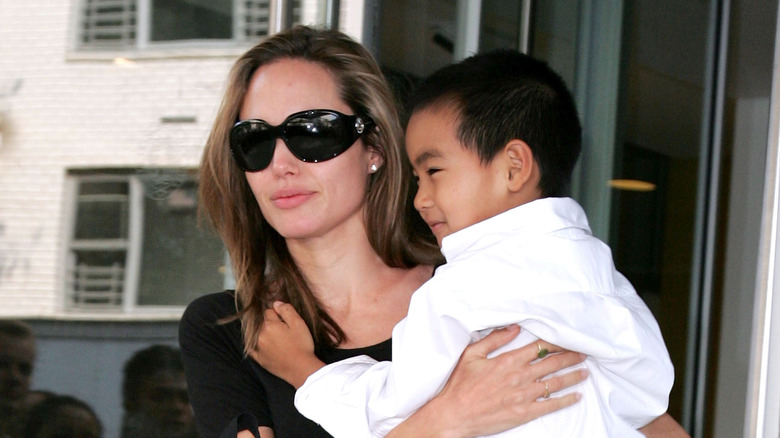 James Devaney/Getty Images
Angelina Jolie was exploring Cambodia and learning of the Kingdom's rich history with writer Loung Ung when she decided that she wanted to adopt a child from the country. The actor turned to Ung to enlist help, considering how the "First They Killed My Father" author was an orphan herself. "I asked her as a Cambodian orphan if she would be offended for somebody like me, an outsider, [to do that], or if that would be a nice thing," Jolie told Vanity Fair. Fortunately, Ung offered nothing but support and encouragement. "Angie was maternal to everybody around her, not just children, but adults included. I wanted her to adopt me," she shared with the outlet.
Jolie went on to visit an orphanage with the goal of finding her first child but found herself disappointed as she didn't "feel a connection" with any of the kids. That is until she was taken to meet "one more baby." It was then that she knew she was meant to be his parent. "I cried and cried," she added.
Mounh Sarath, director of Cambodian Vision in Development, who assisted Jolie in the adoption process, told the Daily Mail that Jolie was immediately taken to Maddox. "As far as I understand from her, when she visited the place [orphanage] and saw Maddox, he smiled at her and got up, instead of crying like all the other babies," he divulged. "He was smiling right at her, it touched her heart, that's why she chose Maddox." Sarath knew Maddox to be quite different from everyone else, too. "He was clever, sharp, smart, a lovely kid, who smiled at people more than any of the other babies," he continued. "I always remember his smiley face."
Angelina Jolie and Maddox Jolie-Pitt have gotten closer over the years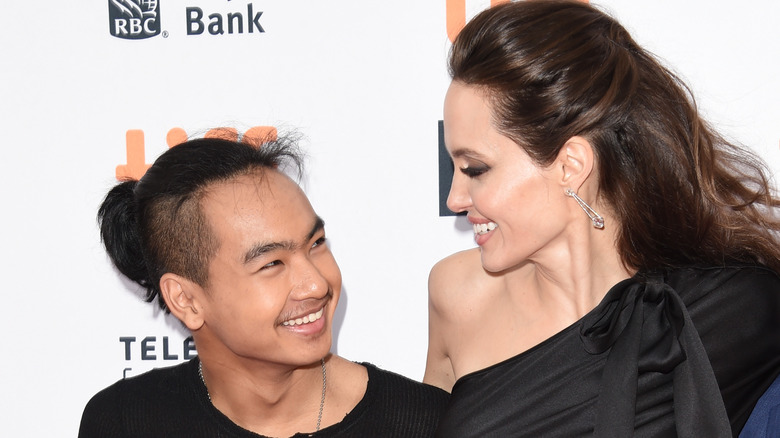 J. Merritt/Getty Images
Angelina Jolie has a special bond with all her children, but in recent years it has become pretty clear that she has gotten closer to Maddox Jolie-Pitt. When Maddox decided to enroll in Yonsei University in South Korea, Jolie put on her mom shoes to fly with him and make sure he got settled okay. She even admitted to doing the ugly mom cry as they said goodbye.
"Oh my god, and embarrass your children ugly cry!" she admitted to ET. "I also, just at some point, had the big glasses and the amount of times I turned and waved. I do know it was the one moment in my life I think I turned around six times before the airport just... and he sweetly stayed and kept waving, knowing that I was going to keep turning around. You could feel he knew he couldn't leave."
And while Maddox is no longer around Jolie as much as she'd hoped, given that he's studying on the opposite side of the globe, she makes sure he feels included all the time. "I'm so happy for him that [Maddox has] grown up into such a good man," she told the outlet during a movie premiere that Maddox wasn't able to attend. "I say that 'cause he's smart and he's doing his work but he's also wild. He's balanced in his teenage years." He apparently shares the same affinity for body art as well. She revealed, "He got tattooed." That's Jolie's son, alright!