How Suri Cruise's Fame From A Young Age Changed Katie Holmes' Priorities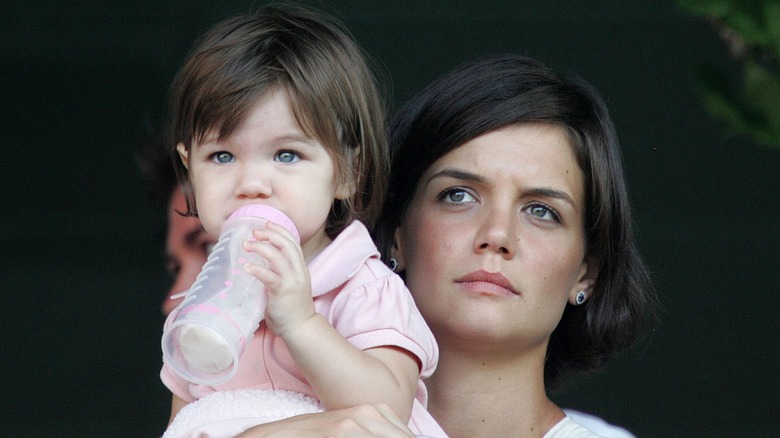 Toby Canham/Getty Images
Suri Cruise's life in the 2020s is a far cry from the crazed, paparazzi-filled TomKat days when she couldn't leave the house without an explosion of flashbulbs erupting in her face. The celeb daughter's fame from a young age led to Katie Holmes changing her priorities in life after blindsiding the world — and her husband, Tom Cruise — with divorce papers in 2012. "I didn't expect it," Tom told ProSieben (via CBS News). "Life is a tragicomedy. you need to have a sense of humor."
Holmes certainly needed one during their whirlwind romance, packed with over-the-top declarations of love, cringe interviews, awks PDAs, and scrutiny of the family's every move. Suri was barely out of diapers when "experts" slammed Holmes for carrying the 4-year-old. "Don't you think it's time you let your daughter cruise alone, Katie?" a Daily Mail columnist headlined one op-ed.
The lavish life of Holmes and Tom's daughter filled up many a tabloid page. Suri was a renowned fashionista before she was even a toddler. Her expensive designer, fashion-forward outfits with matching accessories such as purses and tiny high heels earned poor little Suri a diva rep. Her supposed diva-ness even sparked the fabulous, satirical Suri's Burn Book. Meanwhile, Star magazine (via HollywoodLife) made the highly dubious claim that the 6-year-old had her own credit card and demanded that people bring her "cupcakes on a golden platter at 1 a.m." It's hardly surprising that Suri Cruise's fame from a young age changed Katie Holmes' priorities.
It's a simpler life post-TomKat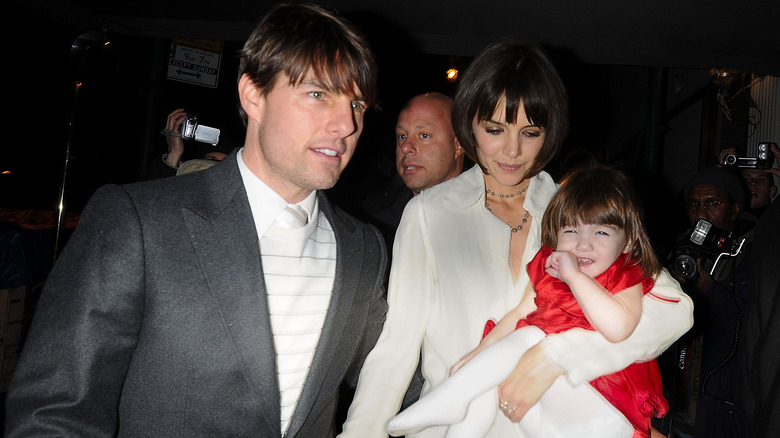 Arnaldo Magnani/Getty Images
More recently, Katie Holmes opened up about how Suri Cruise — now in her teens — being thrust into the spotlight as a baby shifted her parenting outlook. "What has been really important for me with my daughter, because she was so visible at a young age, is I really like to protect her," Holmes told Glamour, sharing how proud she is of her. The single mom admitted to being thrilled that Suri sang on the opening of "Alone Together," which she directed. "I hope she always does something on my films. I always ask her," Holmes said. "It was very meaningful to me to have her there because she's my heart," she continued.
People were stunned by how quickly and easily Holmes and Tom Cruise's divorce was finalized. They were even more stunned when Holmes was awarded full custody of their daughter without a long, drawn-out custody battle. Reports flew that Tom had "abandoned" Suri after Scientology deemed her an "SP" (suppressive person). He denied the accusation in a deposition for his Bauer Publishing defamation lawsuit.
The truth about Cruise's relationship with Suri remains murky. According to Radar Online, when asked why he didn't attend Suri's first day of school in 2013, Tom said he hadn't wanted to turn his daughter's special day into the media "circus" that the press hoped for. Still, there appears to be limited to no physical contact between the two, and Suri's life now is like night and day compared to the TomKat days of old.
The passion for fashion still continues
Suri Cruise may have turned her back on her days of Hermes purses, tiny little Jimmy Choos, and 1 a.m. golden platters of freshly baked cupcakes. However, that doesn't mean she's living a simple life 24/7. The NYC private school Suri reportedly attends is far from cheap — although in fairness, given the level of privacy and security the teenager still requires, she would have struggled to participate in a regular high school.
According to E!, Suri enrolled in the Chelsea school Avenues, an educational institution with a strong focus on international study. The annual tuition fee for the 2013-2014 academic year was estimated to be around $40,000. But, the teen is itching to move on and has already begun applying to various colleges. The Daily Mail reported that Suri is hankering to study fashion — a subject she already knows a thing or two about.
"Suri is applying to schools all over the place. [Katie] really does want her to stay in New York so they can be close to each other. Katie takes great pride in her but is also extremely overprotective," a source said. They claimed Suri and her father, Tom Cruise, have been "estranged" since 2013 and that he isn't entitled to any say in his daughter's choice of further education, despite being the one to bankroll it. "Tom has always maintained his responsibilities when it comes to financial obligations to Katie and Suri," the source said.