Princess Charlotte's Uncanny Expression At Coronation Has Diana Fans Beside Themselves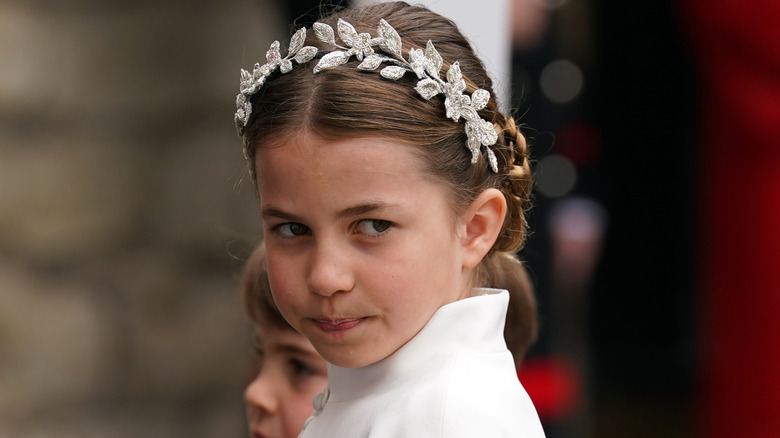 Wpa Pool/Getty Images
Despite the gray and dreary day, thousands of people crowded the streets of London hoping to get a peek of the newly crowned king and queen as they glided by in their solid gold carriage — or to get a royal handshake as the royals went on a brief pre-ceremonial walkabout. William, Prince of Wales, and Catherine, Princess of Wales' children, Prince George, Princess Charlotte, and Prince Louis, attended King Charles III's coronation with their parents to watch their grandfather be officially anointed head of state.
As second in line to the throne behind William, George played an important and historic role in the event. Per People, George is the youngest royal heir to participate in a coronation ceremony. His predecessors, Charles and the late Queen Elizabeth II, attended their parents' big day, but only watched from the pews. However, George acted as Charles' Page of Honor, which is a pretty daunting task for a 9-year-old.
George traveled to and from Westminster Abbey with Wiliam, Kate, and his little brother and sister, following directly behind the official Gold State Coach. The whole family waved to cheering on-lookers as they rode by. Still, it was George, Charlotte, and Louis who really captured the public's heart. And despite it being Charles' big day, he wasn't the center of attention to everyone. Many people fixed their eyes on William and Kate's daughter, marveling at how much she resembles his late mother. Princess Charlotte's uncanny expression at the coronation had Princess Diana fans beside themselves.
Princess Diana and Princess Charlotte are royal dopplegängers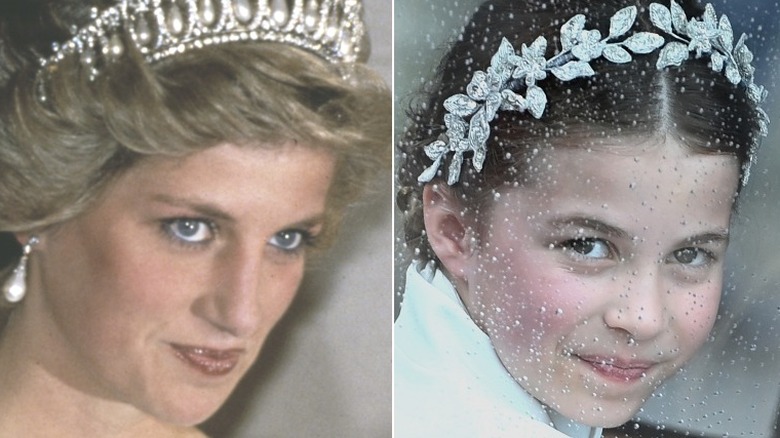 Stuart C. Wilson/Getty & Hulton Archive/Getty Images
It's pretty impossible not to see that Princess Charlotte is growing up to look exactly like Princess Diana. And it's not simply their physical features, as the two share a remarkable number of similarities; it's also their mannerisms and expressions. William, Prince of Wales' mother, who tragically died in a car crash in Paris in August 1997, was the queen of the up-glance side eye and coy smile — something Charlotte has definitely inherited from her late grandmother.
Viewers of the coronation took to social media in droves to post their observations regarding the uncanny resemblance between the two, and share composite pics. "Her way of smiling reminded me of her granny Princess Diana, she had the same shy smile. God bless our little princess and future Princess Royal," one fan tweeted. "She definitely has a lot of Diana in her," agreed another.
However, some claimed Charlotte looks just like her father when he was young, which is not surprising as he was his mom's mini-me back then. Meanwhile, others insisted Charlotte looks exactly like William's grandmother. "How much does Princess Charlotte look like her Great Grandma? The dearly missed Queen Elizabeth II?" a fan asked. Some insisted on the late Queen Mother, and even Princess Anne. Others disagreed with everybody (because, of course, they did). One viewer rudely commented that a poster needed to get their eyes tested, insisting, "they look nothing alike," along with a facepalm emoji. (It's like the black-and-blue vs white-and-gold dress all over again!)
Princess Diana's legacy lives on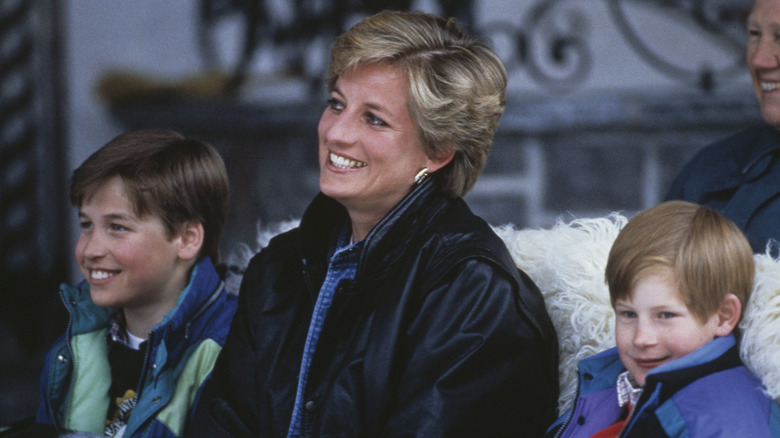 Princess Diana Archive/Getty Images
Princess Diana was an amazing mom to William, Prince of Wales, and Prince Harry, Duke of Sussex. She adored her sons and always strived to instill in them a semblance of normalcy, along with an awareness of the real world and its accompanying problems.
Diana's trip with William and Harry to Disney World was met with outrage by some, as they were snapped enjoying a fun family day out just like regular people. Per Insider, Diana and then-Prince Charles had been separated for a year when she whisked the boys away to the happiest place on earth in 1993. Despite Charles and Diana's bitter split and ongoing hostilities, the People's Princess was determined to prove she would continue raising her boys her way — with lots of love and fun.
In the promo video for the HBO documentary, "Diana, Our Mother: Her Life and Legacy," William and Harry reminisce about their mom in the run-up to the 20th anniversary of her death. While leafing through albums of photos of them together, the brothers shared fond memories of Diana and the impact she made on their lives. "She understood that there was a real life outside of palace walls," William remarked. "She was our mum," Harry said. "She still is our mum. And, of course, as a son, I would say this, she was the best mum in the world." He added, "She smothered us with love, that's for sure." And now, that spirit lives on in her grandchildren.