Is Taylor Swift Still Feuding With Kim Kardashian After Kanye West's VMAs Diss?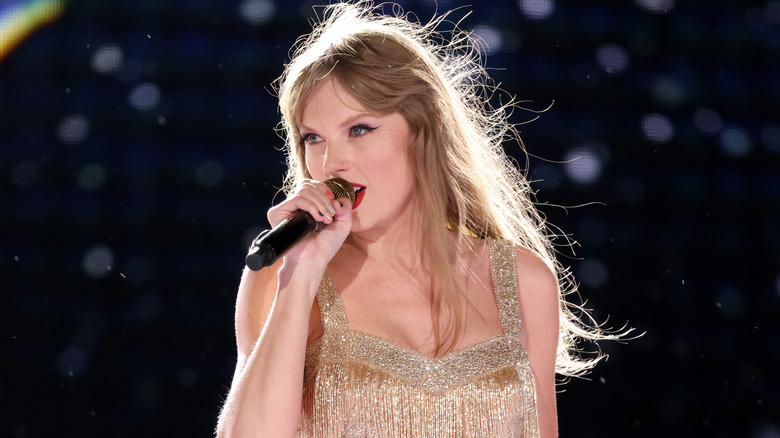 John Shearer/tas23/Getty Images
If Taylor Swift and Kim Kardashian's relationship was a Facebook status, it would be permanently set to "It's Complicated." The two women don't have much in common on the surface, but their common denominator has always been Kardashian's ex-husband, and Swift's one-time nemesis: Kanye "Ye" West. The rift between Swift and West dates all the way back to the 2009 MTV VMAs, when West decried her win for Best Female Video by announcing, "Beyoncé had one of the best videos of all time!"
Kimye didn't become a thing until around 2012, but by that point, Swift and Ye's beef was so juicy that Kardashian later waded into their mess. Cue Ye's "Famous" track, which he dropped in 2016, and which included the timeless lyric, "I feel like me and Taylor might still have sex / Why? I made that b**** famous." At the time, there was a lot of he-said-she-said over whether or not West called Swift to ask for her to bless the line. (Ye insisted that he had; Tay said he hadn't.) Kardashian attempted to clear things up for us by dropping a secret recording of her ex-husband's phone convo with Swift, who seemingly agreed to the line in question. Lots of snake emojis and social media drama ensued, but a 2020 video of the full conversation later proved Swift's innocence.
Since Kardashian split with West in 2020, did that also signal the end of her feud with Tay? Things aren't quite that cut and dry.
Taylor Swift and Kim Kardashian's relationship is still complicated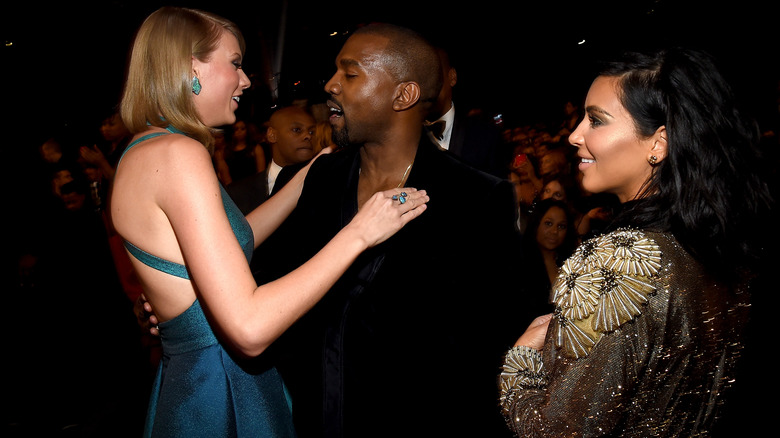 Larry Busacca/Getty Images
Without Kanye "Ye" West in her life, there's some evidence that Kim Kardashian is turning over a new leaf. Specifically, she's letting bygones be bygones when it comes to Taylor Swift. In 2021, the reality star dropped T-Swift a rare compliment during an interview on the "Honestly with Bari Weiss" podcast. After she was asked to name her favorite album by Swift, Kardashian replied, "I really like a lot of [Taylor's] songs. They're all super cute and catchy." She added, "I'd have to look in my phone to get a name." It feels like an olive branch, right? Or at the very least, progress. Then, in 2022, Swift made a cameo on "SNL" with Kardashian's then-boyfriend, Pete Davidson. Though he was well aware of the Kimye-Swift drama, a source told HollywoodLife that "it was important [for Pete] to make friends with Taylor and do a skit with her."
But where Kardashian is concerned, Swift might still be harboring some *feelings*. Prior to the "SNL" episode, fans thought that she shaded Kardashian by dropping her "Midnights" album on the SKIMS founder's birthday, per The Daily Mail. "Taylor swift is dropping new album october 21st. ...do you know who was born on october 21st? Kim kardashian. I love blondie. She's crazy like that," one fan wrote on Twitter (via Perez Hilton). In typically tight-lipped fashion, Swift never responded to the speculation.
Kim Kardashian is over the Taylor Swift drama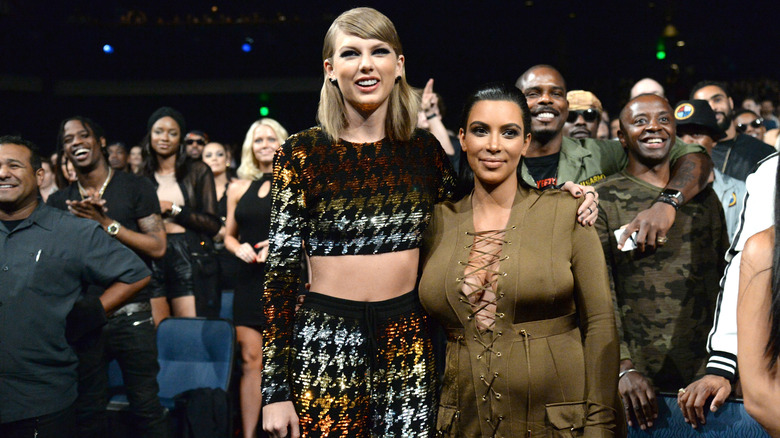 Kevin Mazur/mtv1415/Getty Images
We might not know exactly where Taylor Swift stands, but Kim Kardashian seems eager to put all the drama to bed. As of 2020, the singer and the reality star were still arguing about Kanye "Ye" West's line in the "Famous" song. "@taylorswift13 has chosen to reignite an old exchange — that at this point in time feels very self-serving," Kardashian tweeted, in response to Swift's claim that she'd edited her 2016 Snapchat of Swift and West on a phone call. Kardashian continued, "I didn't feel the need to comment a few days ago, and I'm actually really embarrassed and mortified to be doing it right now, but because [Taylor] continues to speak on it, I feel I'm left without a choice." In other words? Kardashian doesn't want to fight anymore, and she definitely doesn't want to get dragged into her ex-husband's old feuds.
In 2021, a source told HollywoodLife that Kardashian no longer had a grudge against Swift. The KKW beauty founder was also unbothered by rumors that Swift was releasing her "Midnights" album on Kardashian's birthday, just to mess with her. According to an insider, Kardashian "[didn't] see this in any negative way whatsoever." This same source added that "what happened in the past is the past" and that "Kim has moved on from this a long time ago." Does this mean we'll see Swift and Kardashian dancing together in a burger and fries costume, à la Katy Perry? Fingers crossed.