RHOA: What Happened To Marlo Hampton's Sister?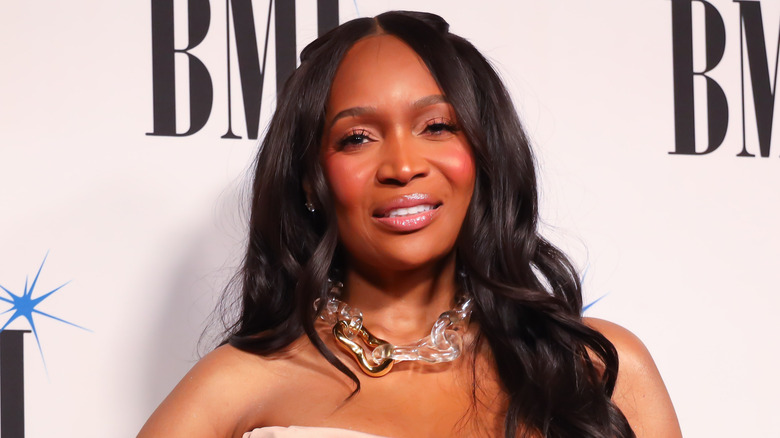 Carol Lee Rose/Getty Images
After years of being a "friend of" on "The Real Housewives of Atlanta," Marlo Hampton finally received her peach for Season 14 and viewers got an in-depth look into her life. One of Hampton's major storylines was her status as a "muntie" as she raised her two teen nephews, Michael and William. Fans saw her take on the role of their primary caretaker as her sister was dealing with some mental health issues. The "RHOA" star first introduced Michael and William in Season 12 but during Season 14, Hampton showed viewers the joys and struggles of being a mom to teen boys.
"It's opened me up to see that there's just so much of Marlo I didn't even know existed. It's like I'm doing everything a mom does but I'm an auntie: 'Say your prayers. Brush your teeth. Did you take your vitamins? Have you turned in your work? Did you study? Did you drink your water?'" Hampton explained to Entertainment Weekly. The new housewife explained that her sister was incarcerated at the time due to mental health issues and since then, Hampton has been a permanent fixture in her nephews' lives.
Marlo Hampton has been raising her nephews since 2019
While "RHOA" fans first saw Marlo Hampton as a mumtie to Michael and William in Season 14, she has actually been their mother figure since 2019. "I cannot believe that yesterday (April 4th) made [three] years of us being a live-in family. Michael and William you came into my life full time 3 years ago and changed it for the better. I do not regret a thing! Here's to 3 more and a lifetime beyond!" Hampton shared on Instagram.
In November 2019, the "RHOA" star shared with the New York Post that her sister has bipolar disorder and schizophrenia. "My nephew called crying and said, 'Aunty, can you come get me? The people are coming to take my mom,'" she revealed. According to Starcasm, Hampton's sister has had several run-ins with the law. She was arrested in 2018 after running a stop sign and refusing to pull over for the police. The cops eventually apprehended her at a red light. Hampton's sister was arrested again in 2021 for an outstanding warrant and was released on bond but failed to show up at the court hearing. After a psychological evaluation, the court determined that she was incompetent to stand trial, and she was released. It's unclear what the status of Hampton's sister is now, but the Le'Archive owner shared an update to fans on her role as her nephews' muntie.
Marlo Hampton's sister has not been in contact with her sons
Season 15 of "The Real Housewives of Atlanta" has begun and it's clear that Marlo Hampton is not giving up on her nephews, Michael and William. During the premiere episode, she revealed that she and the teens have been seeing a life coach and have switched up her parenting style to a gentler approach. Hampton also stated that she had not spoken to her sister since she was released from jail, and she has made no attempt to reach out to Michael and William. The "RHOA" star also addressed the Season 14 drama when she temporarily kicked her nephews out to stay with her other sister and admitted it was a mistake, but the family was able to resolve it with the help of the life coach. "I needed a break. I rushed into it, I just went right into it ... I didn't know what I was doing, so it was like, okay, you gotta get you a village," Hampton told Entertainment Tonight, adding that Michael and William are "doing great."
On April 4, Hampton celebrated four years as a muntie and wrote on Instagram, "We made it to Year 4 as a family under one roof #wonthedoit! God put us together for a reason on April 4, 2019. It's not an easy journey, but this life we've created together is so worth it. Michael & William, Aunty Marlo loves you so much, and I only want the best for you both."
If you or someone you know needs help with mental health, please contact the Crisis Text Line by texting HOME to 741741, call the National Alliance on Mental Illness helpline at 1-800-950-NAMI (6264), or visit the National Institute of Mental Health website.