The One Reason Michelle Obama Will Never Forgive Donald Trump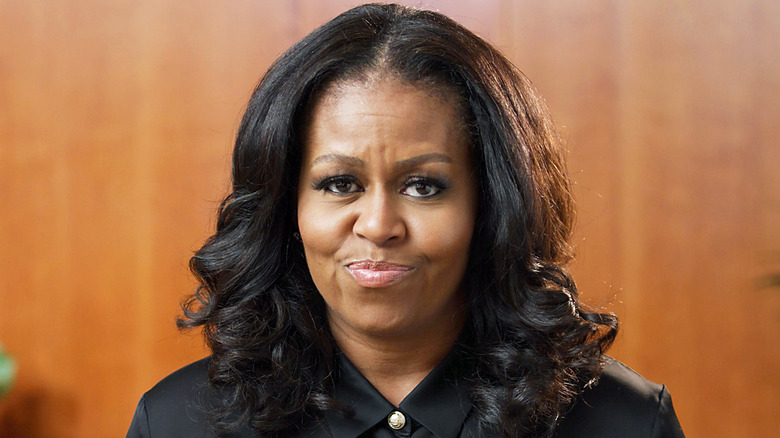 Billboard Music Awards 2021/Getty Images
If Michelle Obama is mad at you, you know you've done something wrong. In the case of Donald Trump, the former first lady says that there's one specific reason why she has a problem with her husband's successor.
We all remember the leadup to the 2016 election, when Michelle and Barack Obama were on their second and last terms in the White House, and the country was to choose between Hilary Clinton and Donald Trump. Of course, the Obamas supported their party's candidate and Barack's former Secretary of State. On the other hand, saying Trump's behavior and ideology were the opposite of what the Obamas stood for would be a serious understatement. Amid the tumultuous election fight, Michelle uttered her now-famous quote at the 2016 Democratic National Convention that basically subtweeted Trump's "bully" behavior. "When they go low, we go high," she preached to the crowd.
In her post-White House years, Michelle has opened up more about her true feelings about the former president and why she personally takes issue with him. As it turns out, her grudge actually originated years before the 2016 election.
Michelle Obama can 'never forgive' Donald Trump for putting her family in danger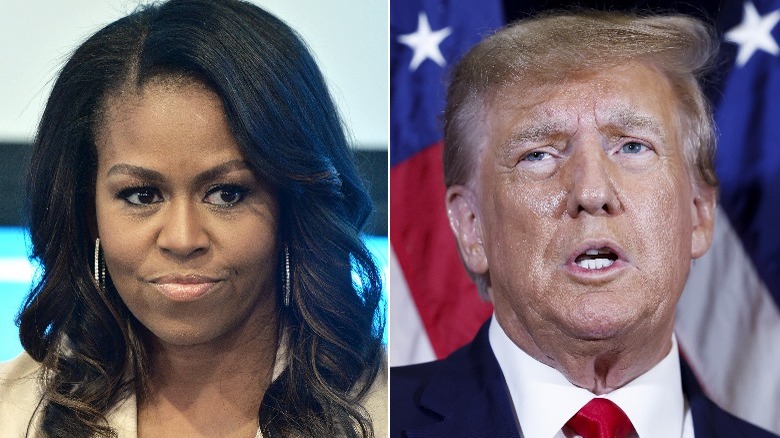 Shannon Finney & Anna Moneymaker/Getty
There's a lot that Michelle Obama and Donald Trump would disagree on, but the former first lady takes the most issue with Trump's spouting of the theory that Barack Obama was not born in the United States. In 2011, Trump began suggesting that Barack was unwilling to show his birth certificate — like the right-wing supporters of the "birther theory" were requesting — because he had something to hide. He continued to perpetuate this conspiracy theory for years after the 2012 election, as reported by ABC News.
In her 2018 memoir, "Becoming," Michelle was able to write about how Trump supporting and spreading the birther theory's "bigotry and xenophobia" put her family in harm's way. "What if someone with an unstable mind loaded a gun and drove to Washington?" she explained, per The Washington Post. "Donald Trump, with his loud and reckless innuendos, was putting my family's safety at risk. And for this I'd never forgive him." She even further accused him of "deliberately ... [stirring] up the wingnuts and kooks." Unsurprisingly, the two never seemed to get along too well.
Michelle Obama 'uncontrollably sobbed' on the day of Trump's Inauguration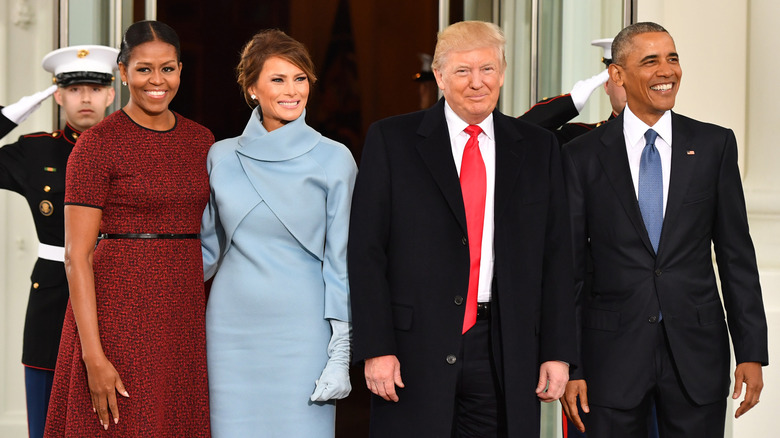 Bloomberg/Getty Images
We all remember those photos of Michelle and Barack Obama transferring over the White House to Donald and Melania Trump on Inauguration Day after the results of the 2016 election. From the photos and videos of their interaction, things seemed cordial. But on an episode of her "The Light Podcast," based on her second memoir, Michelle opened up about how the rest of that Inauguration Day was incredibly difficult for her as she was leaving the place her family called home for eight years. The inauguration seemed to have rubbed salt into the wound.
"To sit on that stage and watch the opposite of what we represented on display, there was no diversity, there was no color on that stage," she spoke of Trump's Inauguration during the March episode. "Many people took pictures of me and they're like, 'You weren't in a good mood.' No, I was not. But you had to hold it together like you do for eight years." After leaving the White House for the last time, she recounted how she "cried for 30 minutes straight, uncontrollable sobbing," due to the emotions. We're guessing we won't be seeing the Obamas at Mar-a-Lago anytime soon.