The Heartbreaking Story Of Frank Ocean's Late Brother Ryan Breaux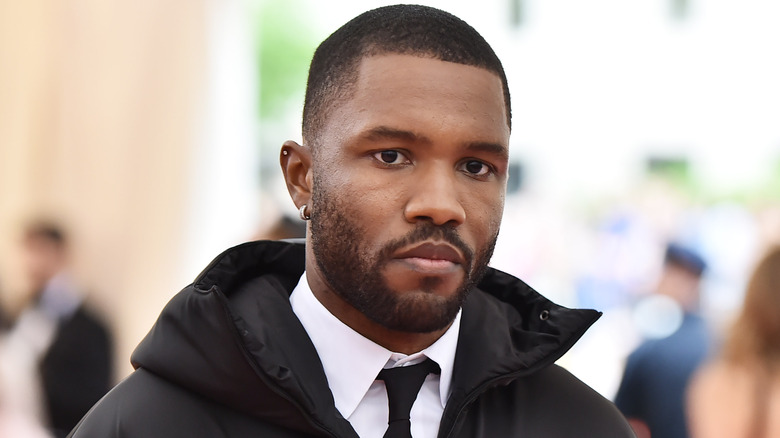 Theo Wargo/Getty Images
Frank Ocean's life was turned upside down when he tragically lost his brother, Ryan Breaux, in 2020. Breaux, who is younger than Ocean, was just 18 years old when he passed away. The young teen's high school shared a statement with Hollywood Life confirming his death. They wrote, "It is with much sadness that Oaks Christian confirms the loss of two graduates from our Class of 2019. As the media has already reported Ezekial 'Zeek' Bishop and Ryan Moore Breaux lost their lives."
Breaux's unexpected passing left Ocean devastated. The singer had a very tight bond with his brother, which was confirmed by their mother, Katonya Breaux, in a 2017 Billboard interview after she was asked if she was Ocean's biggest fan in 2017. She revealed that she would be, had it not been for Ryan: "I would definitely so—well, maybe Ryan. Ryan will put those songs on repeat 50 times a day. I would definitely say Ryan, and I'm number two."
Ocean loved Ryan just as much, and many have speculated that the singer's 2011 track, "Orion," was written for Breaux. The lyrics, "I remember when you were born / Ohhh, how happy I was," suggest a deep bond between the two. Thus, the loss of Breaux was incredibly difficult, especially because it was so unexpected.
Ryan Breaux died in a car crash
It's truly unfortunate that so many celebrities have died from car crashes. Sadly, Frank Ocean's little brother, Ryan Breaux, died for that same reason. Hollywood Life, who obtained the police report, reported that Breaux passed away in the early hours of August 2nd, 2020. The outlet shared, "The vehicle collided with a tree...which split the car in half as it proceeded to become engulfed in flames." Breaux's friend, Ezekiel "Zeek" Bishop, was driving the vehicle when the two crashed. Both Bishop and Breaux were pronounced dead on the scene, and it was later revealed that Breaux had died of "blunt force injuries."
Following his death, tributes poured in for the young teen. Paris Brosnan — Pierce Brosnan's son — shared a sweet post honoring his late friend on Instagram. He wrote, "Ryan, talented beyond belief, possessed a heart of gold. I will carry you in my heart always. Until we meet again brother. rest in love." Pamela Anderson and Tommy Lee's son, Brandon Lee, also took to social media to grieve the loss of Breaux. He wrote, "You gave us all love and laughter brother. Love you forever. I hope I get to see you again one day." Ocean has remained private about his brother's death, speaking briefly about him only once at Coachella.
Frank Ocean mentions Ryan Breaux at Coachella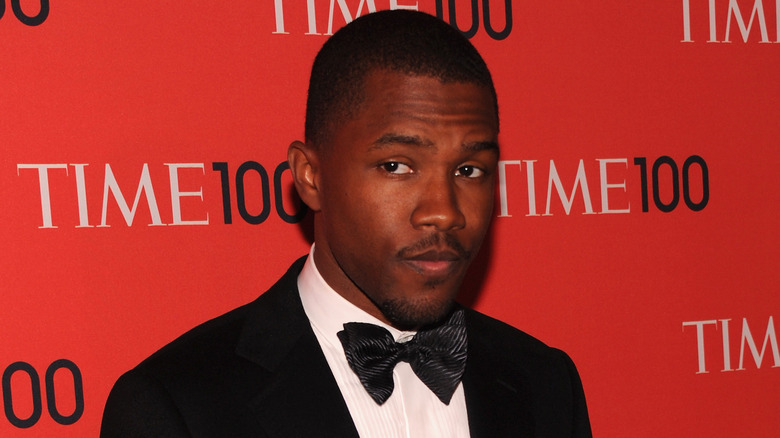 Jamie Mccarthy/Getty Images
After his brother's death, Frank Ocean became even more private. He rarely made public appearances but surprised fans when he was announced as a headliner for Coachella 2023. But, it turns out there was another reason for him to perform at the festival, and it had to do with his younger brother.
During Ocean's weekend one performance, he mentioned the fond memories he and his late brother used to share at Coachella. The singer said, "My brother and I — we came to this festival a lot, and I felt like I was dragged out here half the time because I hated the dust out here." Although the dust is no joke, he still remembers the fun times he had with Breaux. He said, "One of my fondest memories was watching Rae Sremmurd ...watching Rae Sremmurd with my brother and Travis. We were just dancing in that tent to their music." Despite his brother's passing, Ocean knew Breaux would have been overjoyed to see the musician headlining one of his favorite music festivals. The Grammy winner continued, "I know he would've been so excited to be here with all of us." As many may know, Ocean only performed for the first weekend, but it was sure to mean a lot to the "Ivy" singer because of his younger brother.