Donald Trump Responds To E. Jean Carroll Lawsuit Loss Exactly How You'd Expect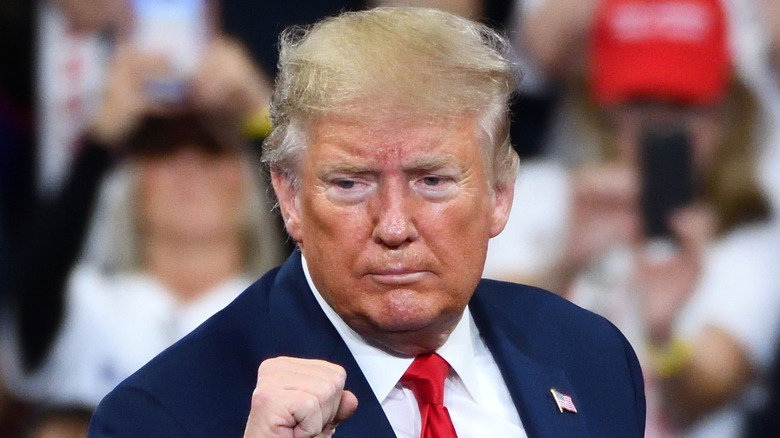 Evan El-Amin/Shutterstock
Former President Donald Trump has his plate full when it comes to legal issues. From being indicted for allegedly paying Stormy Daniels hush money ahead of the 2016 presidential election, to investigations regarding fraud, Trump has also been fighting accusations of sexual assault from advice columnist and author E. Jean Carroll, which date back to the 1990s. Trump denied the allegations, with Carroll subsequently filing two lawsuits for defamation and sexual assault. The civil trial began on April 25 in a New York City federal courtroom, where Carroll took the stand to testify that Trump accosted her in a Bergdorf Goodman dressing room and allegedly raped her.
On May 9, the jury — comprised of six men and three women — found Trump liable for battery and defamation after three hours of deliberation, per CNBC. However, he was not found liable for rape. According to the New York State law, the statute of limitations had past its one-year window. Carroll was awarded $5 million in compensatory and punitive damages. As expected, following the verdict, Trump had a few choice words to say about his accuser and her allegations.
Donald Trump cries 'witch hunt' after being forced to pay E. Jean Carroll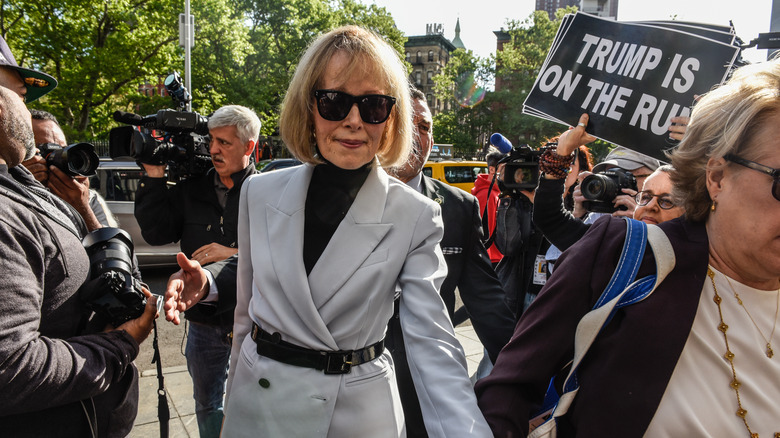 Stephanie Keith/Getty Images
Donald Trump will now have to pay E. Jean Carroll $5 million and he's not remaining quiet about the verdict. "I HAVE ABSOLUTELY NO IDEA WHO THIS WOMAN IS. THIS VERDICT IS A DISGRACE – A CONTINUATION OF THE GREATEST WITCH HUNT OF ALL TIME!" he posted on Truth Social. Prior to the trial, Trump's lawyers stated that he would not testify in court, nor appear in person, NBC News reported. However, when asked if he would make a showing, Trump told reporters, "I'll probably attend. She's a fake. It's a disgrace."
Despite waiving his right to testify, Trump shared on Truth Social, "Waiting for a jury decision on a False Accusation where I, despite being a current political candidate and leading all others in both parties, am not allowed to speak or defend myself, even as hard nosed reporters scream questions about this case at me." He again slammed Carroll for her supposedly false accusations, adding, "I will therefore not speak until after the trial, but will appeal the Unconstitutional silencing of me, as a candidate, no matter the outcome!" Well, unsurprisingly, Trump has spoken and he has made his point very clear (in all caps, no less).