The Alleged Timeline Of Donald Trump's Affair With Stormy Daniels
Anna Moneymaker/Getty Images
Donald Trump is set to make history as the first former president of the United States to face criminal charges following a jury's decision to indict him, and adult film star Stormy Daniels is in the middle of it all. Unsurprisingly, Trump isn't pleased with the jury's ruling. "I believe this witch-hunt will backfire massively on Joe Biden," Trump said in a statement (via Fox News). "The American people realize exactly what the radical left Democrats are doing here. Everyone can see it."
Many other important political figures have also reacted to news of Trump's indictment, with former vice president Mike Pence calling it an outrage. "I think the American people are going to look at this and see it as one more example of the criminalization of politics in this country," he said in an interview with CNN. Trump's daughter Ivanka Trump has also spoken out against her father's indictment, writing on her Instagram Story that she is pained by the decision. "I love my father, and I love my country. Today, I am pained for both. I appreciate the voices across the political spectrum expressing support and concern," she wrote, per The New York Post.
According to the Independent, Trump is facing up to 30 counts of charges related to the money he paid to Stormy Daniels to keep her silent about their alleged affair. But while the former president is facing a possible conviction, many are still wondering when the affair happened and most importantly, how he got here.
Stormy Daniels and Donald Trump met in 2006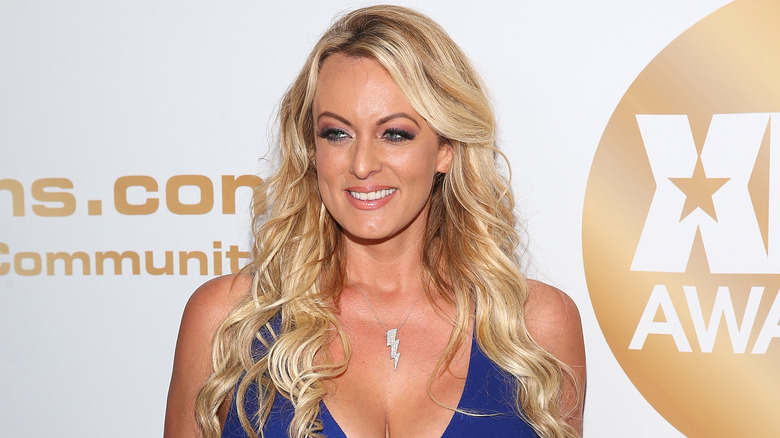 Jesse Grant/Getty Images
While attending a golf tournament in 2006, Stormy Daniels met Donald Trump for the first time. As detailed in a 2018 interview with "60 Minutes," Daniels later met Trump in his hotel room where they struck up a conversation. "It started off — all about him just talking about himself. And he's like — 'Have you seen my new magazine?'" she recounted. Interestingly, Daniels was not very impressed with Trump's showoff. Instead, she jokingly asked him to take off his pants (which he did) and spanked him. "And — from that moment on, he was a completely different person," she explained. "He quit talking about himself and he asked me things and I asked him things and it just became like more appropriate."
The pair purportedly later had sex, which Daniels described as strictly consensual. Daniels also recounted being asked to join "The Apprentice" — an offer she did not exactly take too seriously. "I laughed and said, 'NBC's never gonna let, you know, an adult film star be on.' It's, you know, he goes, 'No, no,' he goes, 'That's why I want you. You're gonna shock a lotta people, you're smart and they won't know what to expect,'" she recalled of the conversation. 
After their meeting at the hotel, Trump maintained contact with Daniels, reportedly often inviting her to many of his big events. Sadly, their whirlwind romance ended almost as quickly as it started, as Daniels told In Touch Weekly that the Mar-a-Lago owner stopped contacting her around 2009.
Donald Trump attempted to bury the story in 2016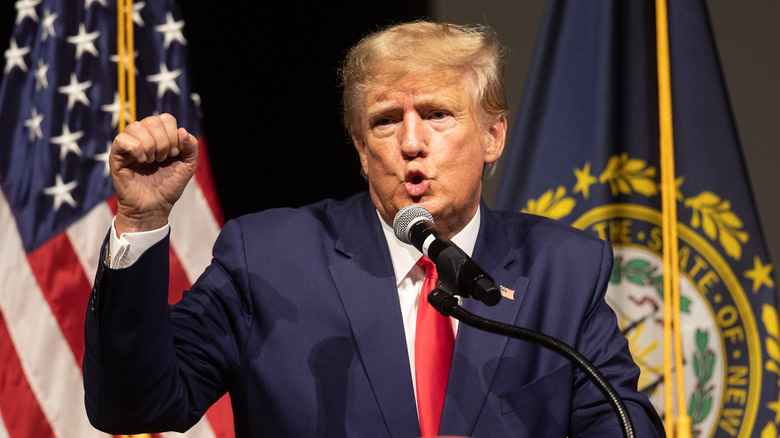 Scott Eisen/Getty Images
In 2016, ten years after her first meeting with Donald Trump, Stormy Daniels was reportedly contacted by journalists who wanted exclusive access to the story of her affair with Trump. Upon getting wind of a possible story, Trump's team eventually reached out to Daniels, offering her a nondisclosure deal to keep her silent. The deal, brokered by Trump's lawyer Michael Cohen included a $130,000 payment — a move that is now suspected to have broken campaign finance laws.
Though Trump initially denied the payment made to Daniels, the former president has since admitted to authorizing the funds and it to Cohen. In a 2018 tweet, he wrote, "Mr. Cohen, an attorney, received a monthly retainer, not from the campaign and having nothing to do with the campaign, from which he entered into, through reimbursement, a private contract between two parties, known as a non-disclosure agreement, or NDA." However, despite the timing of the payment, the Mar-a-Lago owner insists it had nothing to do with his ongoing campaign at the time.
In December of that year, Cohen was sentenced to three years in prison after pleading guilty to flouting campaign finance laws. "My weakness can be characterized as a blind loyalty to Donald Trump, and I was weak for not having the strength to question and to refuse his demands," Cohen said on the day of his sentencing (via AP News).