What We Know About Jelly Roll's Daughter Bailee Ann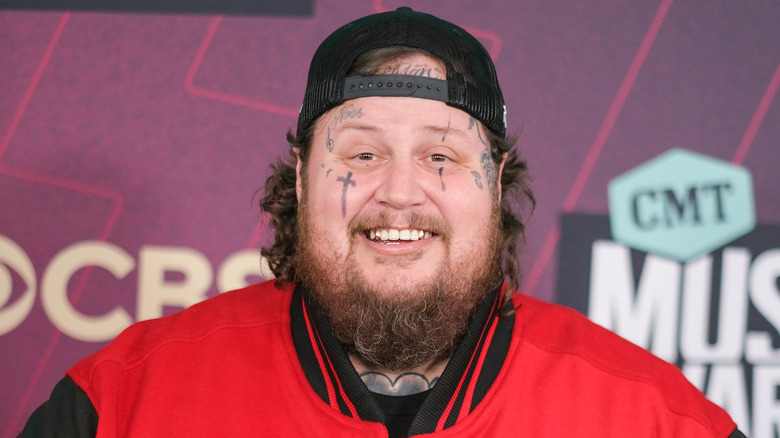 Hubert Vestil/Getty Images
This article contains mentions of substance misuse.
Jason Bradley DeFord, better known as Jelly Roll, has become all the rage in the country music scene. The "Son of a Sinner" singer has been smashing it in the music industry, having won three CMT Awards in 2022, per Biography. But Jelly Roll is more than just a singer — he is a father to two children. Bailee Ann is the country singer's only daughter, and the father-daughter duo are inseparable. Although the two are closer than ever, their relationship didn't start that way.
Jelly Roll revealed on the "The Bobby Bones Show" that as a young teen, he frequently got in trouble with the law. The "Save Me" singer was actually in jail when he discovered Bailee Ann was born. He shared, "On May 22nd, 2008, I was at CCA on Harding Place right down the street from here, I was in cell 223, and a guard knocked on my door and had told me that I had a daughter." The musician had an epiphany that he wanted to be a "great father" to Bailee Ann, but it took some time to get to that point.
According to Networth Analysis, Jelly Roll was released from prison in 2009, a year after his daughter was born. The musician got custody of his Bailee Ann after her mother struggled with substance abuse. As Jelly Roll has become more successful, he constantly talks about his daughter, so here's everything we know about Bailee Ann.
Bailee Ann is a musician like Jelly Roll
The apple didn't fall far from the tree because, like Jelly Roll, Bailee Ann is also a musician. Although she hasn't made any official music on her own, she has joined forces with her dad on several tracks. Bailee Ann is featured on Jelly Roll's songs, "Tears Could Talk" and "Sunshine After The Rain." The young teen even starred in the music video for "Tears Could Talk" as she and her father sang side by side.
Bailee Ann's cameos don't stop at music videos, because she has frequently joined her father on stage. The young musician was just 11 years old when she first took the stage with Jelly Roll. Recalling the memorable moment on Instagram in 2019, she wrote, "Just recently we performed together for the first time in Dallas, Tx. Best night ever btw! The look of proudness in your eyes made me feel like I had just really improved from being a 7 year old who didn't really understand to an 11 year old girl who understands more and that is because of you!"
Jelly Roll is ecstatic that his young daughter took interest in music, per Music Mayhem. He shared, "She loves music, she plays the piano and the guitar ... She's finding her way to express herself, and I encourage that." And based on the number of times she has joined him on stage, her passion for music is only going to continue to grow.
Bailee Ann is proud of her dad
Jelly Roll had a tough upbringing, as he found himself behind bars several times. While he could have kept that from Bailee Ann, he chose not to. He told ET, "She knows my story, she knows how real it is. I'm just proud of her." Regardless of his run-ins with the law, Bailee Ann is extremely proud of her father.
In 2022, the young teen shared a sweet post of her and Jelly Roll expressing her admiration for her father. She wrote, "Just wanted to take a sec and let you and everyone else know how PROUD of you i am ... i am so freaking proud of the human, artist, and father you are. what's meant to be will be, and it turns out your meant to be a star." Talk about father-daughter goals!
Even when the musician swept at the CMT Awards, he made sure to give a special shoutout to his daughter in an interview with ET. He said, "And I'm sorry, my daughter most importantly, I wanted to thank her, and I forgot to, and I love you, Bailee Ann, so much. I thought about it the moment I walked off stage," he continued, "You've changed my life in so many ways. But it's just unreal. This is bigger than just a single award for us. We came from nothing." So, through the good and bad times, Jelly Roll and Bailee Ann will always be there for one another.