The Best Performer At The 2023 CMT Music Awards Wasn't Even A Country Artist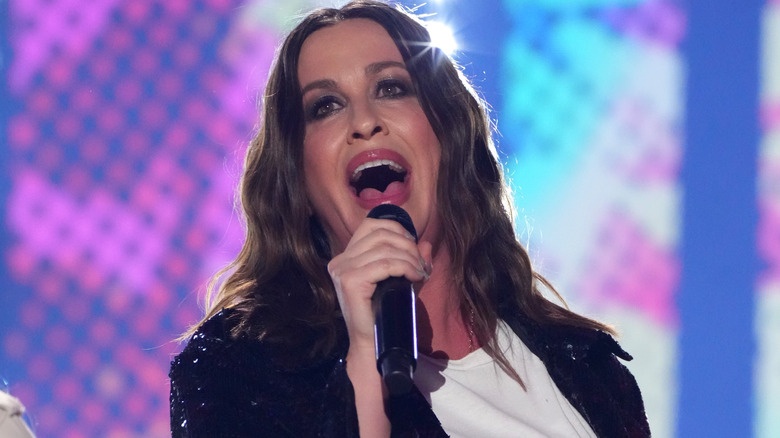 Jeff Kravitz/Getty Images
The 2023 Country Music Television Awards are now in the books, marking yet another great night in country music. Hosted by Kelsea Ballerini and Kane Brown in Austin, Texas, the show honored the industry's best of the best, with exciting performances to boot!
First up was Blake Shelton, who kicked off the night with a performance of his single "No Body," a pre-release track from his upcoming album. Ballerini appeared onstage with "RuPaul's Drag Race" stars Manila Luzon, Kennedy Davenport, Jan Sport, and Olivia Lux, and performed "If You Go Down (I'm Goin' Down Too)," likely in an effort to make a statement regarding Tennesee's recent ban on public drag shows. Other notable performances included Wynonna Judd and Ashley McBryde's duet of "I Want to Know What Love Is," Gwen Stefani and Carly Pearce's rendition of "Just A Girl," and Carrie Underwood's stunning "Hate My Heart" performance.
But the best performance of the night? Ironically, it's not from a star who has roots in country music. It was none other than Alanis Morrisette, who was joined by a bunch of country heavyweights to perform a powerful rendition of one of her greatest hits.
Fans loved Alanis Morissette's appearance at the 2023 CMT Awards
You oughta know that Alanis Morissette will always deliver! The legendary singer-songwriter performed "You Oughta Know" at the 2023 CMT Awards with Lainey Wilson, Ingrid Andress, Madeline Edwards, and Morgan Wade in celebration of the 10th anniversary of the CMT's "Next Women of Country" campaign. And according to fans, she outperformed the rest of the group with her ever-powerful vocals.
"Alanis Morissette up on stage as an OG and still has it while these other youngins are off key and can't keep up," one fan tweeted. "Alanis Morissette still slaps, almost 30 years later. Was Jagged Little Pill the best album of the 90s?" said another, while another fan declared, "Alanis Morissette just sang the current top country female singers under the table..."
And despite being a relative newcomer in the country space, it looks like Morissette sees a future in it, especially after expressing a desire to collaborate with Shania Twain. "I'll just pounce on her," she told Entertainment Tonight, adding that she had the time of her life performing her hit track at the show with equally talented ladies. "Anytime I can support women expressing themselves, and feeling safe in a world that isn't always the safest," she shared. "Every industry, in general, is seen through the male lens, so to have a female lens be presented as a gang is really... I'll show up!"