How Did Carrie Underwood Meet Her Husband Mike Fisher?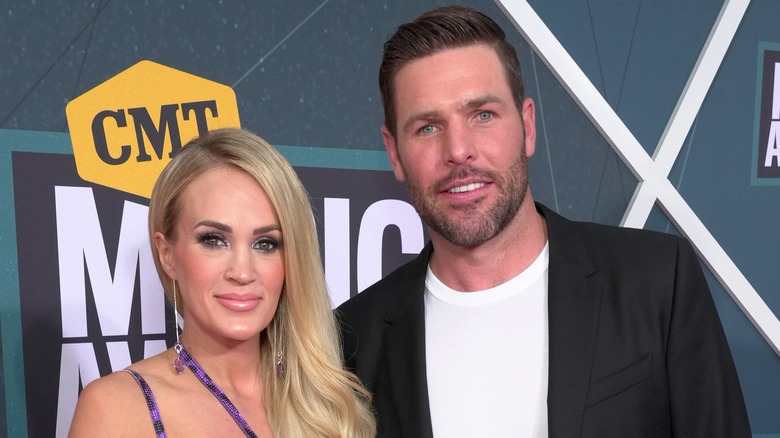 Kevin Mazur/Getty Images
Carrie Underwood and Mike Fisher's marriage may seem a little strange, but the unlikely couple has been happily married for well over a decade. Even though they spend a lot of time apart and have been plagued by divorce rumors, their union remains solid. In 2018, Mike Fisher assured fans there was no trouble in paradise, writing on Instagram (via People), "We've never been better." Indeed, Underwood told E! News in 2016 that even physical distance couldn't break their unique bond. Before Fisher retired from hockey in 2018, their careers kept them apart, but it didn't matter. Noting that she'd only seen him twice that month, she gushed, "He's such a great dad and he's so supportive of what I do and I'm supportive of him and we just love our little family." It also didn't hurt that she was as smitten as ever. "My husband is as wonderful as he is hot, and I feel like that's rare," she told the mag.
And once they were stuck together 24/7 due to quarantine, they made it through that too. Speaking with Yahoo! Entertainment in October 2020, Underwood admitted there were challenges — "We're not meant to be all together, all day, every day" — but shared a special moment in which her husband proclaimed, "You know what? I like you." She enthused, "It has been nice and refreshing knowing: OK, we're solid. ... We can work together even through the craziest of times." So how did this sweet romance begin?
The couple got off to a rough start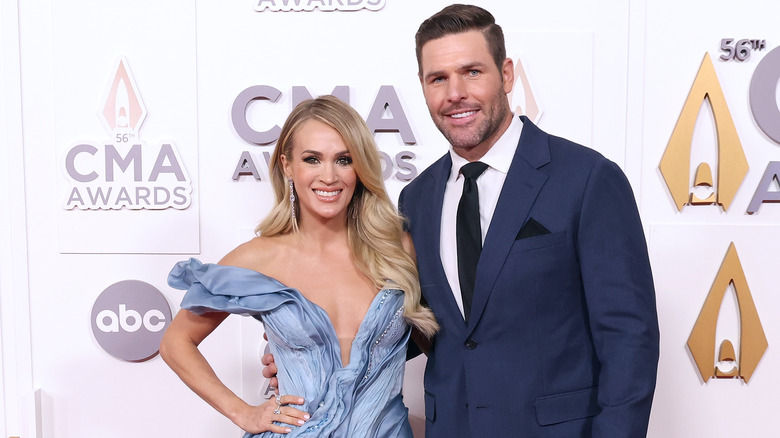 Taylor Hill/Getty Images
Before they were crazy in love, Mike Fisher was persistently pursuing Carrie Underwood, and she was persistently avoiding him. During an appearance on "The Howard Stern Show" in May 2023, the country superstar revealed her relationship's rough start. It turns out the pair were introduced by Underwood's bass player and musical director, Mark Childers, who himself had met Fisher through a mutual friend. However, he wasn't sure if he should actually bring them together at first. "He wanted to meet Carrie behind stage at the Opry, and I didn't allow it," Childers recalled. "He kept trying and then had a meet and greet, one time." It was nearly a year after his initial request, but Fisher jumped at the chance and drove the 280 miles from Ottawa (where he played for the Ottawa Senators) to Toronto, Canada, for the introduction.
That was October 2008, and, as Underwood shared, "We talked on the phone for a few months before we went out on our first date." That happened on New Year's Eve during a party hosted by Fisher's team. "I actually invited myself," she revealed. "He moved very slow." It's also when they had their first kiss. As she once told Glamour (via Taste of Country), "Our first kiss was when the ball dropped." They were surrounded by people, which gave her the necessary confidence. "I figured, I'll go in for it because he can't leave me hanging, right?"
Inside Carrie Underwood and Mike Fisher's whirlwind romance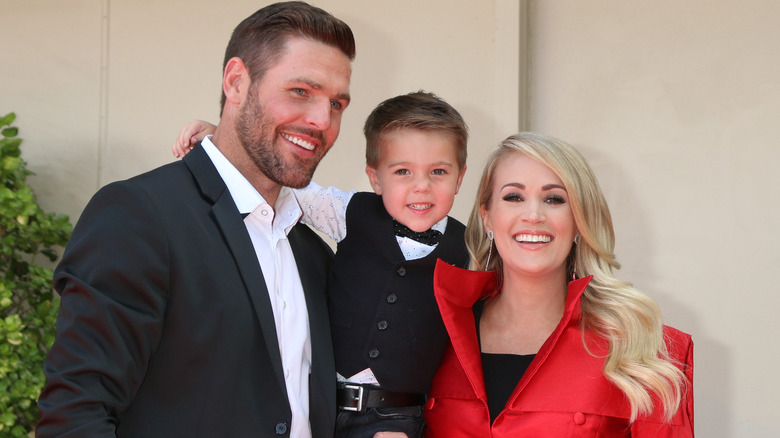 Kathy Hutchins/Shutterstock
Mike Fisher did not leave her hanging, and despite initially worrying about a number of red flags, Carrie Underwood fell head over heels. As she told "The Ellen DeGeneres Show" in 2009, they'd been together for nearly a year, and "that's the longest relationship I've had." Initially, she wanted to dismiss Fisher because he played hockey and lived in Canada. As she jokingly shared, one of the first questions she asked was, "Does he have his own teeth?" And her bassist cheekily replied, "No, but he's got a good dentist."
Jump to December 2009, and the couple got engaged, then tied the knot in July 2010. They welcomed their first son, Isaiah Michael, in 2015, and Jacob Bryan followed in 2019. Underwood told People that year, "I feel like he is the person I was meant to be with." In fact, she knew from the start. With past boyfriends, "nothing was ever really wrong, but nothing was really right either." Whereas with Fisher, "it was an easy relationship to be in." Her beau was just as taken. "Carrie's so easy to love because she's down to earth and genuine," he gushed.
Even fate was on their side. In February 2011, Fisher lucked out when he was traded from the Ottawa Senators to the Nashville Predators. He told the Vancouver Sun, "I was just so frustrated and said 'God, if you have me go somewhere take care of it, look after it,' and he sure did that."