Jamie Foxx Had A Close Bond With His Late Sister DeOndra Dixon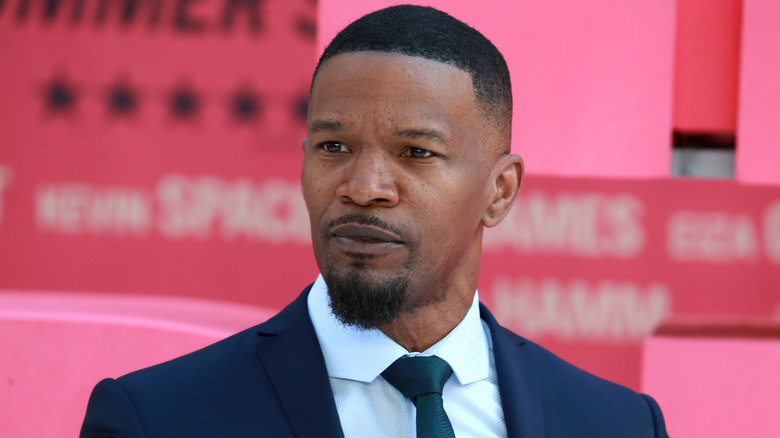 Fred Duval/Shutterstock
Jamie Foxx shared a tight-knit relationship with his late sister DeOndra Dixon. As stated by Closer Weekly, Foxx's two younger sisters are DeOndra Dixon and Deidra Dixon. DeOndra, who had Down syndrome, was previously a Global Down Syndrome Foundation ambassador. A page on the foundation's site is now dedicated to DeOndra and shares her story. In a quote from DeOndra, she noted that she'd been an award-winning Special Olympics athlete who had taken part in the sports organization's competitions for nearly a decade.
"I know my family loves me," DeOndra said. "They never set limits and always make me feel I can touch the sky." In past years, DeOndra described her love for Foxx. "Jamie's been my heart since day one," DeOndra said to Extra in 2018. After DeOndra's 2020 death, Foxx was asked by the Las Vegas Review-Journal what he enjoys doing for an "ideal Sunday." He answered "I allow myself time to be grateful for the wonderful people in my life including my sister who is still with me in all the ways that matter." Over the years, Foxx has opened up about how DeOndra holds a special place in his heart.
Jamie Foxx is a proud big brother of his late sister DeOndra Dixon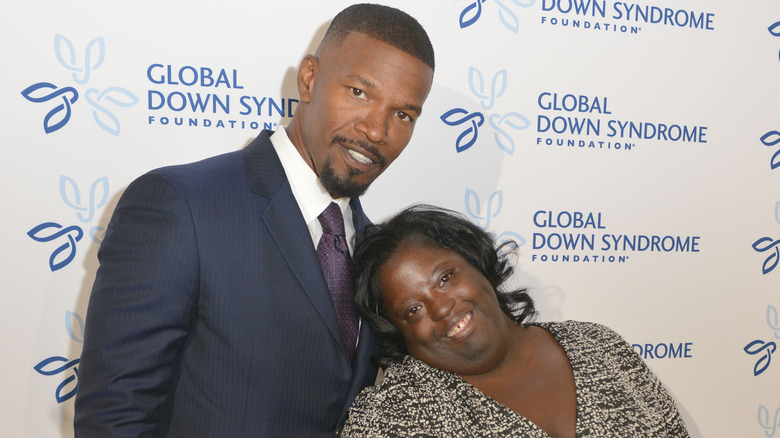 Thomas Cooper/Getty Images
Jamie Foxx and his late sister DeOndra Dixon were a loyal brother-sister duo. Years before Dixon's tragic death, Foxx visited "The Queen Latifah Show" in 2014 and expressed his pride in her for serving as an ambassador for the Global Down Syndrome Foundation. The "Ray" star went on to state,  "My sister has been able to be in my world and meet all these different people." Later, Foxx and the foundation's co-founder, Michelle Sie Whitten, joined forces to initiate The DeOndra Dixon Fund, per People.
Both Foxx and Dixon sat for a "Today" interview back in 2018, during which Foxx talked about his and Dixon's connection. "DeOndra has a light on that has been on since she got here, since she was born," Foxx said. "I'm her big brother, and ... it doesn't change just because she has special needs. She's still my little sister." It was also revealed in the discussion that Foxx invited Dixon to live with him in his Los Angeles house once she concluded high school in Foxx's home state of Texas. When asked about the greatest lesson Dixon has shown him, Foxx said, "I've learned how to live. Sometimes we get caught up in our world on the extras of everything ... She brings you back down to what life is." Following her passing, Foxx has spoken about Dixon's moving legacy.
Jamie Foxx's sister DeOndra Dixon 'was a bright light'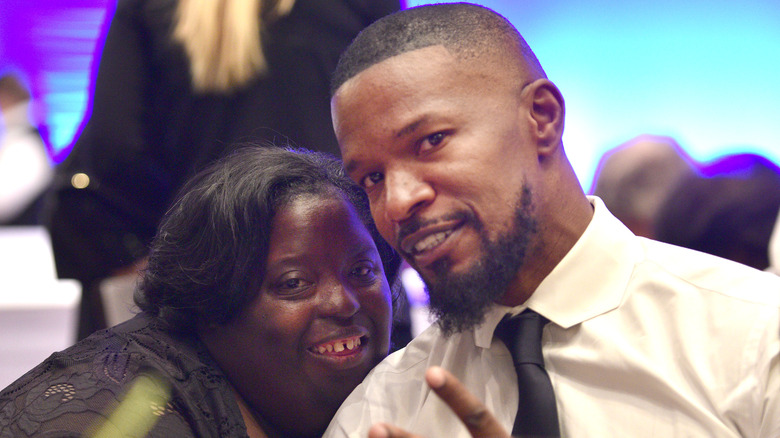 Tom Cooper/Getty Images
Jamie Foxx's sister DeOndra Dixon left a wonderful legacy behind. When Dixon sadly died in October 2020, Foxx took to Instagram to share the news, saying that his "heart is shattered into a million pieces." He then added, "My beautiful loving sister Deondra has transitioned... I say transitioned because she will always be alive... anyone who knew my sis... knew that she was a bright light." In conclusion, Foxx mentioned his family's focus on Dixon's loving presence amid this loss. "Our family is shattered but we will put the pieces back together with your love," Foxx said.
Two years after her death, Foxx posted a series of images of Dixon, as well as himself and Dixon, on Instagram to honor his sister's enduring impact. "Deondra I know ur in heaven making everyone laugh... and have everyone dancing to your songs," Foxx wrote. "I miss you terribly, but I know that your soul is shining bright. I love u forever." Back in December 2020, Foxx revisited positive memories of Dixon, such as her passion for dancing and her appearance in Foxx's music video for "Blame It" feauring T-Pain. "All those little things, we will remember and will continuously remember her in a joyous way," Foxx said to Extra.