Celebrities Who Had To Hide Their Pregnancies While Filming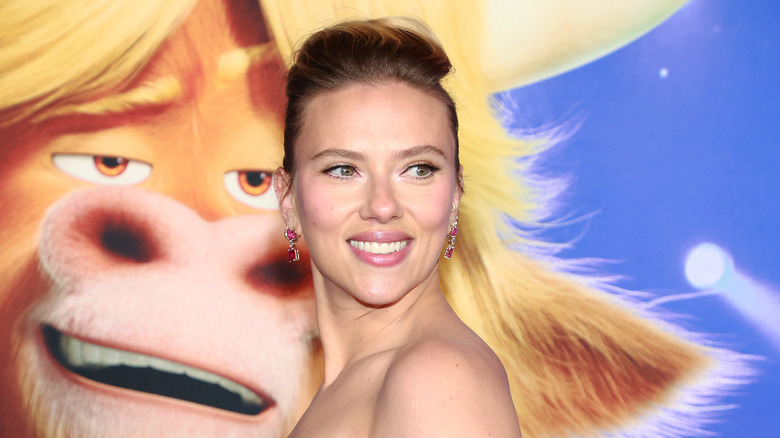 Matt Winkelmeyer/Getty Images
Pregnancy is no picnic at the best of times, and yet women all around the world continue to work up until their due date. You might think celebrities could afford to put their feet up for nine months, but at the end of the day they're just regular (famous) people, too. And many female actors have had to put in the hard yards before giving birth. These women have truly embodied the sentiment "the show must go on" and have spent weeks or months filming everything from small independent movies and TV shows to action-packed blockbusters while pregnant.
On some occasions, an actor's pregnancy may be added in as a storyline for their character — like Candice Accola King, whose real-life pregnancy was written into "The Vampire Diaries." However, in most cases, their pregnancies haven't made for welcome additions to storylines, so they've had to hide their burgeoning bellies on set. With the help of creative costume design, artfully placed props, stunt doubles, and CGI, it's totally possible to do this.
Keep reading to find out all the details about the celebrities who had to hide their pregnancies while filming. You might be surprised by some of the names on this list.
Teri Hatcher in Tomorrow Never Dies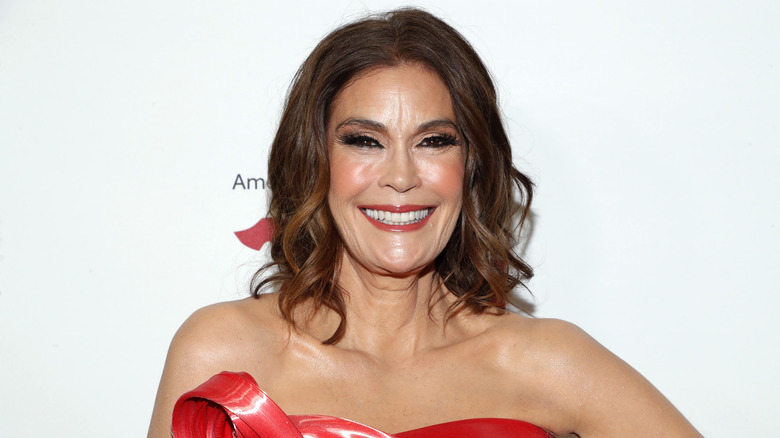 Astrid Stawiarz/Getty Images
Teri Hatcher has done it all. From superhero love interest and high-flying reporter Lois Lane in "Lois & Clark: The New Adventures of Superman," to the scatty but sweet suburban mom Susan Mayer Delfino in "Desperate Housewives." However, action fans might know her best as Bond Girl Paris Carver in the film "Tomorrow Never Dies." She starred in the "James Bond" film alongside Pierce Brosnan, who was on his second outing as the titular British Spy. Hatcher also brought a special guest to set; her unborn daughter Emerson. She and her then-husband Jon Tenney welcomed Emerson to the world in November 1997, a month before "Tomorrow Never Dies" premiered.
Unfortunately, the actor, who was in the early stages of pregnancy while filming, was experiencing plenty of adverse side effects, like morning sickness, which riled up her co-star, who was unaware of her condition. The rumors of on-set their feud reached new heights when Brosnan and Hatcher were falsely accused of slapping each other. However, Brosnan did admit to making a few other mistakes on set. "I was vexed because I had a call time of 6 or 7am, and we didn't do any work until three or four in the afternoon. No one told me her situation until afterwards," he recalled (via Irish Examiner). Brosnan explained that he was only told Hatcher was pregnant after filming. "By that time I'd already shot my mouth off and cussed and moaned and groaned. That's all it was, a storm in a teacup."
Reese Witherspoon in Vanity Fair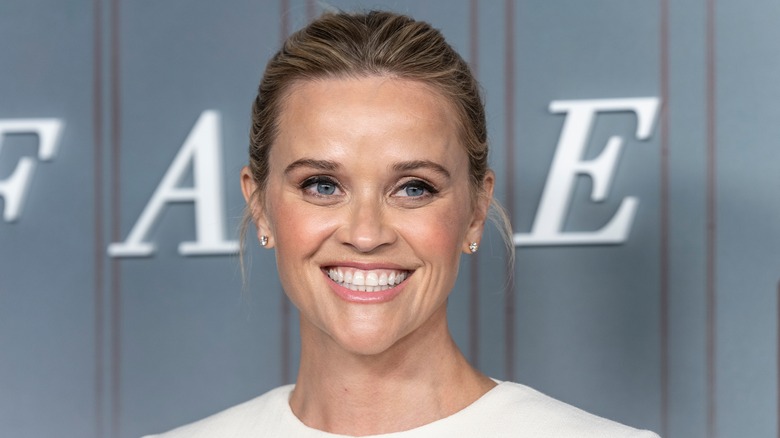 lev radin/Shutterstock
Following the success of her now cult classic "Legally Blonde" films, and the iconic feature "Sweet Home Alabama," Reese Witherspoon took the opportunity to take on a very different acting project. She played Becky Sharpe in the 2004 adaptation of William Makepeace Thackery's classic novel "Vanity Fair."
Witherspoon continued her theme of bringing strong women to life on the big screen, but Becky came from another era; the 1820s. Of course, this time period was full of fitted bodices and tight corsets, which was a problem for Witherspoon, who was expecting her second child with her then-husband Ryan Phillippe. And, as she was five months along, her baby bump was on full display. "We've had a couple of scenes where my stomach was peeking out a bit, but we've found solutions," Witherspoon said to People at the time. The actor explained that the wardrobe department was able to manipulate those period dresses so that her bump was hidden under many layers of fabric. There was also some strategic filming involved, so if you watch the film, you might notice Witherspoon's character Becky standing behind a lot of furniture and only being filmed from the waist up.
Filming was also sped up to accommodate Witherspoon's pregnancy, and shortly after it was complete, she welcomed her son Deacon in October 2003. His arrival made Witherspoon and Phillippe a family of four alongside their daughter Ava, who was born in 1999.
Courteney Cox in Friends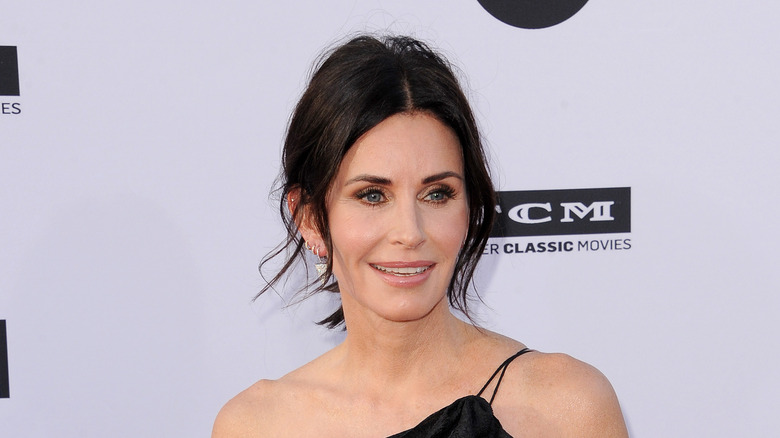 Tinseltown/Shutterstock
"Friends" was undoubtedly one of the most popular TV shows of the 1990s and early 2000s. Its unparalleled success led to a ten-year run for the beloved sitcom. But, the stars of the show couldn't put their lives on hold for that entire period, which meant a couple of actors ended up having pregnancies while filming the series.
However, while Lisa Kudrow's pregnancy was written into her storyline in the fourth season of "Friends" — because Phoebe having her brother's babies brought a lot of humor to the show — Courteney Cox's pregnancy didn't fit her character. It had already been established that her character Monica couldn't get pregnant. So, while Cox found out she was expecting during the show's final season, it wouldn't have made sense for Monica to be suddenly with child, too.
As a result, Cox's growing bump had to be kept hidden through loose clothing and carefully placed props. There's only one occasion when this fails — in the series finale, when Monica and Chandler are showing off the twins they've just adopted. Cox welcomed her daughter Coco with then-husband David Arquette in June 2004, shortly after wrapping the show.
Helena Bonham Carter in Sweeney Todd: The Demon Barber of Fleet Street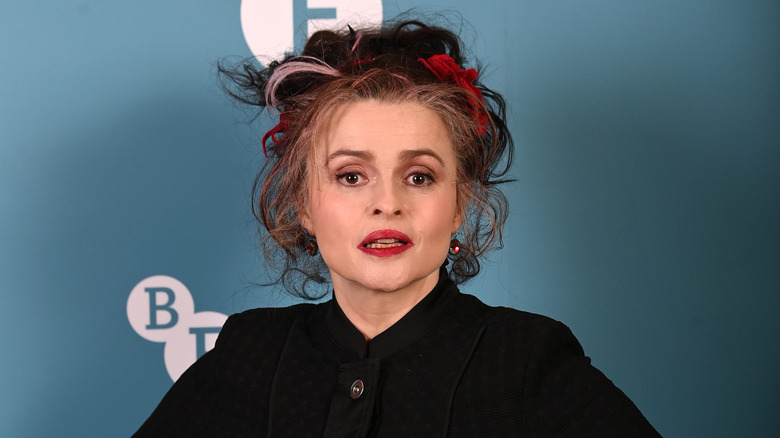 Eamonn M. Mccormack/Getty Images
Helena Bonham Carter is mom to two kids, son Billy Raymond and daughter Nell, who she shares with her ex Tim Burton. Billy was born in 2003 and Nell joined the family in 2007. While pregnant with Nell, Bonham Carter was filming the musical horror-drama "Sweeney Todd: The Demon Barber of Fleet Street." Although her baby bump was not visible in the feature, the "Harry Potter" actor did share some concerns about her appearance after filming.
"Anyone who pays attention to my breast size will see there's no continuity," Bonham Carter told The New York Post (via Cinemablend). "The first half of filming I wasn't pregnant, and the second half I was, and because we didn't shoot it in order, I start off with huge breasts, and then I walk upstairs and suddenly I've got tangerines again. It's melons to tangerines," she explained.
Although Bonham Carter seemed to be concerned about continuity issues, the movie received favorable reviews, and Burton, who was directing the movie, was obviously happy with her performance.
Penelope Cruz in Pirates of the Caribbean: On Stranger Tides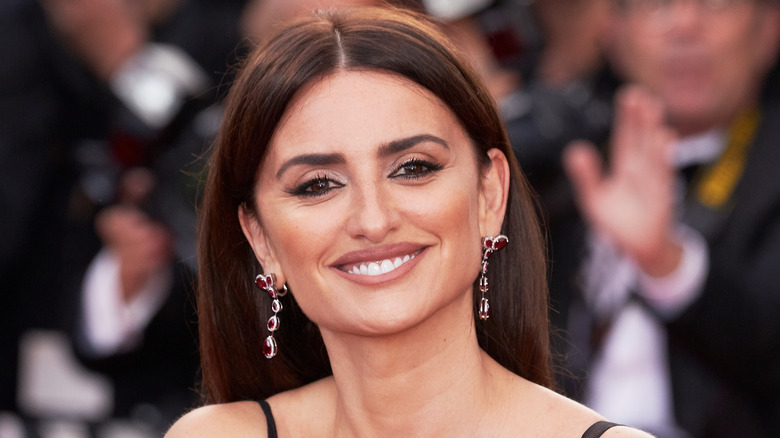 Oleg Nikishin/Shutterstock
Penelope Cruz has played a lot of memorable characters in her career — like Sofia in "Vanilla Sky," Eva in "Sahara," and Valentina in "Zoolander 2" — but only one while she was pregnant. In 2010, Cruz was expecting her first child with her husband Javier Bardem. However, the actor couldn't take a break from her busy acting schedule to put up her feet during her pregnancy because she had signed on to play Angelica in "Pirates of the Caribbean: On Stranger Tides" alongside Johnny Depp.
Principal filming of the movie ran from June to November 2010, which meant that Cruz was unable to take part in every action-packed sword-fighting scene in the pirate adventure. "I did a couple of months of training and did what I was able to do, but I couldn't do everything, just what was safe," she revealed to The Telegraph. And as filming progressed, there became more and more things that the actor just couldn't do herself. Thankfully, she knew the perfect person to step in and take her place — her younger sister Monica. "Monica came at the end to do some scenes. She's a dancer and very good with a sword because she's done a film herself," Cruz explained. Pretty handy to have a look alike sister on call!
Amy Poehler in Parks and Recreation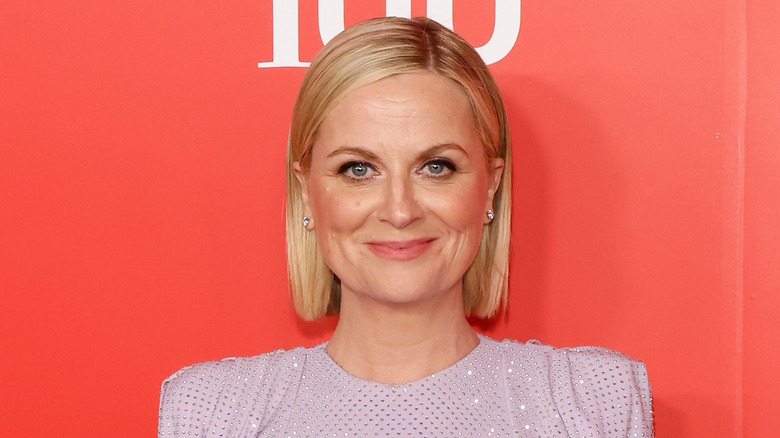 Taylor Hill/Getty Images
In 2010, while filming the hit sitcom "Parks and Recreation," Amy Poehler and fellow actor Will Arnett were expecting their second child, son Abel James, who was born in August of that year. However, this pregnancy would have been totally out of place for Poehler's character, Leslie Knope, so it was hidden on set.
But, unlike stars such as Reese Witherspoon and Penelope Cruz who were shooting months into their pregnancies, Poehler said her bump was barely visible and certainly wouldn't get in the way of shooting. This is, in part, thanks to the show going on a brief hiatus during its second season.
As a result, Poehler said hiding her pregnancy wasn't too difficult. "Well, we have just been kind of lucky in the past couple of episodes. Frankly, it's a combination of good camera work and a good wardrobe department," she said (via Digital Spy). Meanwhile, executive producer Greg Daniels joked that Poehler's castmates helped out by standing in strategic positions. "As we get closer [to her due date], Aziz [Ansari] will be constantly standing in front of her," he noted.
Rosamund Pike in Jack Reacher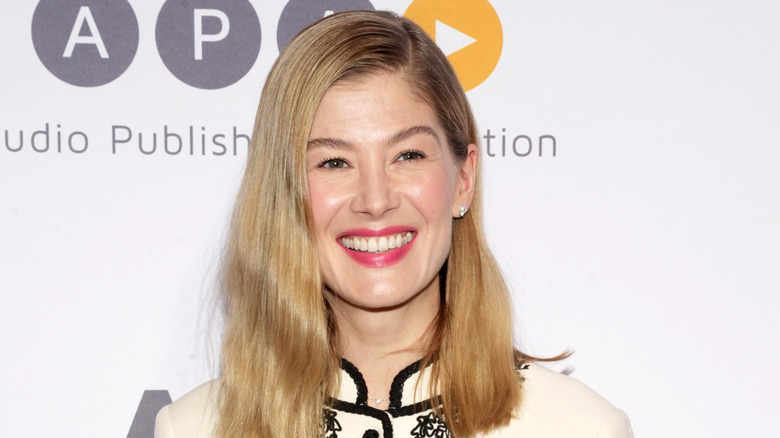 Ilya S. Savenok/Getty Images
Tom Cruise is one of the most bankable action stars of all time. His time portraying the titular character in the "Jack Reacher" franchise was no different. And, as such, he has a lot of influence on set. But, while filming the first "Jack Reacher" film from October 2011 to January 2012, Cruise used his influence for good, supporting his co-star Rosamund Pike, who was five months pregnant by the time they finished filming the action-packed feature.
Pike's pregnancy was hidden, as it didn't fit her character Helen's storyline. Thankfully, she didn't have any dangerous stunts, so she was able to continue working for the entirety of filming. Some viewers picked up on the changing size of Pike's breasts in a few scenes, but otherwise her pregnancy was unnoticeable thanks to clever filming angles.
Pike has thanked her co-star for making the experience as smooth as possible. "Certain stars would have — or might have — said: 'Get someone else, she's pregnant!' That sort of thing goes on in this day and age ... [but] he could not have been more supportive," she told the Daily Mail. The actor noted that it was difficult at times. "I felt as if I had a secret stowaway," she said. But it helped that Cruise stood by her the entire time and did not want her replaced. In May 2016, she welcomed her "stowaway" — a son named Solo, who she shares with her partner Robert Uniacke. The movie premiered seven months later, at the end of the year.
Halle Berry in X-Men: Days of Future Past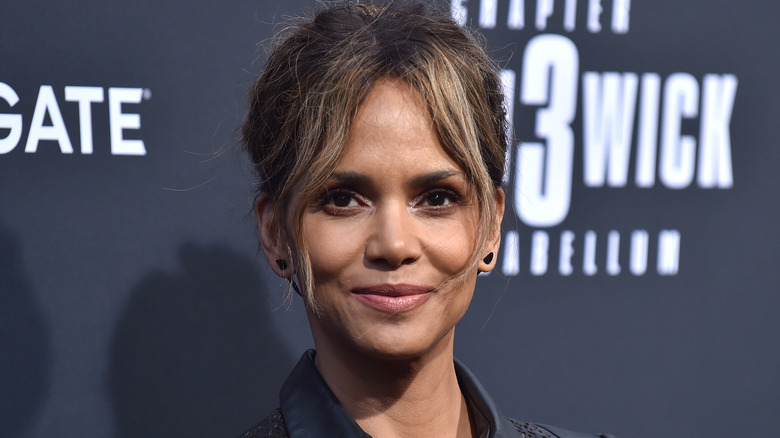 DFree/Shutterstock
There's not much Halle Berry can't do. She started her career as a model, before transitioning into acting and soon bagging the role of Bond Girl Jinx in "Die Another Day" and playing Catwoman in the 2004 film of the same name. However, her most notable recurring role is no doubt playing Ororo Munroe, aka. Storm, in the "X-Men" film franchise alongside Patrick Stewart and Hugh Jackman. Berry took on a significant role in the original trilogy, but when she returned for the seventh installment of the franchise, her fans will have noticed that her screen time was significantly reduced. In total, the actor only appeared in two minutes of the movie.
This was due to the fact that she was three months pregnant and couldn't do the kind of stunts and actions this kind of movie required — as she had done in previous films. "It was different. I had to shoot really fast. ... Two weeks was about as much as I could do before I was busting out of the suit!" she said on The Queen Latifah Show (via Daily Mail). Instead of having a stunt double come in and replace her, Berry chose to have a smaller role.
Berry was around three to four months pregnant when filming in April 2013, and gave birth to her son Maceo Robert Martinez, whom she shares with ex Olivier Martinez, in October.
Emily Blunt in Into the Woods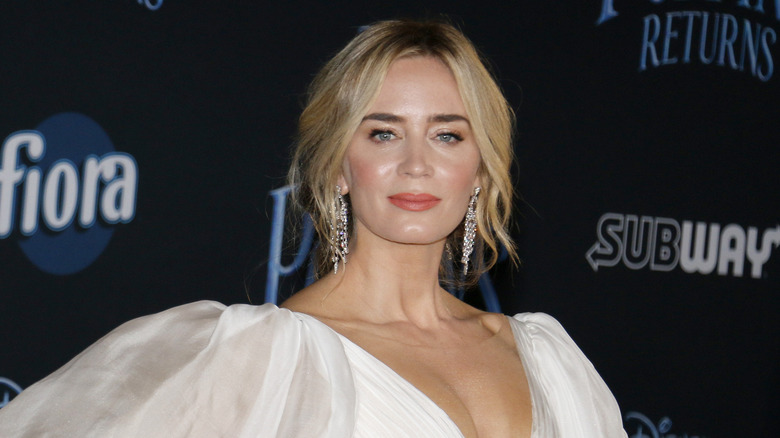 Tinseltown/Shutterstock
Emily Blunt and John Krasinski tend to keep their relationship pretty low key. But, the couple, who married in 2010, had some exciting news to share in 2014; they were expecting their first daughter Hazel. But, before Blunt could meet her daughter, she had to get through the filming of the adventure comedy "Into the Woods."
This was quite a challenge at times, particularly when she had to execute a dance scene with Chris Pine: "When we did rehearsals, I was being kind of careful. By the time we shot, it was about two months later and I said to Chris Pine, 'You need to add 15 pounds to what you felt before. When you dip me, you gotta get yourself in a deep lunge because there's more weight coming down!'" she told D23 (via Us Weekly). Thankfully, it all worked out and the rest of the time "James Corden [was positioned] in front of her belly, raising her apron higher and higher," her co-star Meryl Streep chimed in. Blunt was also hidden behind a lot of trees, and costumes were used to her advantage.
In 2016, Blunt and Krasinski welcomed their second daughter, Violet. But, luckily for "The Devil Wears Prada" star, there was no dance scene that needed filming this time around.
Kate Winslet in Divergent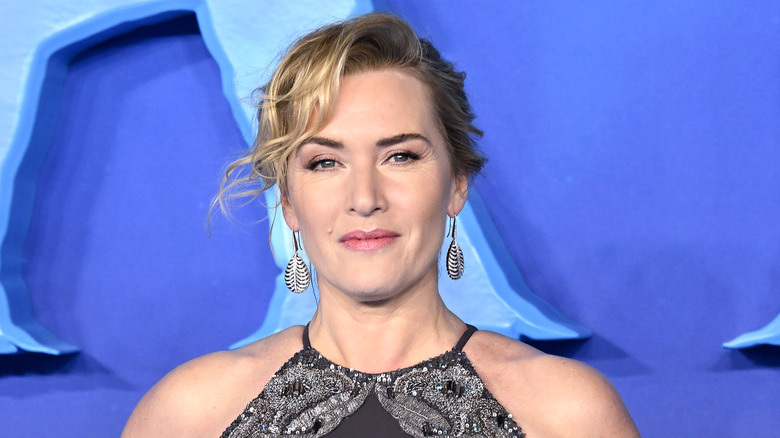 Karwai Tang/Getty Images
Kate Winslet's diverse career boasts credits in everything from "Titanic" to "The Holiday" to "Mare of Easttown." She's also appeared in a series of sci-fi films, including two of the "Divergent" films between 2014 and 2015. All of Winslet's projects have presented their own challenges, but "Divergent" was unique, because the actor was heavily pregnant while filming. And because her character Jeanine Matthews, who comes straight out of Veronica Roth's best-selling novels, was not supposed to be pregnant.
Thankfully, Jeanine having a strict list of rules and attempting to remain in control by carrying an iPad with her wherever she went, gave Winslet the perfect way to hide her pregnancy from viewers. It was this strategically placed piece of tech which kept the actor's pregnancy out of view on screen. They also got a stunt double to cover some of her more physical scenes with Shailene Woodley's character Tris. Director Neil Burger explained: "Kate was pregnant when we were doing this and she wanted to take the fall, but we wouldn't let her. It was a hard fall. [So] that was not Kate" (via Daily Mail).
Winslet gave birth to her and husband Ned Rocknroll's son Bear Blaze, before returning to set to film touch ups. She made sure to take breaks between scenes to breastfeed her son.
Scarlett Johansson in Avengers: Age of Ultron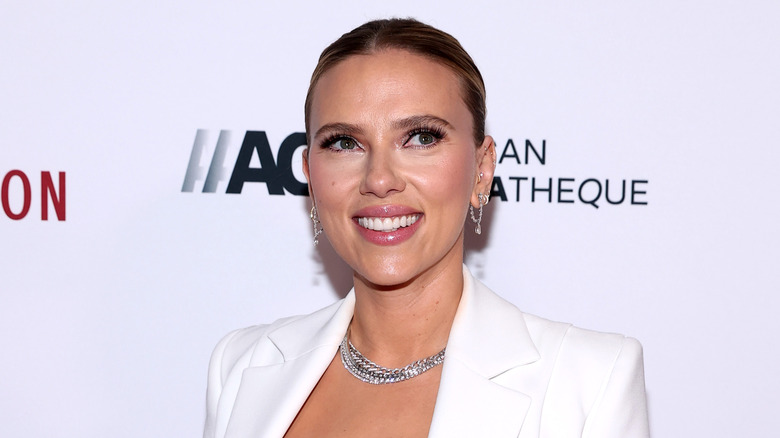 Matt Winkelmeyer/Getty Images
Scarlett Johansson has had the great fortune of playing Natasha Romanoff, aka Black Widow, a total of nine times (as of this writing). Each time she's had the opportunity to bring something unique to the character, like exploring Natasha's backstory in her standalone feature. The actor told E! That one of the things she loves most about the role is getting to do a lot of Black Widow's stunts. However, these were out of the question during the Avengers action-packed mission in Sokovia in 2015 because Johansson was pregnant with her first child; daughter Rose, who she shares with her now ex-husband Romain Dauriac.
A behind-the-scenes picture shows Johansson heavily pregnant in her Black Widow costume. The actor explained: "I did as much as I could do and filled in all the blanks later on." She had stand-ins who marked her place when she wasn't able to film and she was added later in post-production. Johansson also left a lot of the action to her stunt double. "I have a really amazing, amazing stunt team around me. My stunt double, Heidi Moneymaker — and that's her real name — is really incredible, and this time took a lot of the punches for me, literally," she said. "This is like our fourth or fifth movie together, so we kind of have a seamless thing between us," Johansson added. Johansson gave birth in August 2014, shortly after filming wrapped. The movie was released the following year.
Gal Gadot in Wonder Woman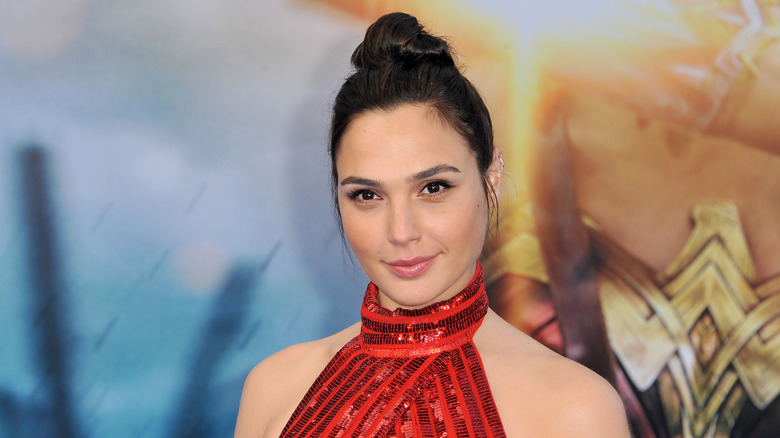 Tinseltown/Shutterstock
Israeli actor Gal Gadot burst into the Hollywood movie sphere in 2009, playing Gisele Yashar in "Fast & Furious." After reprising the role, and giving birth to her and her husband Jaron Varsano's first daughter, Alma, in 2011, she scored the role of Wonder Woman. She had a busy couple of years from then on, because alongside filming the DC movie, Gadot became pregnant and gave birth to her second daughter, Maya, in March 2017, three months before "Wonder Woman" was released.
Filming an action-heavy superhero feature like "Wonder Woman" is hardly a relaxing environment for a pregnant woman. The movie's director Patty Jenkins admitted that they put Gadot through the wringer. "There are so many things we asked her to do: Now do it on one foot. Now shout while you're doing it. Now it's raining in the freezing cold and you've lost your voice, go. Everyday it was a hilarious gauntlet and she would do it," she said (via Independent).
But, thankfully, Gadot did not film the whole thing while she was expecting. The actor just had to come back in to do her reshoots at five months pregnant. It was a strange experience for Gadot, who said: "On close-up I looked very much like Wonder Woman. On wide shots I looked very funny, like Wonder Woman pregnant with Kermit the Frog."
Mindy Kaling in The Mindy Project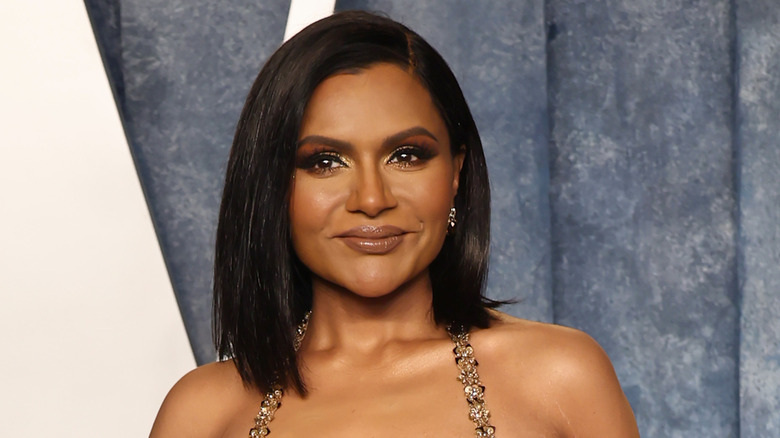 Amy Sussman/Getty Images
Mindy Kaling's tenure as an actor, writer, and comedian is certainly impressive. While filming her hit sitcom "The Mindy Project," she wrote and released her second book, "Why Not?," and had a number of film and TV roles. She also became a mom and was pregnant during the final season of the show, which aired in 2017.
Although most of the filming was completed before she was heavily pregnant, her co-star and "The Mindy Project" director Ike Barinholtz revealed that her pregnancy was notable enough to need to be hidden. "I was directing an episode and there was a slight pop in the middle of the week so there was a little bit of 'why don't you hold your purse in this scene?' There was a little bit of that," Barinholtz told People. Referencing Debra Messing in "Will & Grace," the actor-director said thankfully Kaling didn't have to hold a pillow all season. Instead, just a few creative maneuvers and camera tricks were employed to obscure her growling stomach. "There is a little bit of kitchen island stuff going on," he said. Additionally, wardrobe adjustments were made to keep Kaling comfortable.
Kaling gave birth to her first child, Katherine Swati, in December 2017, a month after the show concluded its five-year run. She has since welcomed her second child, son Spencer Avu, in 2020. However, she has never publicly revealed her children's paternity.
Kerry Washington in Scandal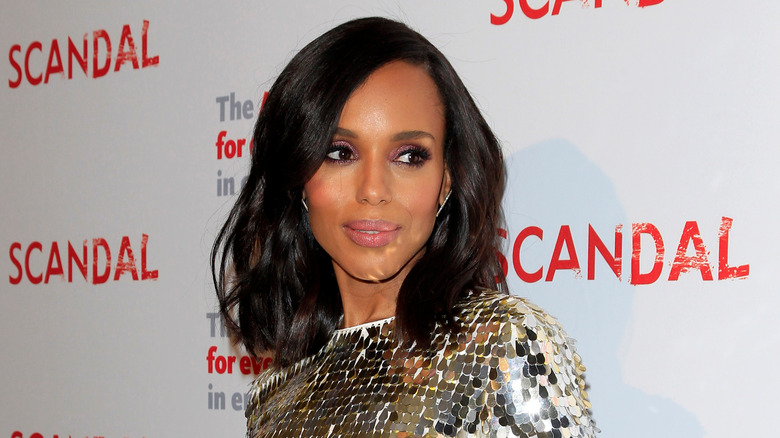 Kathy Hutchins/Shutterstock
Primetime Emmy Award-winning actor Kerry Washington has been making waves in film and TV roles for over two decades, starring in shows like "Little Fires Everywhere" and movies such as "For Colored Girls." But, TV fans will probably know her best as Olivia Pope from the political thriller "Scandal" which ran from 2012 to 2018.
Like the women before her on this list, Kerry Washington had to carry on working while she was pregnant. But unlike the other celebs we've discussed, she was pregnant not once, but twice during her tenure on the show. Washington and her husband, Nnamdi Asomugha, welcomed their first child, a daughter named Isabelle Amarachi, in April 2014. Then, two years later, in October 2016, the couple celebrated the arrival of their second child, a son named Caleb Kelechi.
It was decided that neither pregnancy would be written into Olivia's storyline. Instead, Washington and the crew had their work cut out for them to hide her pregnancies. The use of strategically placed props, like lamps, coats, bags, and tables, were employed, along with placing Washington behind other characters and filming from angles where her bump couldn't be spotted. After her first pregnancy, she expressed her gratitude to the cast and crew for their help concealing her growing bump.